FROM THE DEPARTMENT HEAD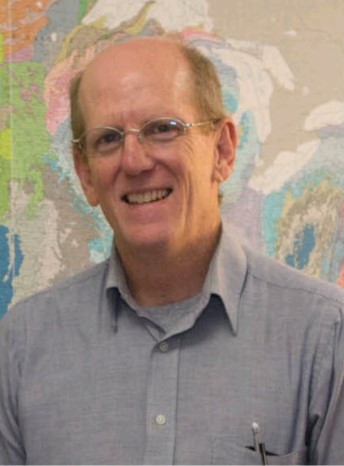 Dear alumni, current students, faculty, and staff:
Welcome to the Winter Newsletter! It has been a very busy fall in the Department of Geology and Geophysics and we apologize for the delay getting this newsletter sent out. This issue of the newsletter we will introduce you to Juan Carlos Laya, the department's young carbonate sedimentologist and sequence stratigrapher (me being the old one)! This semester we celebrated the excellent renovation of the Dudley Hughes Lecture Hall (Halbouty 101), and it was inspiring that Mrs. Robbie Hughes (Dudley's wife) and some of her family were present for the re-dedication ceremony. Mrs. Hughes also made a large gift to the department to provide for a state-of-the-art undergraduate microscopy center. Thank you, Robbie!

This fall the Center for Tectonophysics celebrated its 50th Anniversary with an entire weekend of exciting activities. The dinner on Saturday night was incredibly fun seeing many of the past and present members of the center and listening to all their remembrances of the growth of this center. The passing of Dr. John Spang soon after the Center for Tectonophysics celebration was very sad and we express our heartfelt condolences to his wife, Terry, and his family.

The Berg-Hughes Center (BHC) hosted its 8th Annual symposium at the Memorial Student Center and over 100 people from the BHC and many leaders from the petroleum industry participated so it was very successful. In November we also had our first Academic Program Review since 2010. During this process four eminent scientists from some of our peer institutions spent three days in our department meeting faculty, staff, and students, and touring our facilities. In the end they provided us with their recommendations to help us reach our departmental aspirations in the near future. Their recommendations will be the basis for a new department strategic plan and by-laws we should have in place by next summer. In December we awarded 45 undergraduate, 11 master's and two doctoral degrees to students - by far our biggest December graduation ever! Congratulations to all the new graduates!

We are looking forward to another busy, productive year in 2018, but before that we hope that your holiday season was fun, exciting, restful, and healthy. We look forward to seeing all of you in the new year in Aggieland.

All the best,
Dr. Mike Pope
---
---
Faculty
---
Department News
---
Accolades
---
Conferences
---
Giving
---