FROM THE DEPARTMENT HEAD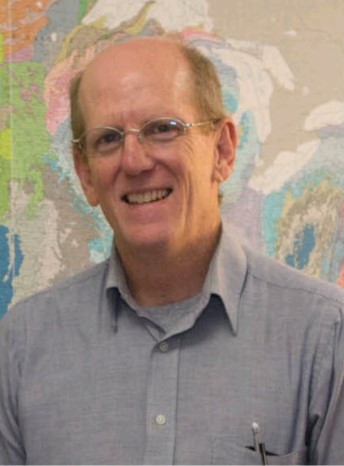 Dear former and current students, faculty and staff:
Welcome to the new academic year as we recently returned to teaching in late August. It was a long summer in Aggieland; our faculty and their students traveled all over the world to address geological problems. We had 75 undergraduate students attend Field Camp this past summer, visiting localities in Montana, Utah, and New Mexico. Additionally, we graduated 29 undergraduate students, seven M.S. students, and two Ph.D. candidates. The department currently has about 250 undergraduate students, 110 graduate students, three post-doctoral research fellows, and 34 full-time faculty and professors of
practice.
In the next few issues we hope to share with you more about the exciting research our faculty and students are conducting. In this issue you will learn about Dr. Christina Belanger, the new paleontologist who joined us last year; Anna Johnson, our new business staff member; G-Camp for Teachers; Patrick Fulton's IODP experience; the Dudley J. Hughes '51 Teaching Microscopy Lab; and one of our excellent undergraduate geophysics majors. We also have a new newsletter editor, as Cristina Figueroa recently moved to Dallas; and Mariana Figueroa now serving as editor through December.
As with last year, we invite all our alumni to join us for the Departmental Open House on Friday, October 12. We will have a series of short informative talks about new faculty and student research from 3:30 p.m. – 5:00 p.m., followed by a catered dinner from the Chicken Oil Company between 5:00 p.m. – 6:30 p.m. We also are planning to take a series of photographs of faculty, students, staff, and former students in front of Old Halbouty to record for prosperity. If you are planning to be in town for the TAMU vs. University of Kentucky football game, we hope you will come by and join us. Please RSVP by 5 p.m. on Monday, October 8, (tx.ag/rho3ATF) to insure a tasty dinner!
We are anticipating a busy fall semester, as recruiting is in full swing, and our undergraduate students, graduate students and faculty will be presenting their research results at the Society of Economic Geophysicists (SEG), Geological Society of America (GSA), and American Geophysical Union (AGU) annual meetings. I look forward to seeing you the next time you make it to College Station and to hearing about your adventures and career paths.
All the best,
Dr. Mike Pope
---
---
Faculty News
---
Student News
---
Department News
---
Upcoming Events
---
Field Trips
---
Giving
---