Selfless Service From 2,000 Miles Away: Aggie's Facebook Weather Page Helps Trinidad And Tobago
Geophysics senior Kalain Hosein '18 helped get life-saving weather information to the islands.
May 14, 2018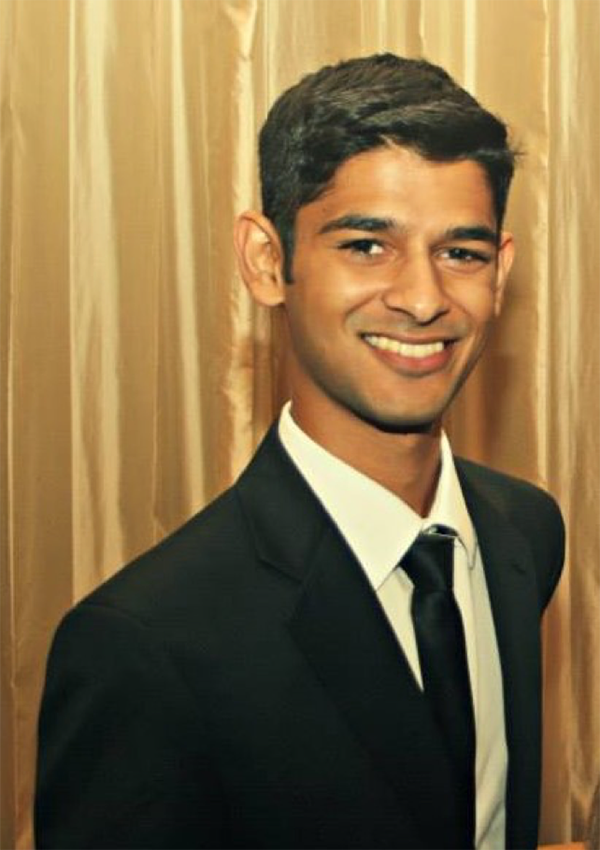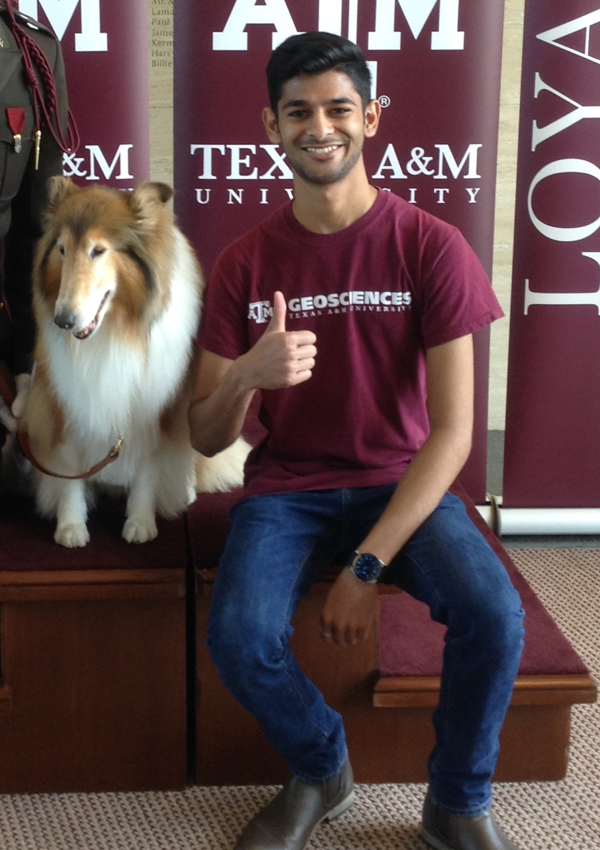 Just 8 years after moving to Houston from Trinidad and Tobago, the "twin-island" nation just off the coast of Venezuela, geophysics major Kalain Hosein is set to walk the graduation stage at Texas A&M University.
Moving to Houston helped spike Hosein's interest in meteorology.
"Growing up in the Eastern Caribbean, you're pretty much exposed to every natural hazard outside of winter weather," he said. "My interest in meteorology was always there, and when I moved to Houston and experienced my first Texas thunderstorm with the insane lightning and thunder, I was in awe."
Hosein eventually decided to major in geophysics at Texas A&M, but maintained his interest in meteorology as well.
"I was, and still am, a huge earth science nerd so when I was around 8 or 9, documentaries about the Indian Ocean tsunamis and other historical mega-tsunamis began to air on National Geographic and Discovery Channel," he said. "The presenters and scientists on those programs typically had the title 'Geophysicist.' That's when I decided I wanted to do what they do."
Texas A&M's College of Geosciences Stood Out
"I chose A&M over most universities due to its fantastic geosciences college, but it is one of the few universities in Texas that offer both geophysics and meteorology," he said.
Hosein was involved in many organizations during his time a student in the Texas A&M College of Geosciences, and he has also be involved in different undergraduate research projects.
"What I loved about conducting research is the amount of self-teaching you have to do on material that is actively applied to a task at hand, versus the purely theoretical content learned in some classes."
Providing A Community Service From 2,000 Miles Away
Even though it has been several years since Hosein has called Trinidad and Tobago home, he has stayed connected in a unique way. After growing up there and observing the hazardous weather conditions that frequent the Eastern Caribbean, he saw a need for readily available, timely public weather information. So in 2014, he created a Facebook page, called the Trinidad and Tobago Weather Center.
"The page's responsibility then and now is to use the information that is available to everyone, and package it in a way that is easily understood by the public, so that the desire for information can be met," he said.
Hosein worked to use already-vetted, scientific weather data and information, such as from the National Weather Service National Hurricane Center, to provid accurate, timely weather information on the page. He also shared citizens' first-hand accounts, such as updates on localized flooding. He does not have any official training in meteorology. But, the page not have much activity until 2017.
"I had accepted an internship with BP at their Port of Spain office in Trinidad for the Summer of 2017 and two days after I landed in Trinidad, the National Hurricane Center began advisories on Potential Tropical Cyclone, which became Tropical Storm Bret and was heading directly towards Trinidad and Tobago," he recalled.
The storm was moving fast and Hosein wanted to help.
"I began alerting the public to the hazards of a tropical disturbance, regardless of strength."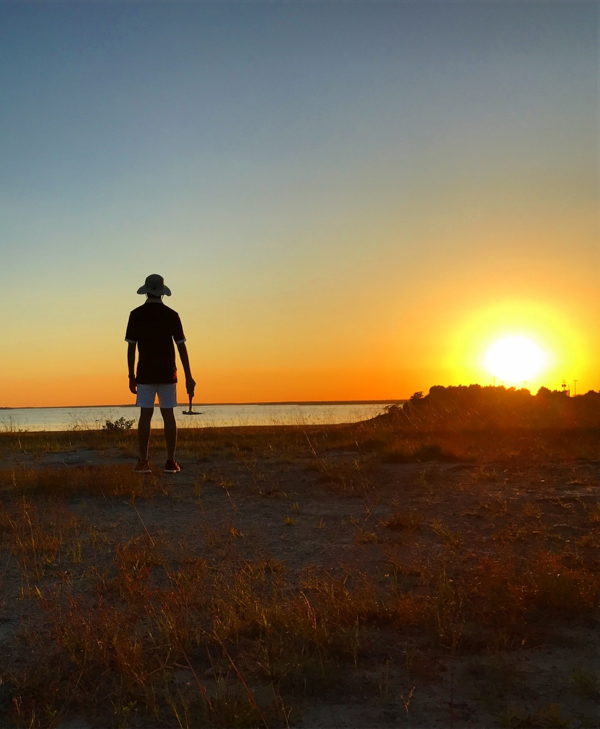 Becoming A Source For The Weather Channel
"This information was used a number of local and international media outlets such as The Weather Channel (US), WeatherNation (US), LoopTT (T&T), Trinidad and Tobago's The Guardian, The Newsday (T&T) and Trinidad and Tobago's Express," Hosein said.
Governmental organizations and agencies also used the information from TTWC.
"The page's reach went from a few hundreds to hundreds of thousands of people in just a few hours," he said. "Then, over the summer, as Trinidad and Tobago's soils were incredibly saturated combined with its high susceptibility for flash floods, any rainfall produced flash flooding across the islands."
After TTWC covered two Category 5 Hurricanes, one hitting Barbuda and the other hitting Dominica, both of which caused mass destruction, TTWC's Twitter and Facebook page reached a combined 3.5 million people.
The Man, The Myth, The Face Behind the Facebook Page
"At this point, everything that I was doing was completely anonymous. Only my two brothers, a cousin of mine and two friends knew I was behind the page," Hosein recalled.
In October of 2017, a rainfall event producing historic flooding in Trinidad. The flooding began to cripple major roads on the island.
So, Hosein began reporting on it. "When flooding just began to affect the highway, I started relaying as much information that I was aware of, whether that be first hand images, videos or radar images of the continuing rainfall. This flooding continued for at least 3 days across the island."
After that, Trinidad and Tobago Newsday released an article about Hosein, and the rest is history. Hosein said he then received recognition from the local media and many governmental organizations.
His was also featured in The Battalion student newspaper at Texas A&M.
He said he continues to operate the page today and use it to share timely and accurate weather information, including from the official Trinidad and Tobago Meteorological Service.
Advice For Future Aggie Geoscientists
As he graduates from Texas A&M this August, Hosein recommends that future geosciences students pursue undergraduate research, as well as take electives in other fields.
"If you have the slightest inclination of what topics you're interested in, research the professors in the college and see who's interest align with yours and pitch them something you're interested in researching," he said. "If you think that's too daunting, then check out the Aggie Research Scholars Program. Undergraduate research is something I wish I started earlier in my degree."
"And, take an elective in another one of the geosciences. The great thing about this field is how versatile a geoscience degree can be."
He also encouraged future geosciences students to persevere through the math courses that plague some undergraduates, and to listen to their academic advisors.
"Math is your friend," Hosein said. "It can be gross, or it can be beautiful depending on you outlook on the subject but regardless, it is one of the most useful things in a geoscience degree."
"Listen to Suzanne, or your respective advisors! The advisors in the College of Geosciences are phenomenal and they know what they're telling you."
After he graduates this August, Hosein hopes to land an internship or a full time job in the oil and gas industry. He also plans to return to school in the near future to obtain his master's degree.
By Taylor Fuechec '18