FROM THE DEPARTMENT HEAD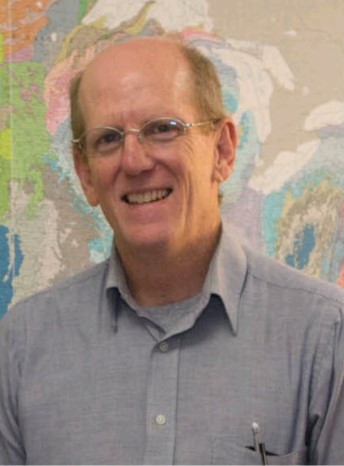 Dear former and current students, faculty and staff:
I'm happy to bring you the news of Spring 2018 from the Department of Geology & Geophysics! This issue of the newsletter will introduce you to Nick Perez, the department's newest tectonicist, and to Trisha Fike, graduate programs advisor. We will also share some insights about the fantastic research our faculty are pursuing. It has been a long and busy spring semester, culminating in the pomp and circumstance of a huge graduation. We graduated 66 undergraduate geology & geophysics majors, 6 M.S. students and 1 Ph.D. student on Friday, May 11. This upcoming August, we expect to graduate around another 20 undergraduates.
Overall, our number of undergraduate majors have been lower since December 2014 which, of course, corresponds to when the price of oil began to drop. We expect to have approximately 230 undergrads by January 2019 which is a significant decrease from 540 majors in the Fall of 2014. Although oil prices have stabilized and now commanding over $70/barrel, jobs available in the petroleum industry remain affected. Many of our students are looking for and landing positions in the environmental industries or even outside of Geology and Geophysics altogether. As our enrollment steadies, we remain committed to graduating the best educated undergraduates hitting the market and we believe that they will perform incredibly valuable work in the future – determining how our Earth works, its history, and how to efficiently harness its resources.
If you were able to join us for the AAPG's Annual Meeting in Salt Lake City this past May 21st, thank you! We had a great turn out. It's always fun to reconnect, win Texas Aggie football tickets, and swap stories. We will also have a departmental booth at the fall SEG and GSA meetings and a college booth at the AGU meeting. Please make plans to join us at these exciting venues.
At our Fall Open House coming up in October, we will be delighted to showcase the game-changing renovations to our undergraduate microscopy laboratory, made possible by a generous gift from Mrs. Robbie Hughes. I hope you will stop by next time you're in College Station!
All the best,
---
---
Faculty News
---
Student News
---
Department News
---
Field Trips
---
Upcoming Events
---
Giving
---