Undergraduate Research Took This Aggie Everywhere From The Eagle Ford Shale To Mars
Four undergraduate research projects helped Juan Acevedo prepare for an impactful career.
Apr 30, 2018
Senior geophysics major Juan Acevedo had a unique experience during his time at Texas A&M University: he participated in not one or two, but four separate undergraduate research projects.
Originally from Colombia, Acevedo and his family moved to the United States about ten years ago. And because both of his parents are geologists, Juan grew up around the geosciences.
"I've always liked going out and learning about how mountains were formed, and what makes up the rocks," he said.
All it took was a visit to the Texas A&M campus when he was in high school to convince Acevedo to decide to bring his passion for geology to Aggieland.
"I came to one of the football games with my best friend and his sister, who was an Aggie geology alumni, and she brought us in and I just loved it as soon as I came here," Acevedo said. "I fell in love and I decided this is where I wanted to go to school."
His undergraduate career would turn out to cover a lot of ground, and Acevedo believes his research experiences outside the classroom equipped him with the skills needed to excel in his field. The Texas A&M College of Geosciences and the Department of Geology and Geophysics prioritize high-impact student experiences such as undergraduate research.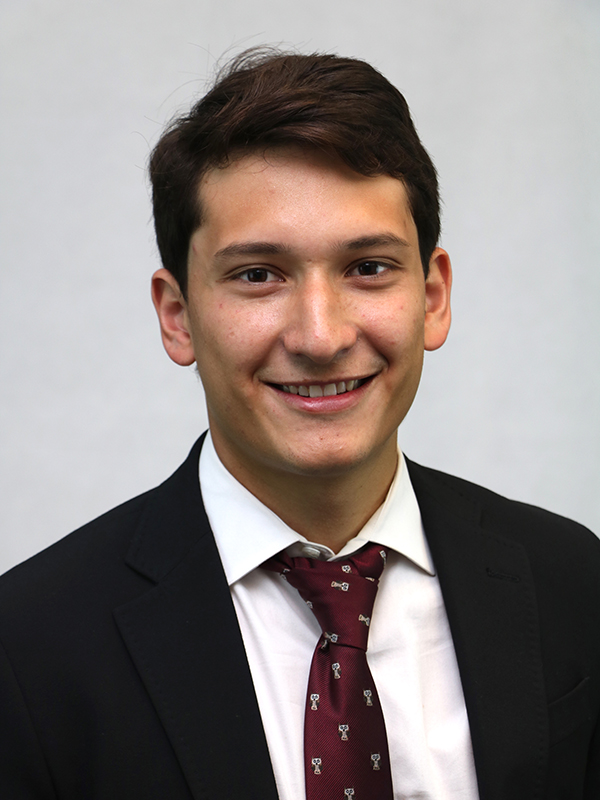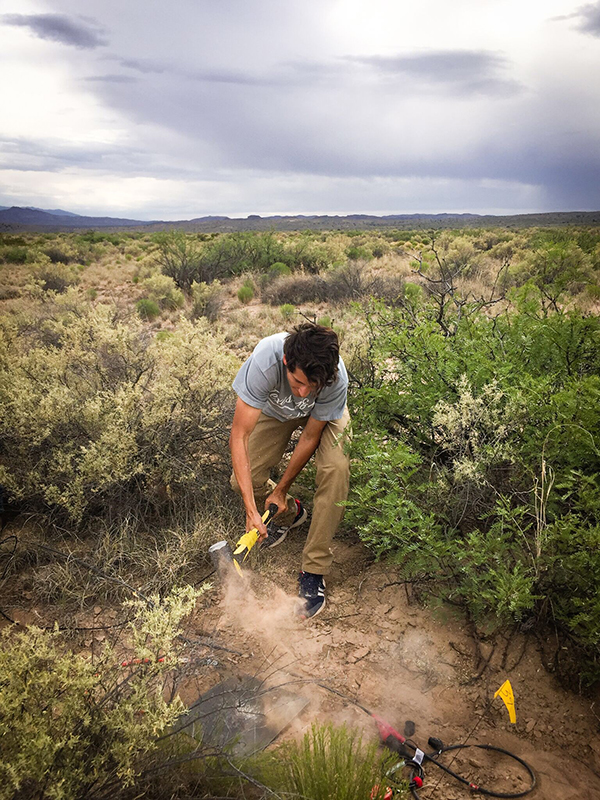 Studying The Eagle Ford Shale 
Acevedo's first research experience at Texas A&M was a summer research project with Dr. Juan Carlos Laya, assistant professor in the Department of Geology and Geophysics.
"We studied foraminifera along the Eagle Ford shale," he said. "We were studying how they evolved basically through the cretaceous Cenomanian-Turonian boundaries because there was a lot of ash bed deposition during that time. So, we were seeing if the ash bed had any sort of correlation to more abundance in the foraminifera population in the Eagle Ford."
Geology and Geophysics Department Head Dr. Mike Pope supervised his second project.
"It was also on the Eagle Ford shale, but I was doing a geochemical analysis of the core, so I used an x-ray florescence device, which is kind of like a little gun, and it would just shoot x-rays into the rock and it would show me exactly what the geochemistry was," Acevedo said. "We did this to see how the chemistry changed throughout the deposition of the Eagle Ford shale."
Geology Research On Mars, And Geophysical Studies Of Alaska
Taking a much broader scope on his third project, Acevedo and Dr. Ryan Ewing, associate professor in the Department of Geology and Geophysics, researched sedimentary dunes in the North Pole of Mars.
"I was just very interested in planetary geosciences, so I went and I sought him out and I asked him if there was any sort of work he had for me," he said. "He brought up this project that was basically tracking the dunes on the North Pole of Mars and how they were moving through a span of four Earth years. It was really fun!"
Acevedo's fourth project was a Summer 2017 internship with a seismological research company, IRIS, and the Missouri University of Science and Technology in Rolla, Missouri. 
"All of the (IRIS) interns got sent out to different universities," Acevedo said. "Our projects were seismologically based and focused on the work that each of the professors had. We then presented our work at the American Geophysical Union (AGU) conference in New Orleans."
His resulting AGU poster was titled "Seismic Anisotropy beneath Alaska Constrained by Shear Wave Splitting Analysis."
"I learned a lot throughout that project," he said. "Especially because it was more focused on the research. I was going eight to five everyday, just working on my research. So, it really got me into that mentality of what it is like to be a researcher. That project was more geophysics-intense, all of the other ones were geology based."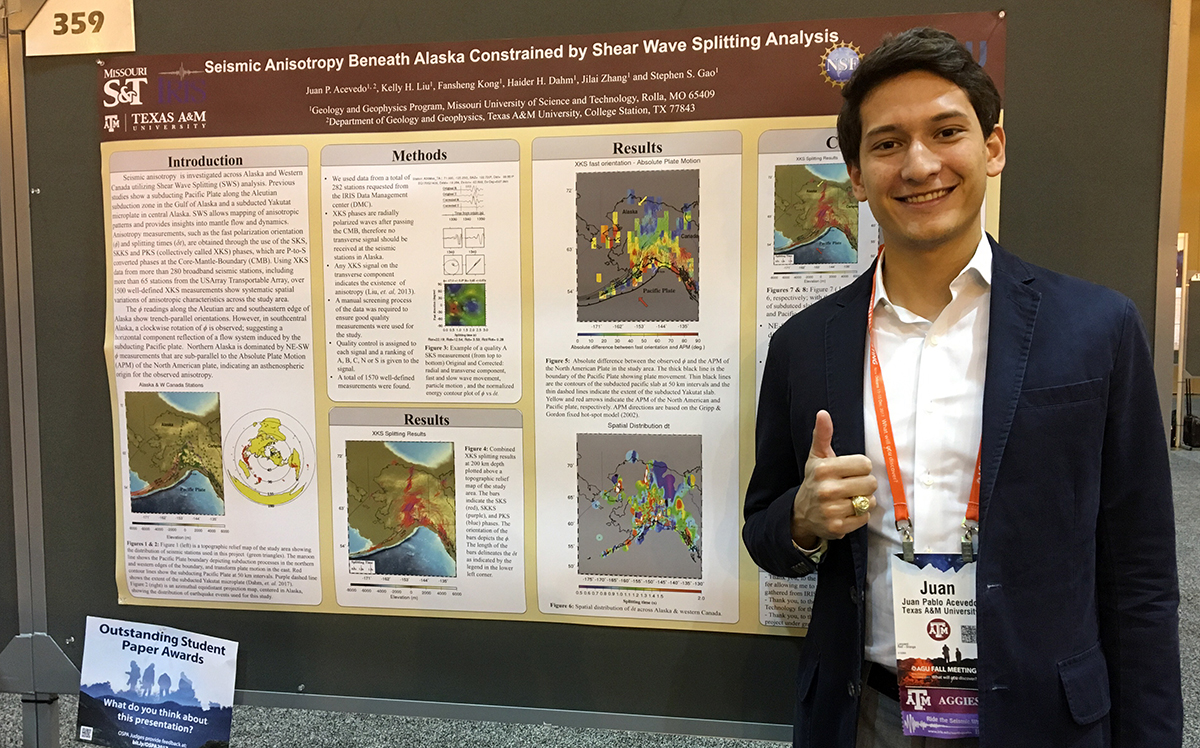 Moving Forward After Graduation
After graduating from Texas A&M this month, Acevedo will begin graduate school at the University of Texas at Austin, where he'll be researching groundwater resources and groundwater policy. He's looking forward to building on the experience he gained in Aggieland.
"The professors there thought that all of my experience as an undergraduate really helped me get that position as a graduate student, because it put me out there," Acevedo said. "I was doing work; I was going above and beyond what was expected. I really enjoyed my time here and I'm very happy for this future opportunity."
He recommends undergraduate research and thinks that it's a component of his education that set him apart from other students.
"Even if you're not planning on going to graduate school or getting a doctorate or anything like that, you should still experience that research process of having a question, and not knowing how to solve it, then going through the literature, talking to advisors, talking to graduate students who are maybe working on this, and putting out your own work. Doing the scientific process and presenting that research is very important."
His time at Texas A&M was also positively shaped by his participation in the Colombian Student Association, Texas A&M Quidditch Team, and College of Geoscience's exchange program with the University of Leicester in the spring of 2016, he said. Though Acevedo is leaving Aggieland, he says that he'll miss "the community itself; the school is very close-knit."
"I like the feeling of knowing that everybody here is willing to do anything for everybody else. My brother is studying geology, and I feel like he and I and everybody else in the geology and geosciences community, we all kind of know each other, we all have our own little tight-knit group of people. We're the smallest college at this school, so it's something to be proud of."
By Catherine McCarthy '19