FROM THE DEPARTMENT HEAD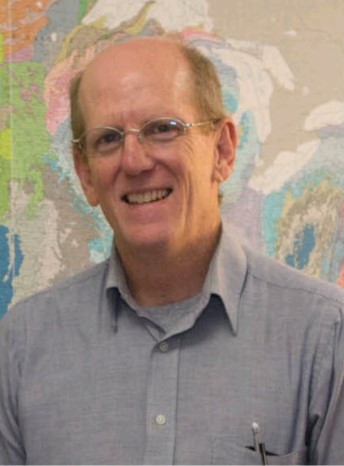 Dear former students, current students, faculty, and staff,
Welcome to the 2019 Winter Newsletter! It was a very busy fall in the Department of Geology and Geophysics, what with an Open House, the SEG, GSA, and AGU meetings, and a number of excellent field trips! In this issue of the newsletter we will introduce you to David Bapst, one of the department's young paleontologists and statistical analyst, and to Luz Romero, the laboratory manager for the R. Ken Williams '45 Radiogenic Isotope Geosciences Lab.
On Friday, December 14, we had 51 undergraduate, 6 M.S. and 7 Ph.D. students graduate, one of our biggest December graduations ever! Congratulations to all the new graduates and we wish them well on their adventures going forward. There are many changes occurring in the department. For the last four years, our enrollments have been dropping but we are working closely with the College's recruiting director, Judy Nunez, to recruit more students to our department, even though the price of oil remains relatively unchanged. We have become mostly a PhD granting graduate program over the last four years and we are working hard to make sure that almost all the graduate students that qualify are able to gain admittance and have it paid for by a Teaching Assistantship, Research Assistantship, Fellowship, Scholarship or other means. Additionally, we are trying to balance our desire to produce some of the best geologists for the oil and gas industry, while also producing geologists that will be leaders in other fields, such as hydrogeology, environmental geology, and natural hazards mitigation. You will see in the newsletter that Dr. Patrick Fulton is leaving the department to take a position, but we also are losing Dr. Rick Gibson, who is going to take a position in the private sector. We will miss both of these outstanding geoscientists as they have been valuable colleagues who have provided much leadership and guidance, and we wish them well in their future endeavors. We will hopefully be searching for a geophysicist next fall to fill the gap left by these valuable team members.
We are looking forward to another busy and productive year in 2019, but before that, we hope that your holiday season was fun, exciting, restful, and healthy. We look forward to seeing all of you in Aggieland in 2019.
All the best,
Dr. Mike Pope
---
---
Faculty News
---
Students
---
Other Department News
---
Giving
---