AGU Awards Andrew Dessler 2021 Climate Communication Prize
The prestigious award recognizes Dessler's renowned work in publicly communicating climate change science and impacts.
Nov 4, 2021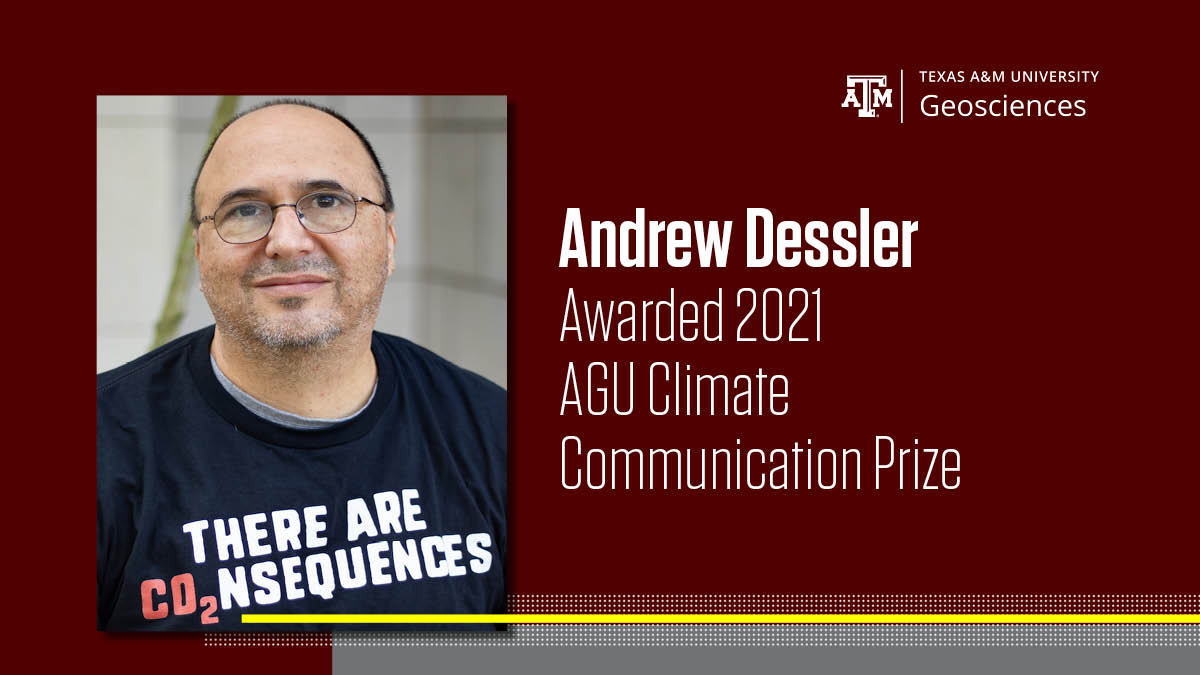 Dr. Andrew Dessler, Professor and Reta A. Haynes Chair in Geosciences in the Department of Atmospheric Sciences at Texas A&M University, was recently selected by the American Geophysical Union (AGU) as the 2021 Climate Communication Prize recipient. 
The award is given in recognition of the communication of climate science to promote scientific literacy, clarity of message, and efforts to foster respect and understanding of science-based values, particularly around climate change.
"The AGU Climate Communication Prize is an unparalleled benchmark of impact and celebrates the critical work that Dr. Dessler has led and continues to lead," said Dean of the College of Geosciences Dr. Debbie Thomas. "We are so deeply grateful for his efforts and thrilled that they are so deeply valued by the entire geosciences community!"
Communicating Science 
Dessler is an expert in global climate physics, climate impacts, atmospheric chemistry, and climate change policy. His latest research focuses on climate change, water vapor, and clouds.  In addition to his research and teaching in the department, he frequently contributes op-eds, public outreach, and expert analysis to the public sphere and to policymakers.
"I view communicating science to the public as an obligation of being a scientist.  The public supports research with their tax dollars, so a top priority should be letting them know what our research shows.  This is especially true when the results have important implications for society, as is certainly the case for climate change," Dessler said. 
AGU lauded all of its 2021 awardees as having "made outstanding achievements and contributions by pushing forward the frontiers of our science. Each recipient embodies our shared vision of a thriving, sustainable, and equitable future powered by discovery, innovation, and action. These recipients have worked with integrity, respect, and collaboration while creating deep engagement in education, diversity, and outreach."
AGU will formally recognize this year's award recipients during AGU 2021 Fall Meeting Dec. 13-17 in New Orleans and online.
A Career In Climate
Dessler received a B.A. in physics from Rice University in 1986 and an A.M. and Ph.D. in chemistry from Harvard University in 1990 and 1994.
Following his undergraduate degree, he worked in the energy group at The First Boston Corporation, in mergers and acquisitions analysis. He left his job on Wall Street in 1988 to go to graduate school in chemistry. 
After receiving his Ph.D. in 1994, Dessler completed two years of Postdoctoral research at NASA's Goddard Space Flight Center and then spent nine years on the research faculty of the University of Maryland. He served as the Senior Policy Analyst in the White House Office of Science and Technology Policy in 2000.
Dessler joined the atmospheric sciences faculty at Texas A&M in 2005 and became a tenured Professor of Atmospheric Sciences in 2007. He was named a Fellow of the AGU in 2019 and a Fellow of the American Association for the Advancement of Science (AAAS) in 2017.
"Helping the general public is part of the mission of land-grant universities like Texas A&M," Dessler said. "It is therefore a tremendous honor to get an award from the AGU recognizing my efforts helping society better understand the reality of climate change."
By Leslie Lee, Texas A&M Geosciences