Oceanography Students Experience Life At Sea During Four-Day Cruise
Texas A&M Oceanography undergraduates spent four days in the Gulf of Mexico on a research cruise generously funded by Hal Schade '67.
Jun 28, 2021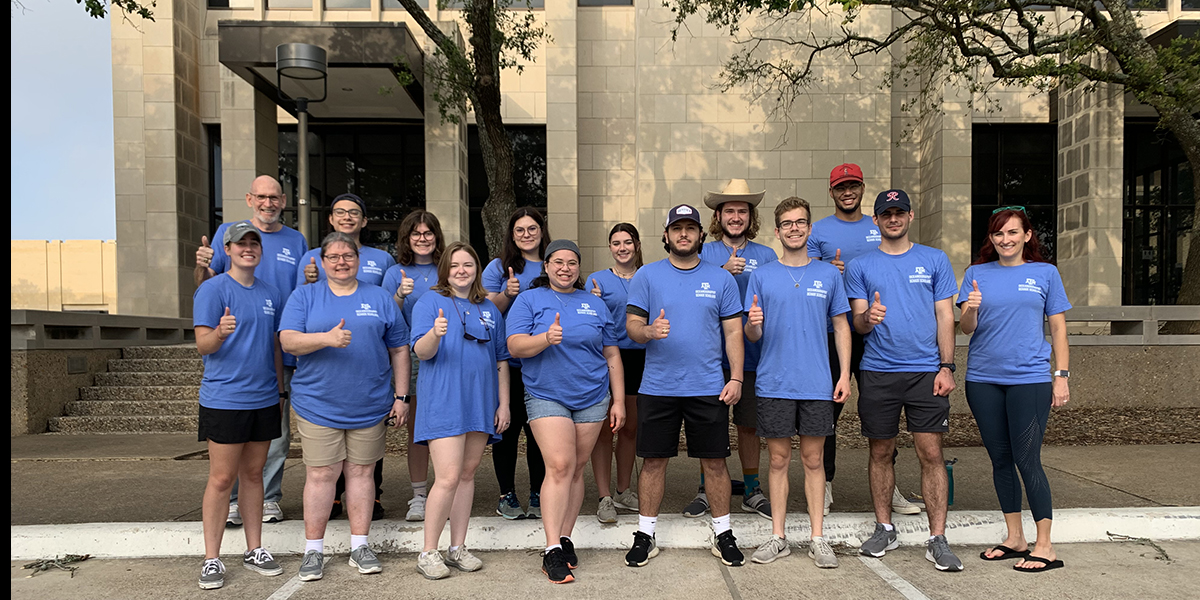 Twelve undergraduate students in Texas A&M's Department of Oceanography recently joined faculty and the crew of the R/V Point Sur on a research cruise in the Gulf of Mexico.
No typical four-hour tour, this cruise spanned four days from June 1 through June 4. Started in 2019 thanks to a generous donation from Hal Schade '67, the cruise is affectionately referred to as the Schade Cruise.
Schade is passionate about the ocean and helping Aggies find meaningful careers in ocean sciences. From 2003 to 2009, he sailed in the Western Caribbean on his boat, Griffin. In 2009, he moved back to College Station and renewed his involvement with supporting Texas A&M.
"A Texas A&M Foundation representative came to meet me on my boat in Port Aransas, Texas," Schade recalled. "He asked: 'where, specifically, do you want this money to go?' I thought about it while sitting on my boat, in the ocean, and that was it! I answered, 'see if they have an oceanography program.'"
Today that gift makes the Schade Cruise possible, giving undergraduate students the enhanced education and hands-on experiences necessary to fully grasp all aspects of oceanographic research.
Experience The Science
Envisioned as a cruise specifically for undergraduate students, the Schade Cruise continues to afford valuable opportunities for undergraduates to do real research on a multi-day cruise. It not only gives students oceanographic experience but also allows them to experience working and living on a ship as a team.
"Working closely together and developing strong bonds while doing meaningful work," was a highlight of the cruise, said Charles Larrouilh. "This hands-on experience exposed me to the reality of life at sea and has deepened my interest in this vocation."
The cruise was led by Dr. Chrissy Wiederwohl, instructional associate professor of oceanography at Texas A&M and Dr. Shari Yvon-Lewis, professor and department head for oceanography. Together, they led their students in continuing the research started in 2019. Students and faculty divided into two 12-hour shifts, day and night, working around the clock to accomplish the continuous sample and data collections throughout the trip.
"The overarching goal is to provide students with the opportunity to put into practice what they learn, either in their classes or during our shorter half-day field trips in Galveston Bay," said Yvon-Lewis. "In class, we discuss data and what the data can tell us about conditions in the ocean, but this cruise drives home how we collect that data and can even make it more clear how we draw our conclusions from the data."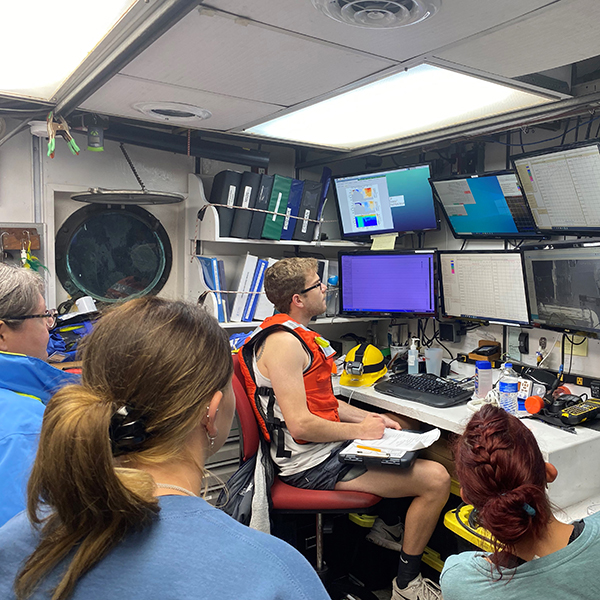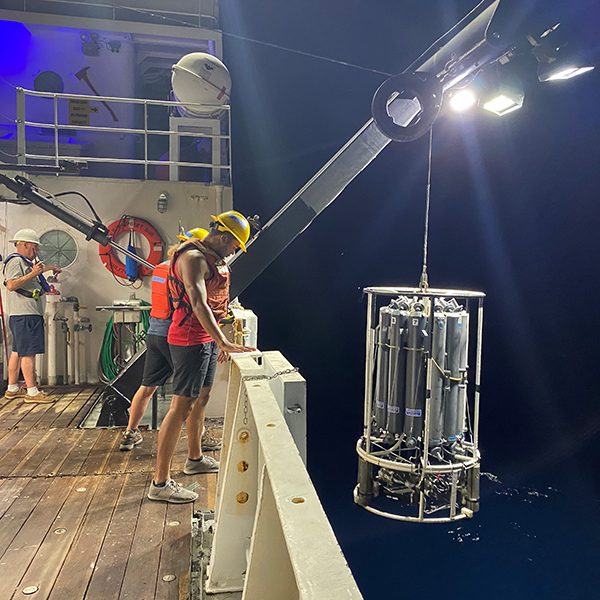 Similar to the cruise in 2019, they did several full water column profiles around the area of the tragic 2010 Deep-Water Horizon oil spill to collect continuous data from the surface down to the bottom. Temperature, salinity, pressure, dissolved oxygen, and fluorescence were measured, and bottle samples were taken of oxygen, methane, dissolved inorganic carbon (DIC), total alkalinity, nutrients, and salinity.
Additionally, the students also took samples for dissolved organic matter and colored dissolved organic matter and even looked for polyfluoroalkyl substances this year as well.
"We're studying the hydrography of the area by looking at natural water mass motion in the area," Yvon-Lewis said. "We collected additional water samples for tracers, which are chemicals found in seawater that identify specific water masses so we can look at circulation."
Overall, this year's cruise benefited from fair weather and calmer waters.
"One of the challenges of a research cruise is learning to work in a variety of sea-states and weather conditions. We had much better weather than last time, which allowed the students to get their sea legs sooner" Wiederwohl said. "Even those that were a little sea-sick were still eager to get their integral part of the science done."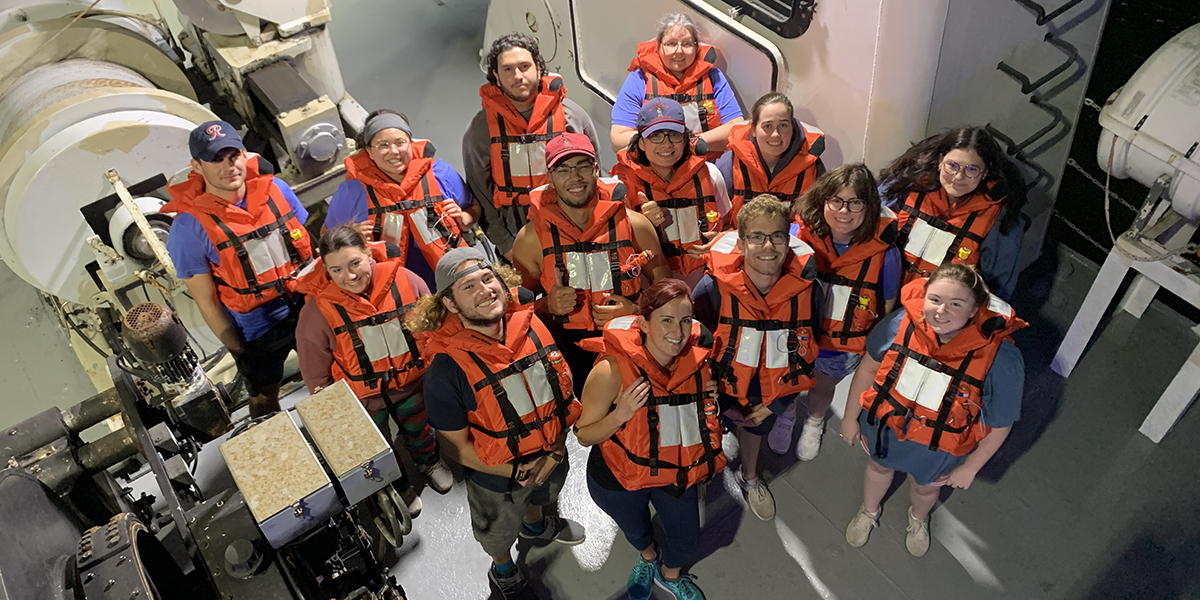 Future Oceanographers
The undergraduate students on this cruise ranged from freshmen to seniors. While it might have been the first cruise for many, the students stepped up to the challenge.
"The most important thing was how to time manage and keep yourself busy but also balance work and passing time," said Veronica Burgos, an oceanography junior. "I enjoyed that I could openly ask everybody questions and that I could physically see and even touch what we were learning about."
"I was in charge of collecting samples for DIC," said Chris Martin, a senior oceanography student. "I just joined the oceanography department last year and have only had online classes. So, it was awesome meeting people in my major and talking with Dr. Wiederwohl and Dr. Yvon-Lewis, they're really knowledgeable and really care about this stuff."
Larrouilh was given the large responsibility of overseeing the CTD Rosette which measures conductivity, temperature, and depth at various points between the surface and the sea floor.
For these Aggie undergraduates, the Schade cruise was a lot more than just a hands-on field experience. They all received a healthy taste of what it is like to be a real oceanographer.
"After over a year of teaching through zoom, it was truly inspiring to watch our students renew and solidify their passion for being oceanography majors," Wiederwohl said.  "It was amazing to interact with our students in person and dive back into sea-going research and training."
Each student walked away with more knowledge and experience, a new perspective of the science they learned in the classroom, and a huge appreciation for Schade's generosity.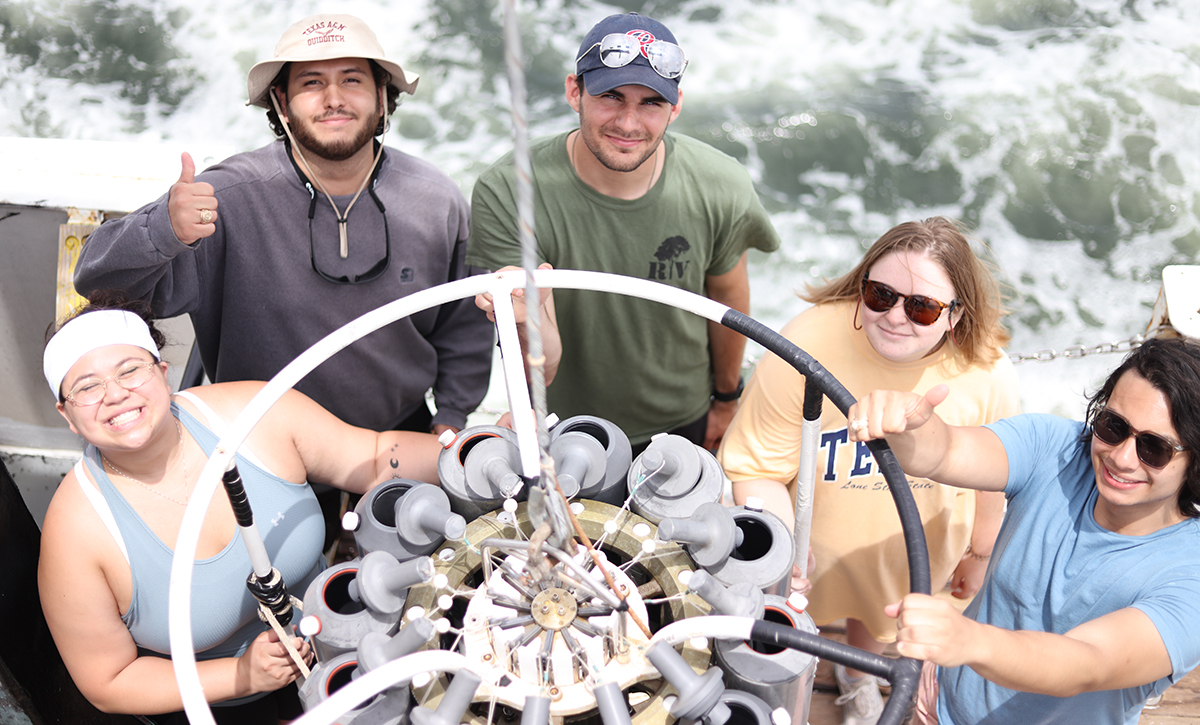 Giving Makes High-Impact Experiences Possible
"Mr. Schade, there are no words that can describe how much this opportunity has firmly cemented my passion for oceanography and has opened my eyes to the importance of ocean advocacy," Larrouilh said. "Your donation changed my life and I hope to thank you in person one day."
"Thank you very much for allowing me to have an amazing experience that will last a lifetime! Your generosity and love of our school and our program is truly inspiring," Martin said.
While it is certain to produce life-long memories, the Schade Cruise provides the integral hands-on experience students will need to take with them into the next phase of their careers.
"I am eternally grateful for the opportunity you have given me," Burgos said. "Thanks to you, I never want to stop learning, and I hope I can inspire others the way you have inspired me."
"Getting hands-on experience at the undergraduate level can help reinforce for people that they've made the right decision," Schade said. "To see them doing the work, the excitement on their faces, and their enjoyment of the science is a real pleasure."
Schade is also the benefactor for an endowed undergraduate scholarship available to oceanography students, named in memory of his sister, the Peni M. Basse Memorial Scholarship.
By Justin Agan '18