Hal Schade '67 Gift Funds 4-Day Research Cruise For Oceanography Students
Conducting research around the clock, Aggies experienced being on an at-sea science team.
Jun 26, 2019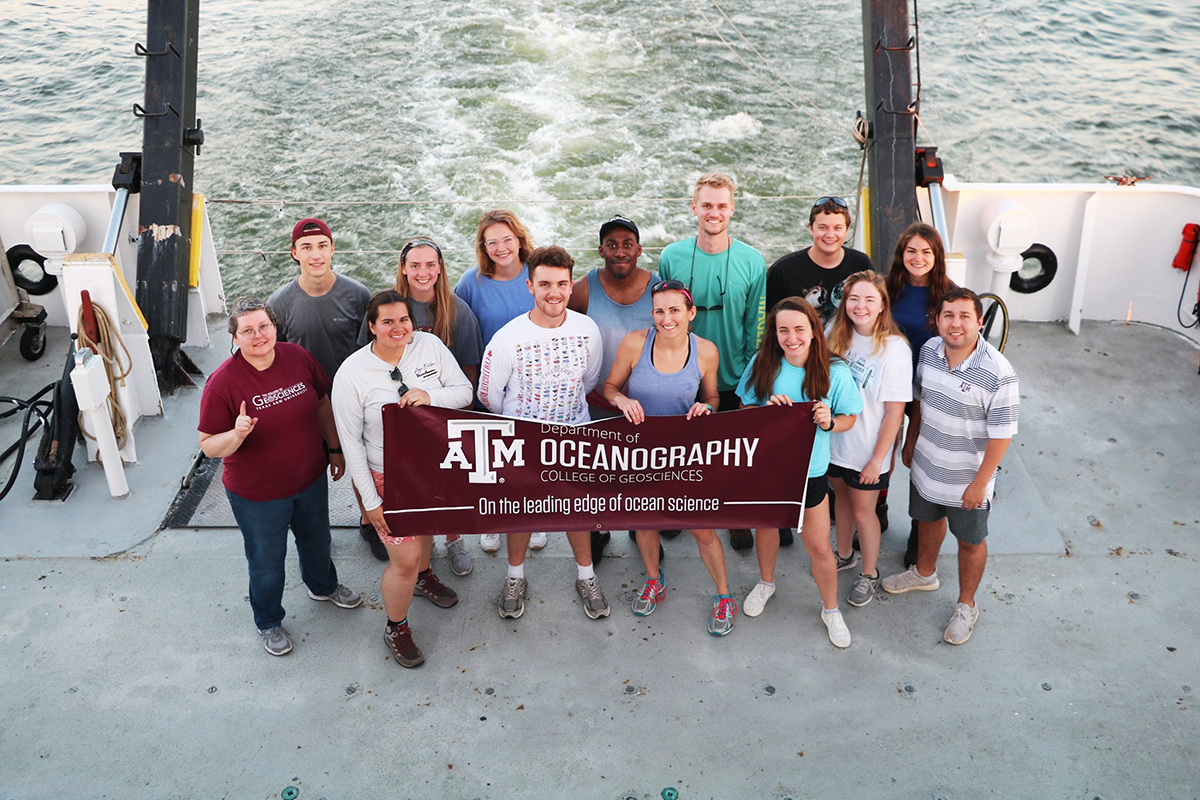 Twelve Texas A&M University Department of Oceanography students had the remarkable opportunity to spend four days at sea, conducting research in the Gulf of Mexico May 23-26 aboard the R/V Point Sur. The entire cruise was funded thanks to a generous gift from Hal Schade '67, given in honor of his parents, Colonel Tom and Sue Mathews.
For each student, this was their first time sailing on a multi-day research cruise.
"They got to experience working in 12-hour shifts, taking water samples, and having responsibility for a certain parameter — it was a very authentic research experience," said Texas A&M Oceanography Department Head Dr. Shari Yvon-Lewis. "We are immensely grateful to Hal for sponsoring this. We would not have been able to bring these students out and provide them with this opportunity without his support." 
Schade's $80,000 gift funded all of the ship, crew, equipment and travel costs involved with the research cruise.
"We wanted students to have this kind of an experience and we didn't have any other funding mechanism to make that happen, so I am really grateful to him for having that desire to help these students get that experience," Yvon-Lewis said. 
The gift supports the university's Lead By Example Campaign, a fundraising effort to raise $4 billion in support of Texas A&M students, faculty, colleges and programs by 2020. This was the inaugural Schade Cruise, and the oceanography students took pride in being the first Schade Scholars.
"We love what we are learning because we are passionate about the ocean, but being able to put our hands on it makes it so much more real and that much more important to you," said oceanography student Samantha Longridge '20. "Being able to go out on a research cruise brings the reality and awe back into what we are learning." 
Assistant Department Head for Engagement and Graduate Affairs Dr. Chrissy Wiederwohl served as chief scientist for the cruise, and Yvon-Lewis served as co-chief.
"We did a lot of at-sea learning," Wiederwohl said "The students were taking samples and asking questions at the same time — 'Why did we take a water sample here, not there?' — they were intrigued by the science and did a great job."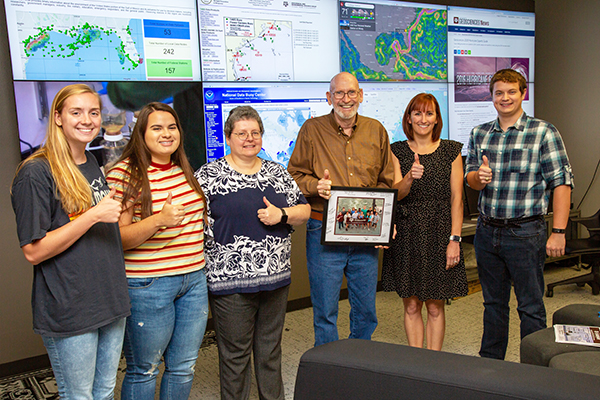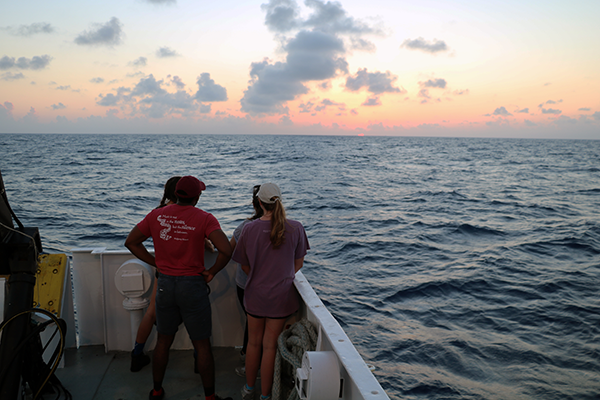 Research Will Continue Important Gulf Datasets
This research cruise's science objective was following up on and continuing work that began around the time of the Deepwater Horizon oil spill in 2010. Some of that research was supported by the Gulf Integrated Spill Research Program (GISR).
"There's a grid of sampling stations that we sampled during several GISR cruises to study the transport of the oil in the Gulf," Yvon-Lewis said. "What we're doing with this current research is using that footprint as our base to set up the set of measurements that we're going to make. On these new cruises we will continue that time series and make it a long-term time series, to better understand that transport along the slope in the northern Gulf of Mexico. We're very excited about it."
That long-term time series could potentially inform future oil spill responses, giving scientists baseline data and a better understanding of how oil or other pollutants move through Gulf waters.
"One of the things that had really shown through in the Deepwater Horizon response was the fact that there was a lack of prior baseline measurements," she said. "And right now there isn't a mechanism to have those baseline measurements set up in the Gulf. With these cruises, this would be one way that we could do that."
The students onboard were responsible for working in 12-hour shifts, during which they collected a full suite of hydrographic and water samples using a CTD rosette and Niskin bottles.
"We did full water column profiles, which means we have continuous data from the surface all the way down to the bottom of temperature, salinity, pressure, dissolved oxygen, and fluorescence," Wiederwohl said. "And then we also took bottle samples of oxygen, methane, and DIC, which is dissolved inorganic carbon, total alkalinity, and nutrients and salinity; and we also took underway measurements of sea surface temperature and salinity and currents." 
Every student on board did an excellent job of fulfilling their responsibilities and keeping the sampling running smoothly, she said. "No matter how sea-sick they were, they still did their work — that was the most amazing part. Quite the bonding experience."
"I was responsible for assisting the rosette in and out of the water, I prepared and reset all of the Niskin bottles to collect water properly after sampling was completed, and I collected water to be analyzed for dissolved oxygen," Longridge said. "I think these research cruises are invaluable for students because they give you something tangible for what you are actually learning in the classroom."
"I show all of this in class, but it's nothing like being there and doing it for real and seeing how it actually works," Yvon-Lewis said.
The R/V Point Sur is owned by the University of Southern Mississippi and is operated by Louisiana Universities Marine Consortium (LUMCON). Wiederwohl and Yvon-Lewis praised the ship's crew for their willingness to train students on operating the scientific equipment and other skills.
"The crew can make or break the success of completing your science.  Not only were they extremely helpful and supportive of meeting our goals, they were also willing to let the students deploy equipment and run the A frame, and they supervised and trained them on it," Wiederwohl said. "I've been on numerous different vessels, and I've never been on a cruise where they allowed the students to be that hands-on. This furthered their full understanding of how oceanographic data collection works from start to finish."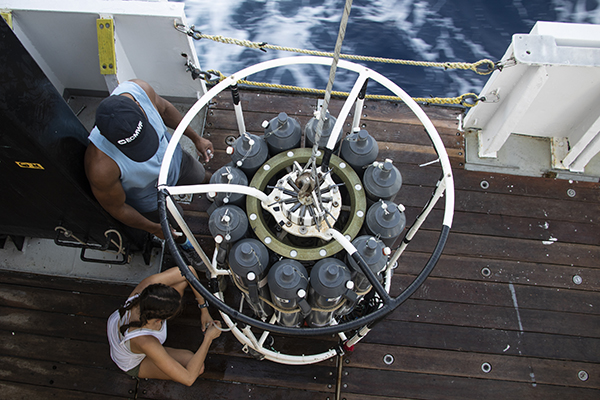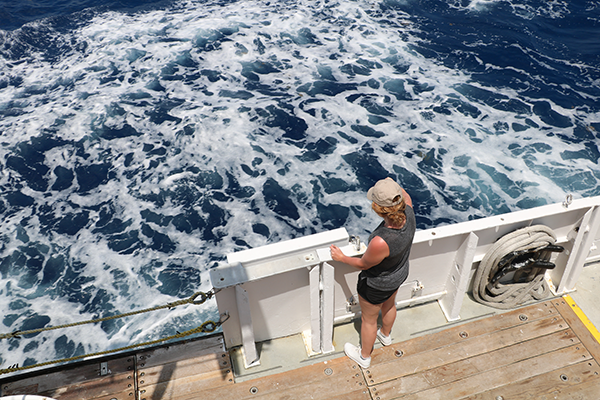 An Unforgettable Experience 
From enduring sea-sickness to working together with a seasoned ship crew, these Aggie students learned and thrived on their first voyage.
"My favorite part of the cruise was getting the hands-on experience and honestly just being able to be out on a boat and in the ocean," Longridge said. "I also really enjoyed getting to know my classmates and my professors on a deeper level. One evening we went to the bow of the boat and we were able to see all the stars and the milky way above our heads and the bioluminescence in the waves below us, it was truly awesome."
"This was a great group of students," Yvon-Lewis said. 
During their journey back to port, the students got to watch a school of dolphins swimming and jumping alongside the ship.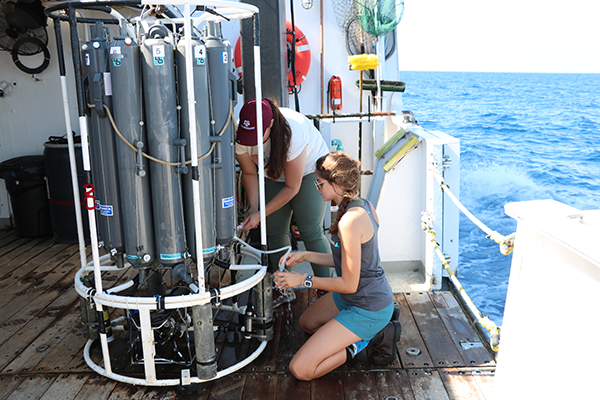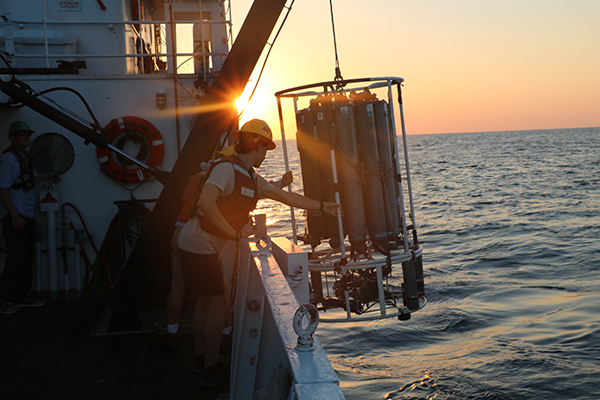 Gift Inspires And Equips Future Oceanographers
Schade graduated from Texas A&M in 1967 with a bachelor's degree in journalism. He then served 12 years of active duty in the U.S. Army. He retired with 28 years in the Army Reserves before returning to his journalism roots as the editor of a small paper, and later worked at the San Antonio Express-News. In 1985, he joined the public relations department at USAA, and retired in 2000. 
In 2003, Schade followed his two passions — sailing and photography — and spent the next six years in the Western Caribbean with his boat, Griffin. In 2009, he moved back to College Station and renewed his involvement with supporting Texas A&M. 
Hal Schade's passion for the ocean and for stewardship of the ocean inspired his gift, Yvon-Lewis said. "He wants these young people to be enthused about understanding and protecting this critical resource." 
By Leslie Lee '09
To learn more about supporting high-impact learning experiences in the College of Geosciences, visit leadbyexample.tamu.edu/geosciences.