From Pre-Dawn Balloon Launches To Costa Rica: Meet Graduating Senior Erin Sherman
The meteorology senior reflects on all of the extraordinary opportunities she's pursued while a student in Texas A&M's College of Geosciences.
May 19, 2021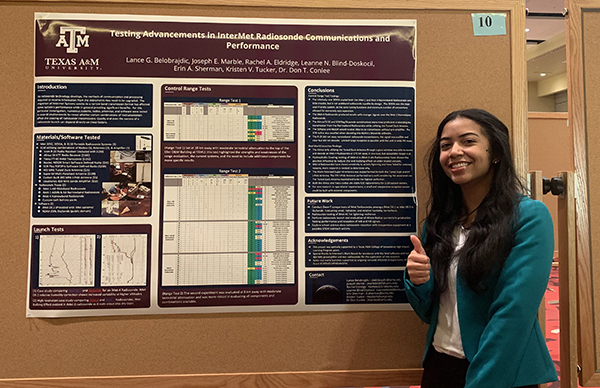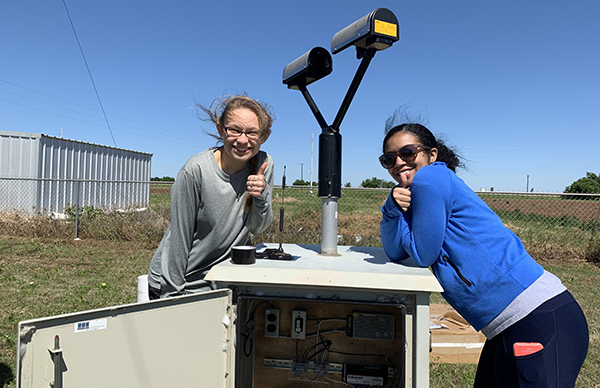 Erin Sherman '21 has wanted to become a meteorologist since she was eight years old.
This week when she walks across stage during Texas A&M's spring commencement ceremonies, she'll achieve that dream.
During her time as a meteorology major in the Department of Atmospheric Sciences in the College of Geosciences at Texas A&M, Sherman has pursued several amazing opportunities, from conducting research for NASA and NOAA, to helping lead the storm chasing student organization, to traveling to Costa Rica to learn about water and the environment.
After graduation, Sherman will be moving on to Colorado State University, where she will be a master's student in the Department of Atmospheric Science.
Turning Dreams Into Reality
"Like a lot of meteorology majors, I had a fascination with weather and storms from a very young age," Sherman recalled. 
Whereas other childhood interests such as ballet and art came and went, her fascination with weather stayed with her over the years.
"I remember one day saying 'I wish there was a job where I could just deal with weather all the time,' and my mom said 'You know that is a job, right?' and I was so surprised," she said. "I was around eight years old and ever since then I've been working toward becoming a meteorologist."
When Sherman was in high school, she prioritized her meteorology aspirations when selecting what universities to apply to.
"I had just moved to Texas with my mom and my sister, and I wanted to stay close to home, but I also wanted to go to a school with a great meteorology program," she said. "When I heard that Texas A&M had a storm chasing group, that's what sold me. I could stay close to home, I could get to storm-chase, and Texas A&M has a really good program — so I felt like I was getting the best of all worlds."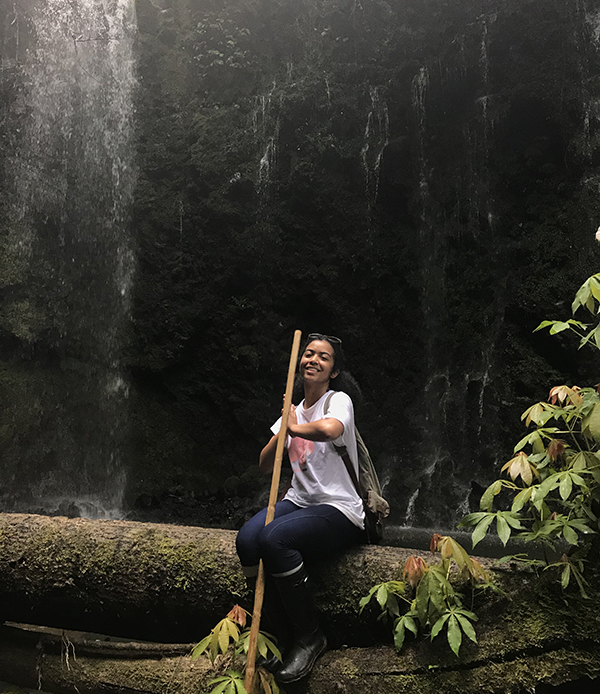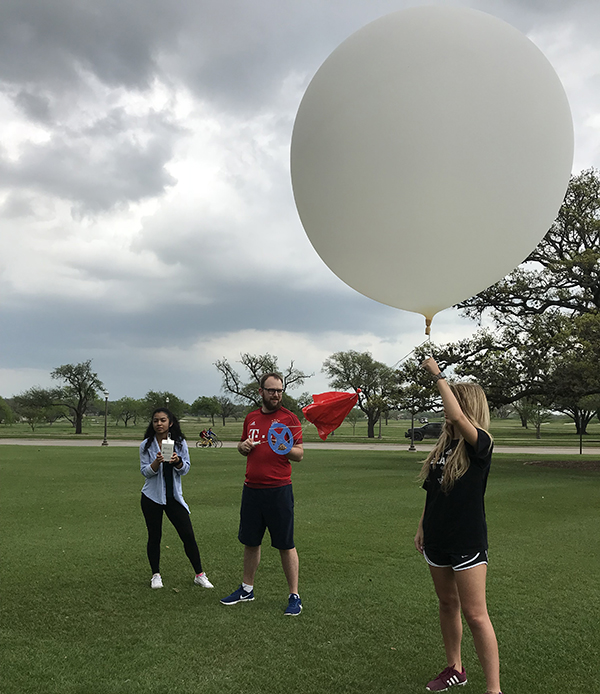 Now, after four years of intensive course work, receiving and providing mentorship, and conducting and presenting rigorous research projects, Sherman has earned her meteorology degree from Texas A&M.
Incredible Opportunities
As a freshman at Texas A&M, Sherman traveled to Costa Rica as a part of a course focused on water security, taught by Judy Nunez, geosciences director of student recruitment.
"Judy Nunez has been an amazing, awesome mentor ever since my freshmen year," Sherman said.
Her sophomore year, Sherman helped conduct weather balloon launches as a part of a NOAA-funded research campaign by the Department of Atmospheric Sciences.
The Verification of the Origins of Rotation in Tornadoes Experiment in the Southeast (VORTEX-SE) 2018-2019 field campaign, named "Meso18-19," was a national field project funded by NOAA. Graduate and undergraduate students in the department coordinated and conducted the weather balloon launches for Meso18-19.
"Sometimes we'd have to get up at 3 a.m. to go to the O&M Building and launch balloons," Sherman said. "That was one of the highlights of my undergraduate career. It was a great bonding experience for the students, and I really felt like I belonged in the meteorology major."
In the summer of 2019, she was selected for a National Science Foundation-funded Research Experience for Undergraduates (REU) summer program at Colorado State University.
"I had been conducting research as a part of Dr. Don Conlee's Specific Studies Group for a while and he wrote a letter of recommendation for me for a summer REU at Colorado State University, which I was selected for," she said. "I got to work with really amazing scientists there, and I got to do my own research, which I ended up presenting at the American Meteorological Society annual conference, and received an award for."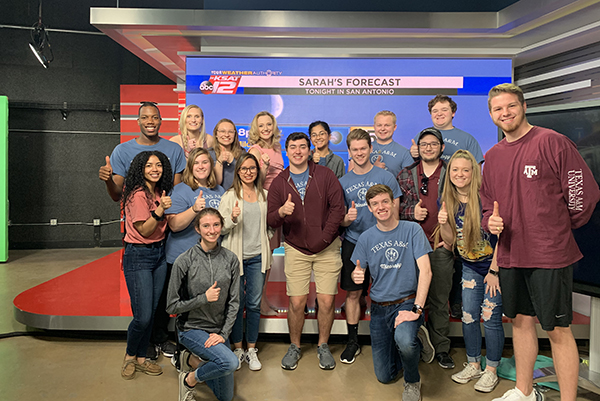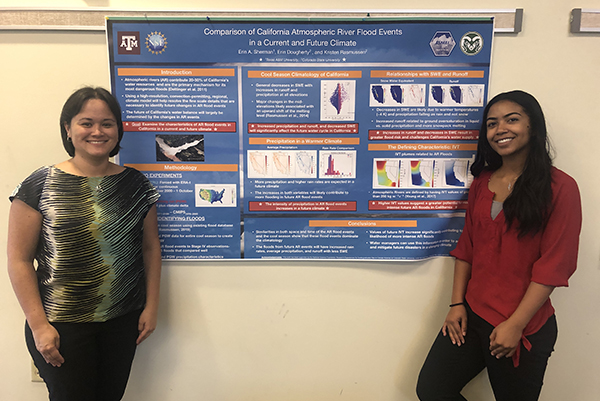 "The REU was a really great experience overall. I got to meet people from across the country who were also really interested in atmospheric science research. That's what spurred my love for research."
Sherman's research centered on atmospheric rivers and flood events in California, and how climate change could affect those systems. She used climate models to simulate those future scenarios, and found that snowmelt could be greatly decreased, resulting in possible worsened regional water supply problems.
She received the Outstanding Student Conference Poster Award at AMS 2020 for this research.
How To Thrive In Meteorology
In addition to her research accomplishments, Sherman also served as a peer mentor in the College of Geosciences, and received a Texas A&M University System Louis Stokes Alliance for Minority Participation (LSAMP) scholarship that supported her undergraduate research.
Supporting peer mentorship is a priority in the college, and Sherman said that community-building and mentoring are very meaningful accomplishments for her.
"I pride myself in being a mentor to younger students who are younger than me in the major," she said. "I was working with one student, a junior in our major, giving a lot of advice on applying to REUs. We'd been talking a lot about it, the application process, letters of recommendations, etc. — and just recently he told me that he got into his top choice REU and that he also got other offers for REUs, so he had options to choose from, and that was really exciting. I was so proud of that lasting impact in the department."
Sherman advised up-and-coming meteorology students to seek out support in their department.
"My top advice would be to build a community in the major," she said. "When there were times when I didn't have the motivation to study or go to office hours, I really leaned on my friends to help push me, even when things were really difficult, and I also did the same for them. Having that support system was really important."
"We also leaned on our department's graduate students who are so helpful and really involved with the undergraduate students. And the professors as well, they're so open to questions and meeting with you outside of office hours." 
One of Sherman's favorite classes during the last four years was synoptic dynamics, taught by Dr. Robert Korty, associate professor of atmospheric sciences.
"It was a really tough class, but Dr. Korty is such a great professor, he made it really fun and easy to understand," she said. "I felt very accomplished at the end of that semester and like I had understood and retained all of it well. I loved that class." 
Beginning her junior year, Sherman pursued an interdisciplinary research project with researchers in Texas A&M's School of Public Health. Dean of the College of Geosciences Dr. Debbie Thomas helped connect her to those teams, she said, and the project was a great learning experience.
"Getting out there and meeting the people who will help you succeed is one of the things that will help you every time." 
By Leslie Lee