Aggie Meteorologists Launching NOAA-Funded Severe Weather Research Balloon Project
The project will span Nov. 1, 2018 to April 30, 2019.
Nov 1, 2018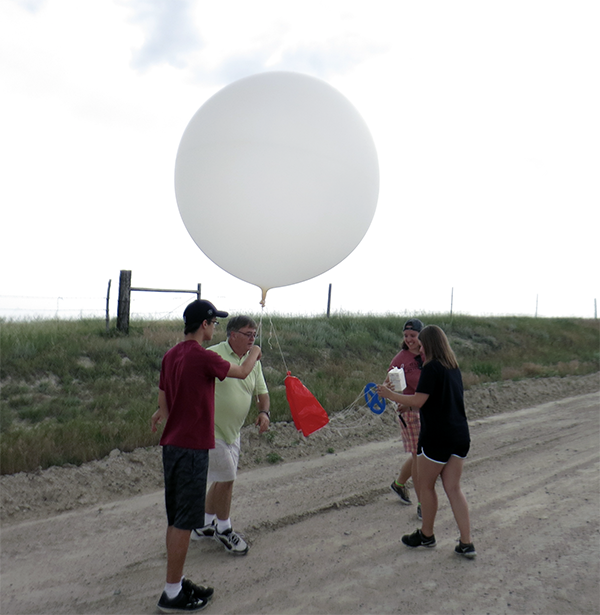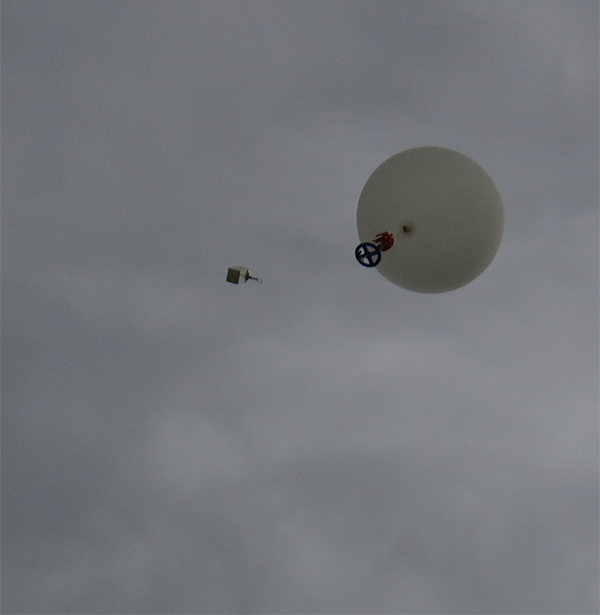 For the next six months, when severe weather strikes at universities across the Southeast United States, meteorology students will be helping NOAA collect important atmospheric sciences data, and Aggie meteorologists will be leading the way in Texas.
Texas A&M University Department of Atmospheric Sciences' Dr. Don Conlee, instructional professor, and Dr. Chris Nowotarski, assistant professor, were recently awarded a NOAA contract to participate in the Verification of the Origins of Rotation in Tornadoes Experiment in the Southeast (VORTEX-SE) 2018-2019 field campaign, named "Meso18-19," which is a national field project funded by NOAA. 
"We'll be leveraging the Student Operational Upper-air Program (SOUP) that Dr. Conlee has led over the years to provide balloon launches during severe weather events as part of Meso18-19," Nowotarski said.
The program is operated by the NOAA National Severe Storms Laboratory and includes a multi-university collaboration. The goal of the project is to understand how the regional environment changes in advance of and during severe weather and tornado outbreaks in the Southeast United States, where the weather conditions supportive of severe weather are often unique from typical severe weather outbreaks elsewhere in the nation.
During active severe weather events between Nov. 1, 2018, and April 30, 2019, students led by Conlee and Nowotarski will be launching weather balloons every six hours from the lawn in front of the Jack K. Williams Administration Building at Texas A&M.   
"In total, we anticipate doing over 80 launches in ten separate events over this period," Nowotarski said. "As part of a regional network of concurrent balloon launches, we'll learn a lot about the temporal evolution of the vertical and horizontal structure of temperature, pressure, moisture and winds in advance of and during severe weather events downstream over the Gulf Coast states." 
Graduate and undergraduate students in the Department of Atmospheric Sciences, in the College of Geosciences, will participate in the launches through a mixture of formal meteorology courses taught by Nowotarski and Conlee, and independent research. In addition to data collection, students will participate in data analysis and independent research projects generated by the data following the field phase of the project. 
"These observations will also be assimilated into high-resolution weather models real time to improve forecasting of the events," he said. "A dense observation network of surface observation platforms, radars, lightning mapping arrays, and profilers in northern Alabama will provide storm-scale observations of the resulting severe weather." 
Each helium-filled weather balloon will tow a radiosonde more than 10 kilometers high, through the troposphere, which is the portion of the atmosphere where active weather exists. The radiosonde will contain sensors for pressure, temperature and moisture, as well as a GPS tracker, which is used to determine the balloon's height, latitude and longitude. 
"As the balloon is blown by the winds, changes in position allow for calculation of wind speed and direction," Nowotarski said. "All of this information is then transmitted via radio to a ground station atop the Eller O&M Building on campus, where students will track the hour-long flight's progress and transmit data from the completed launches to other University and NOAA scientists."
By Leslie Lee '09