Damian Simonini
Former Student Spotlight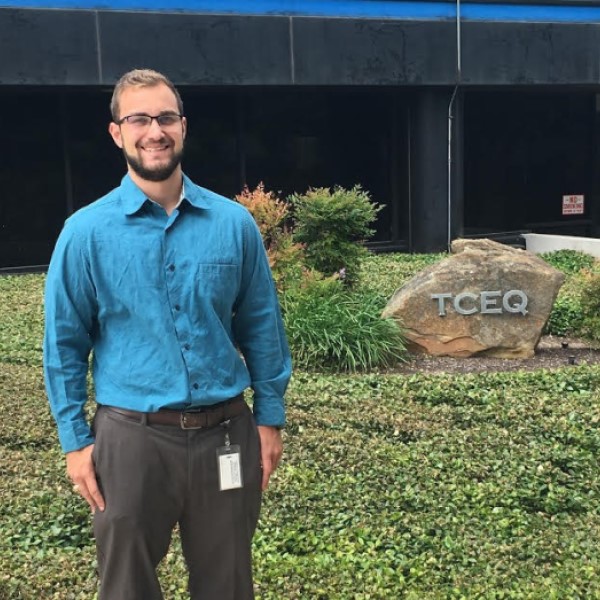 Name: Damian Simonini
Degree: M.S. in Oceanography 2018
Current Position: Quality Assurance Specialist and Chemist, Remediation Division of the Texas Commission on Environmental Quality (TCEQ)
Briefly introduce yourself
Howdy, my name is Damian Simonini. I am originally from northern Illinois and went to high school at Antioch Community Highschool, where I played on the school volleyball and football teams. My hobbies have always involved being outdoors, whether it be camping, boating, or playing sports. My love for outdoor activities brought with it an appreciation for the environment and helped lead me to where I am today. 
What degrees do you currently hold?
I graduated from Purdue University with a B.S. in chemistry in 2016. I graduated from Texas A&M University with a M.S. in oceanography in 2018. My research advisor at Texas A&M was Dr. Shari Yvon-Lewis and my thesis title was, "The Effects of Hurricane Harvey on Methyl Halide Sources and Sinks in Galveston Bay, TX and the West Texas Shelf".
What drew you to Texas A&M Oceanography?
There were a couple of things that drew me to Texas A&M Oceanography and helped solidify my decision to complete my master's here. The first thing was the interesting and wide range of research that Texas A&M professors and students were publishing, from research on the long-term effects of Deepwater Horizon, to harm algal blooms in coastal areas. I knew with this that there would be many opportunities to get involved in novel research multiple areas of oceanography. The second thing was my visit to the department; I could tell that there was a strong sense of community between the graduate students. This was very important to me as I was going to be over a thousand miles from home, with little to no previous connections before arriving in College Station.
How has your Texas A&M Oceanography education influenced your personal growth and professional success?
My education and experience with Texas A&M and the Oceanography Department was very influential in both personal growth and professional success. I had great opportunities, ranging from planning rapid response research cruises to study the effects of Hurricane Harvey just weeks after it occurred, to teaching students how to run statistical analysis on environmental data using MATLAB, to helping lead the first field sampling trip to Galveston Bay for undergraduate oceanography majors in 'Oceanography Laboratory (OCNG 252)' course. These experiences helped me grow the skills that are crucial to my job now, such as critical thinking and project planning. I learned a great amount that I will never be able to fully put into words from my professors, my fellow graduate students, and the undergraduates that I interacted with during my time at Texas A&M and in the Oceanography Department.
What are you doing now?
I am a quality assurance specialist and chemist in the Remediation Division of the Texas Commission on Environmental Quality (TCEQ) in Austin, Texas. My job consists of providing technical and chemistry specific support to many of the programs in the Remediation Division. Those programs include the Superfund Program, Petroleum Storage Tank Program, Industrial and Hazardous Waste Corrective Action Program, and the Voluntary Cleanup Program. I provide support to the programs through all phases of their projects.  I am involved in activities including but not limited to project planning, attending scoping meetings, developing and approving site-specific field sampling plans, and reviewing data packages. I provide technical guidance and trainings to the agency staff regarding general chemistry topics, sampling techniques, and sample analysis. Occasionally I participate in field work, where my role involves monitoring sampling events and performing field audits to ensure sample collection is done correctly.
What's one specific piece of advice you might give to current Oceanography graduate students?
Get involved and make the most of the opportunities that arise from going to Texas A&M! Don't be afraid to take a position on the Oceanography Graduate Student Board or the Graduate and Professional Student Government or in a club outside of the College of Geosciences. Don't be afraid to meet students from other departments, as they can become great friends and great connections for networking. The oceanography student community is fantastic, but Texas A&M is a huge college, and there are countless opportunities outside of the Oceanography Department. The more you put yourself out there, the more likely a once in a lifetime opportunity makes it way to you.