Shelley Culver
Undergraduate Student Spotlight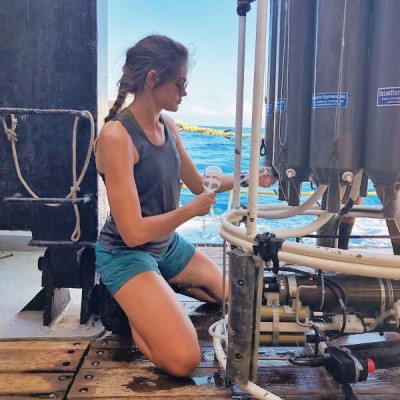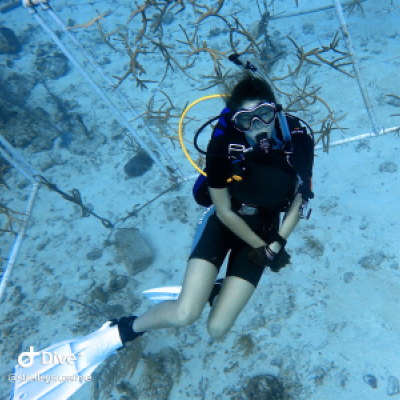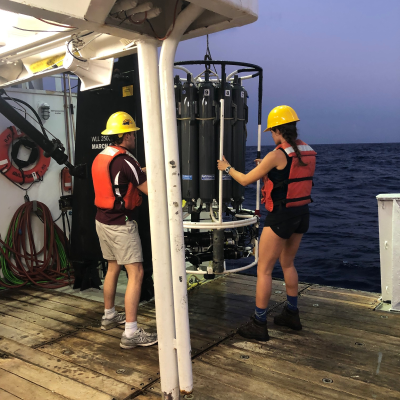 Name: Shelley Culver
Oceanography Major Track: Ocean Climate, Class of 2020
Briefly introduce yourself.
I was born and raised in Houston, Texas, but spent almost every weekend near the water at Matagorda Bay or San Bernard National Wildlife Refuge. This time near the water set the foundation for my love of ocean conservation.
My academic interests are anthropogenic impacts on coral reef systems, ocean acidification, mathematical biology of disease spread in coral reefs, and carbon cycling.
I am the current president of O.C.E.A.N., the undergraduate Department of Oceanography student group that acts as a network and mentoring organization to build on students' educational experiences.
Outside of academics, I love to go camping, skydiving, swimming, scuba diving, practicing photography, freediving, and rock climbing. My love of scuba diving evolved into loving underwater photography and scientific diving.
What drew you to Texas A&M Oceanography?
My whole life I have been in love with the ocean. When I first came to Texas A&M, there was not an undergraduate oceanography major. I had never heard of oceanography, and I did not realize you could study the ocean outside of marine biology, so I pursued engineering. I would read articles and papers on the latest ocean research for fun, never realizing this could be a career path for me. When I realized I was not pursuing a career that would lead to a fulfilling life for me, I started to look around at majors in the College of Geosciences. I saw that they recently started the oceanography major, and I set up a meeting with the department advisor. I quickly realized the Oceanography Department is very welcoming, helpful, and enthusiastic. I felt like I could not change majors fast enough. Best decision of my college career.
What skills or experiences have you gained through the oceanography undergraduate degree?
Our department has a heavy emphasis on communicating science. Many professors stress that communicating your findings to your peers and the public is just as important as your actual findings. Many of the classes I have taken have taught me the knowledge I need to succeed as well as improved public speaking and writing skills. I have already used these communication skills during my research and internships, and I have no doubt I will use them in my future career.
What has been your favorite class in the Oceanography Department, and why?
'Oceanographic Field and Laboratory Methods (OCNG 443)' has been my favorite class so far, as it introduced me to field work by taking me on my first research cruise. In this course, the students get to gather samples on this cruise, run the samples, write a paper, and give a poster presentation with a group. This class gave me a lot of insight into the research process, and I loved every second of it. I discovered I love working in the field and it inspired me to go on as many research cruises as possible, and to pursue an AAUS scientific diving certification.
Tell us about any research or other high-impact opportunities you have involved in.
My first research experience was with Dr. Kristen Thyng in the Physical Oceanography Numerical Group. I created maps in Python, using data from the National Sciences Foundation (NSF) Hurricane Harvey RAPID response cruises. The maps geospatially visualized flow through data in comparison with tidal data. I learned a lot about mapping, programming, and the different ways to visualize data. It was a wonderful first research experience that taught me skills I still use today.
Currently, I work with Dr. Kathryn Shamberger in her chemical oceanography lab. Dr. Shamberger's lab focuses on ocean acidification and seawater carbonate chemistry primarily relating to coral reefs. I have learned a lot regarding corals, chemical oceanography, and working in a lab with Dr. Shamberger, but the most valuable thing I learned is that I would like to pursue a graduate degree relating to anthropogenic impacts on coral reefs. It has allowed me to see the research process from beginning to end, with sample collection, running samples, post-processing data, analysis, discussion, writing, editing, and writing more. I have worked alongside graduate students which has allowed me to see the dissertation process for graduate students and has solidified my desire to pursue a graduate degree.
I also did a reef research internship at the Central Caribbean Marine Institute (CCMI). During my time at CCMI, I learned a lot about the scientific diving methodology, different surveys, and ecological identification. This was my first time seeing and analyzing the effects humans were having on the reefs themselves, and further inspired me to continue working on coral conservation in the future.
In summer 2019, I completed a research internship at the Center for Oceanic Research and Education, South East Asia (COREsea). My main research topic was looking into the effects of anthropogenic sedimentation runoff on the reefs surrounding the island of Koh Phangan. My time there has made me a more confident diver, leader, researcher, and communicator. I hope to one day work at or start a research center like COREsea.
What are your goals after graduating?
After I graduate, I hope to work at a marine research center as a research assistant, scientific diver, or a combination of both positions for a few years before pursuing my PhD.
What's one specific piece of advice you might give to future Texas A&M Oceanography students?
The Oceanography Department offers a lot of opportunities; say "yes" to as many as you can. Reach out, ask questions, and do not be afraid to push yourself.