FROM THE DEPARTMENT HEAD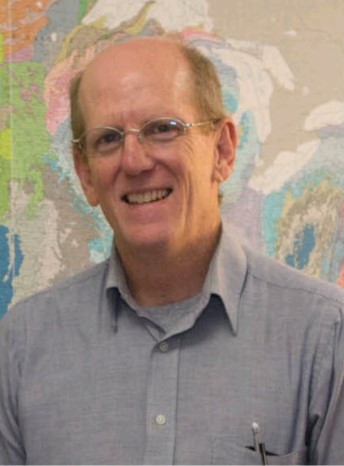 Dear Alumni, current students, faculty, and staff:
Happy New Year to all at the beginning of 2017! Last year was a big year of change for the Department of Geology and Geophysics as we completed our undergraduate curriculum revision and it will begin in Fall of 2017. We are seeing the effects of lower oil prices as our undergraduate numbers move downward from ~ 560 in 2014 to 470 in Fall 2016, we think we will level out somewhere between 300-400 students in the next few years as we still have many majors joining us for oil and gas, but also for environmental, engineering, and hydrology. Even though our numbers are declining we are expecting to teach almost 150 students field camp in five separate field camps this coming summer in Utah, Colorado, and Montana!
Last year we almost fully integrated all of the nine new faculty members we have hired in the last four years into our teaching, research, and service missions. The fall led to a number of personnel changes as Tom Olszewski moved to the US State Department, John Pantano stepped down as the Director of the Chevron Center for Research Excellence, and Carlos Dengo is stepping down as Director of the Berg-Hughes Center. We are currently searching to fill these positions and an additional position in Unconventional Resources and hope to have new people in these positions beginning this spring. In this issue of the newsletter we will introduce you to Bobby Reece, a geophysics professor in the department, to Dawn Spencer the Program Coordinator for the Berg-Hughes Center, and some stories about things going on in our department.
Instead of the three separate alumni functions I held in San Antonio, Dallas, and Houston last year I am planning to hold a single large alumni gathering in conjunction with the AAPG's 100th year Annual Meeting in Houston April 2-5, 2017. As the time and location for this event firm up we will put this information on the Department's website and send it to you electronically. Food and drinks will be provided and I hope that you will come out to meet Cara Milligan the College's development officer, some of our new faculty members talking about their research, and me discussing the outlook of the department and plans for the next year. I look forward to seeing you the next time you make it to College Station and I hope you have an outstanding 2017.
All the best,
Mike Pope
---
---
Faculty
---
Department News
---
Accolades
---
Trips
---
Giving
---