FROM THE DEPARTMENT HEAD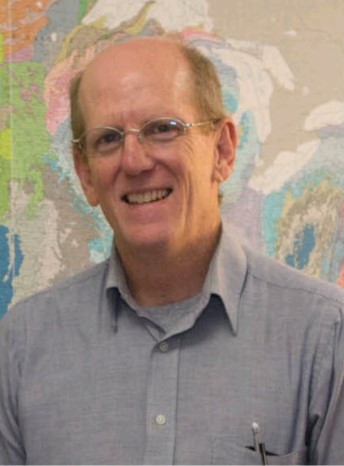 Dear alumni, current students, faculty, and staff:
I hope you are enjoying the summer of 2017. This issue of the newsletter we will introduce you to Hiroko Kitajima, the department's new tectonicist, and to Allayne Babin, one of our business associates. Although many of the Geology and Geophysics faculty are traveling the world this summer to study rocks, the building has been a locus of activity. The Dudley Hughes Lecture Hall (Halbouty 101) is being restored to its original 1930's look, we are receiving five new mass spectrometers, we are welcoming new graduate students, a new paleontologist (Dr. Christine Belanger), a new Berg-Hughes Center Director (Dr. Mukhul Bhatia), a new Chevron Center of Research Excellence Director (Dr. Mauro Becker), and a new Halbouty Visiting Lecturer (Dr. Saugata Datta).
During the Dudley Hughes Lecture Hall renovation, please don't worry about the Halbouty 101 mineral stained glass windows as they are staying, but they are being cleaned, repaired, and covered with a plastic coating to keep them in their new shape for a long time to come. I encourage all of you to attend the Dudley Hughes Classroom Re-Dedication on Friday afternoon September 29, 2017, the day before the Aggie football team will BTHO the University of South
Carolina. We will be providing departmental tours, and there will be some short talks given by our faculty, followed by the Re-Dedication Ceremony from 4-5 p.m. Following the ceremony we will continue giving tours, conversate and reminisce about the department before having an informal sit down dinner.
The evening social event at the AAPG's 100th Annual Meeting was quite a success with current students being able to meet with many alumni at the Hotel of the Americas in Houston. During the summer we also instructed almost 120 students in five separate field camps in Utah, Colorado, and Montana! I hope to see you at the Dudley Hughes Classroom Re-Dedication or the next time you make it to College
Station.

All the best,
Dr. Mike Pope
---
---
Faculty
---
Department News
---
Accolades
---
Trips
---
Giving
---