Imperial Barrel Award Team Competes In 8-Week International Competition
The team of Texas A&M students was assigned an evaluation area in the eastern deep-water Gulf of Mexico.
May 31, 2022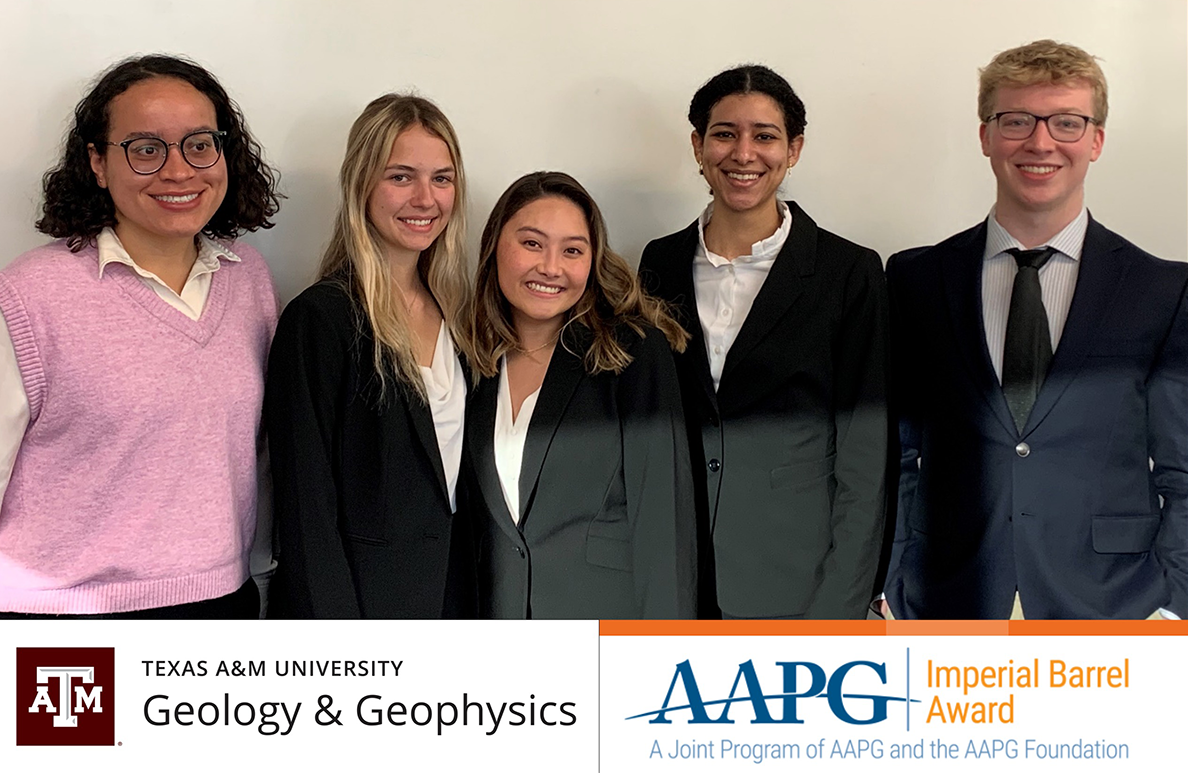 The Texas A&M University Imperial Barrel Award (IBA) team recently took part in in the 2022 Gulf Coast Regional Imperial Barrel Award Competition, sponsored by the American Association of Petroleum Geologists (AAPG). The IBA is an international competition among several universities that utilizes geologic and geophysical skills to evaluate various assigned areas for oil and gas potential.
This year's IBA team included a geology master's student, Brendon Britt; a petroleum engineering master's student, Jessica Vieira; and three undergraduate geosciences students: Christine Buchwalter, Allison Buffington, and Bronte Heerdink. The team identified three prospects, evaluated their potential, and presented their findings to selected AAPG geological expert judges.
Dr. Mauro Becker, professor of the practice in the Department of Geology and Geophysics, served as the faculty advisor. Tim Powell and Vernon Moore, members of the Texas A&M Geology and Geophysics Department Advisory Council (GEODAC), served as mentors to the team.
"The department congratulates this year's IBA team on their outstanding work in a highly competitive field," said Geology and Geophysics Department Head Dr. Julie Newman. 
The team was assigned an evaluation area in the eastern deep-water Gulf of Mexico. The project was in a stratigraphically and structurally complex area where some oil and gas fields have already been discovered, the students said.
"During the challenging 8-week competition, the team explored the deep-water Gulf of Mexico utilizing industry datasets while gaining firsthand experience in petroleum exploration, subsurface mapping, teamwork, and presenting," Moore said.
The Texas A&M group had to work as a team to complete the project in the allotted time frame and prepare for a final presentation. "The team encountered numerous challenges that are common in the industry, and they excelled at those solutions," Powell said. The students tackled challenges such as:
Loading seismic and well data to the workstations and working with Kingdom seismic and well interpretation software.
Becoming familiar with workstation and Kingdom Software work flows.
Interpreting seismic horizons and generating structure maps at key intervals.
Correlating well logs and integrating into the seismic volume.
Interpreting potential reservoirs and mapping areal extent.
Identifying potential source rock and migration pathways.
Mapping complex salt structures and corresponding faults.
Identify potential oil and gas prospects.
Evaluation of oil and gas prospect potential resources.
Identify key risks with each prospect.
Organizing the final presentation.
"The IBA competition is an incredible hands-on opportunity for students, because they get to experience the actual processes used in the oil and gas industry in both conventional and unconventional prospecting," Powell said. "These same processes are utilized in other geologic and geophysical based industries such as hydrogeology, environmental, carbon capture, geothermal and others. Basic subsurface mapping and evaluation are a key component to an undergraduate or graduate degree in geology. The skills used in the IBA program are recognized by many oil and gas companies as advantageous for graduating students."
"This year's IBA team has gained many new skills that will serve them well in the future. They have completed a challenging program. Congratulations to them!"