Christina Belanger Receives NSF CAREER Award
With the prestigious award, Belanger will provide first-generation students the opportunity to participate in research aimed at building global benthic foraminiferal database
May 23, 2022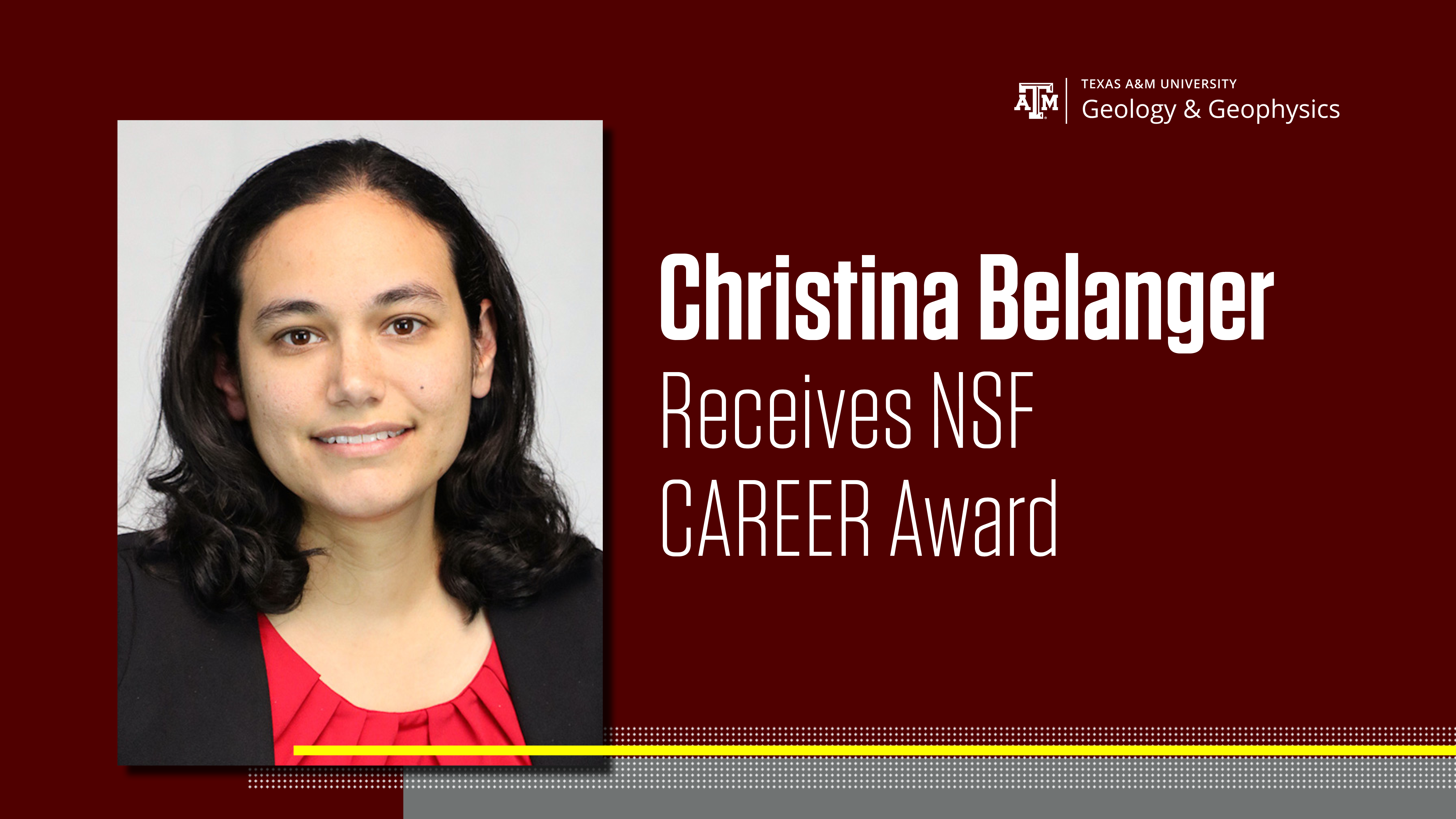 Dr. Christina Belanger, assistant professor in the Department of Geology and Geophysics at Texas A&M University, was recently awarded a prestigious CAREER Award from the National Science Foundation.
The Faculty Early Career Development (CAREER) Program offers NSF's most prestigious awards in support of early-career faculty who have the potential to serve as academic role models in research and education and to lead advances in the mission of their organization.
Belanger's project is titled "Leveraging benthic foraminiferal biogeography to recognize ecosystem response to climate change and engage first-generation students in scientific inquiry."
"This project aims to understand how ancient ocean ecosystems were altered by past warming events that serve as analogs for future global climate change," wrote Belanger in the project proposal. Dr. Belanger says she will create a mentoring program centered on first-generation students looking to get integrated into research where they can be involved in professional development, networking, and contribute to the scientific merit of the project.
Belanger's research will focus on building a global database of occurrences and abundances of benthic foraminifera species in both modern environments and in the paleontological record preserved in ocean sediment cores. The goal will be to use species composition and morphology to identify low oxygen zones and increases in organic carbon export to the bottom ocean through geologic time.
"Dr. Belanger is the epitome of the "teacher-scholar" model of faculty excellence and is exactly suited for this prestigious award that recognizes early-career faculty who serve as academic role models in both research and education," said Department Head of Geology and Geophysics Dr. Julie Newman. "An outstanding teacher, both a Montague - Center for Teaching Excellence Scholar and a recipient of an Association of Former Students College-Level Teaching Award, Dr. Belanger consistently teaches through research in her classes – from introductory level courses for non-scientists to graduate level. We are incredibly fortunate, and proud, to have Dr. Belanger as a member of our faculty."
This award will provide Belanger the opportunity to support both graduate and undergraduate students to work on developing this extensive global database. Undergraduate will be provided a one semester stipend with the inaugural undergraduate group beginning Fall 2022.
By John Sarao