Ping Yang Named Texas Distinguished Scientist, van de Hulst Light Scattering Award Honoree
Both awards recognize extraordinary scientific contributions.
Mar 25, 2022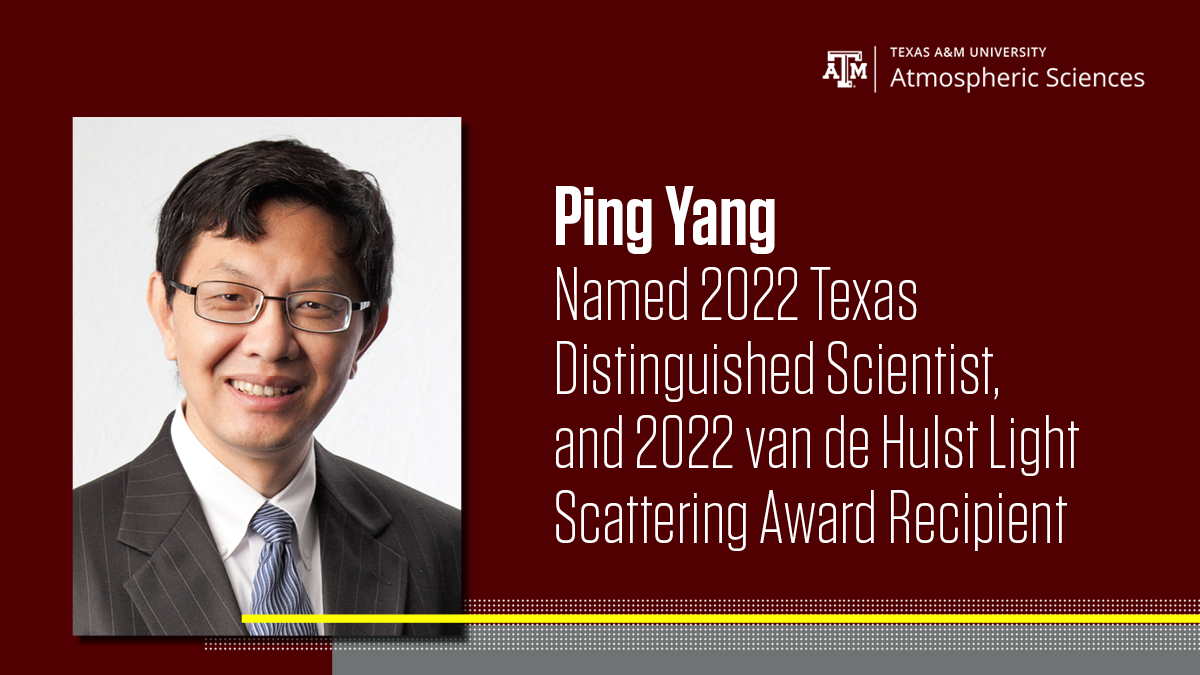 The Texas Academy of Sciences (TAS) recently named Dr. Ping Yang, University Distinguished Professor in the Department for Atmospheric Sciences and associate dean for research in the College of Geosciences at Texas A&M University, the 2022 Texas Distinguished Scientist.
This honor reflects distinguished contributions to science through research and publication that have garnered recognition at the national and international level, TAS said, and recipients must have spent a significant portion of their careers in Texas.
Earlier this year, Yang was also named the recipient of the 2022 van de Hulst Light Scattering Award. He will present a van de Hulst Lecture at the next International Electromagnetic and Light Scattering Conference (location TBD). The van de Hulst award is the most prestigious award in the field of electromagnetic and light scattering by particles, and the award selection is determined by an international committee.
"Dr. Yang continues to redefine superlative, and these two most recent honors reflect how deeply admired and respected he is by the community," said Dr. Debbie Thomas, dean of the College of Geosciences at Texas A&M. "We are so fortunate to have a colleague as gifted and respected as Dr. Yang"
Yang holds the David Bullock Harris Chair in Geosciences at Texas A&M, has served as associate dean for research since 2019, and served as head of the Department of Atmospheric Sciences from 2012 to 2018.
His research focuses on light scattering, radiative transfer, remote sensing, and numerical modeling of the optical properties of nonspherical particles and its applications.
Yang is a Fellow of the American Physical Society, the Optical Society of America, The Electromagnetics Academy, the American Geophysical Union, the American Meteorological Society, and the American Association for the Advancement of Science. 
By Leslie Lee