Yige Zhang Honored With F.W. Clarke Award
The Geochemical Society bestows the honor on one scientist per year.
Mar 30, 2022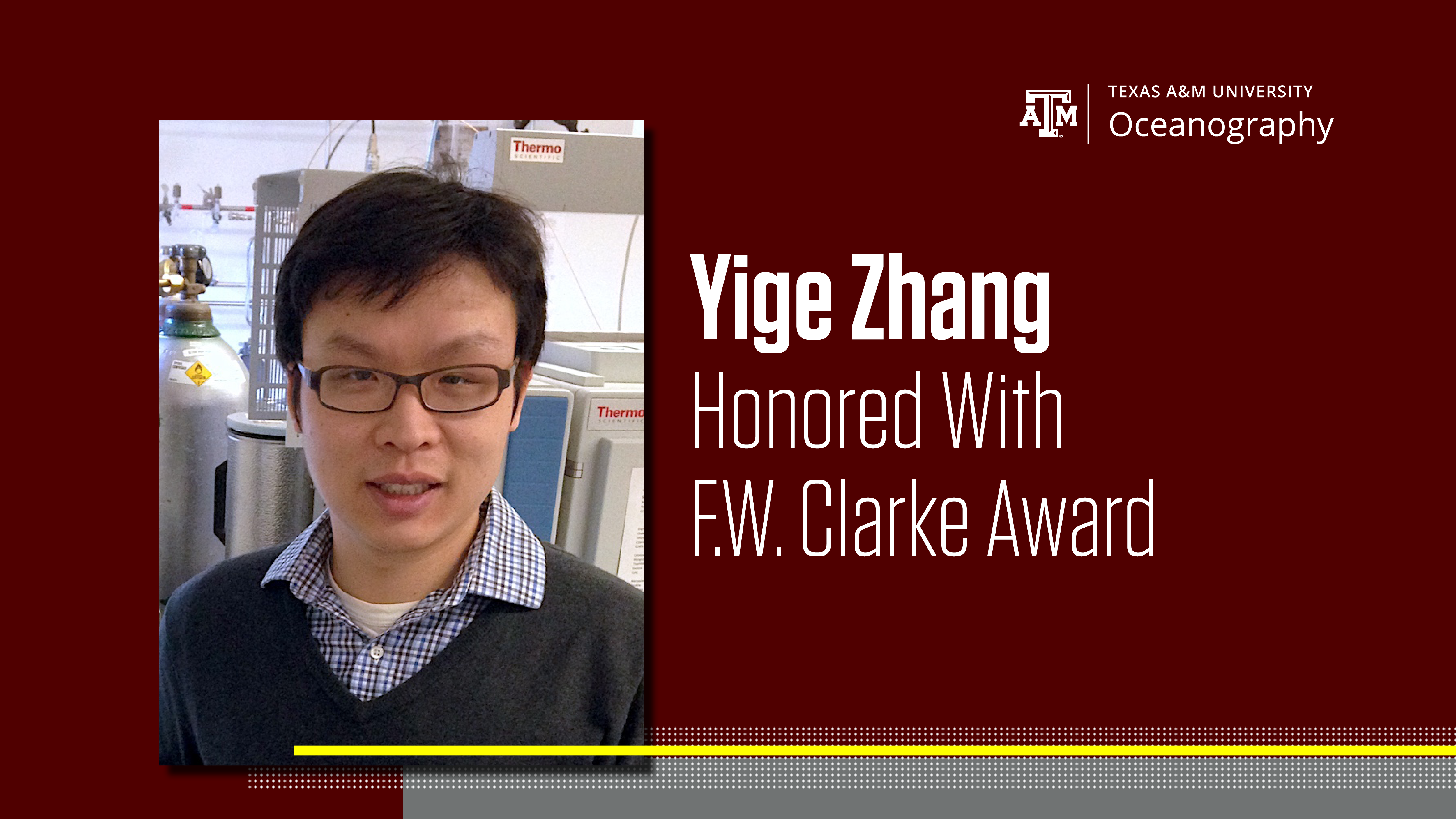 Dr. Yige Zhang, assistant professor in the Department of Oceanography at Texas A&M University, has been honored with the 2022 F.W. Clarke Award from the Geochemical Society. He will receive the prestigious Clarke Medal at the Geochemical Society's Goldschmidt Conference in July.
Zhang is recognized for his contributions to the application and refinement of lipid biomarker proxies for paleotemperature and atmospheric carbon dioxide reconstructions, including development of the "Methane Index" and "Ring Index."
"Yige's contributions to the improvement of paleoproxies exemplify his leadership in the field.  This award is well-deserved," said Dr. Shari Yvon-Lewis, oceanography department head.
"Our planet Earth has such a rich history, including history of climate change," Zhang said. "We had geological periods that were so warm that the temperature of the tropical ocean was literally the same as my shower, and there were intervals that was so cold that places like New York or Chicago were under thick ice sheets."
"But we need specialized tools such as proxies based on lipid biomarkers or 'molecular fossils' to read the climate signature from archives like marine sediments. And one of my research focuses is to develop or refine these tools to better get the job done." 
The Clarke Award is the highest honor for early-career scientists in geochemistry, and it annually recognizes one early-career scientist for a single outstanding contribution to geochemistry or cosmochemistry, published either as a single paper or a series of papers on a single topic. 
"There was stiff competition for the Clarke Medal this year, with a large number of nominations spanning the many diverse fields of geochemistry, and it is a credit to Yige that he rose to the top of this elite group," said Dr. Ethan Grossman, professor and Michel T. Halbouty Chair in Texas A&M's Department of Geology and Geophysics, co-director of the Stable Isotope Geosciences Facility, and nominator of Zhang for this award.
The award consists of an engraved silver medal, an honorarium, and a certificate. F.W. Clarke was a chemist who determined the composition of the Earth's crust, and he has been called the father of Geochemistry.
By Leslie Lee