Geosciences Professor Hosts Texas A&M Exploration Space Sciences Workshop
Texas A&M Professors hold a Space Exploration Workshop to discuss the diversity of research required for space exploration and the future of Texas A&M's aptitude of space research.
Dec 13, 2021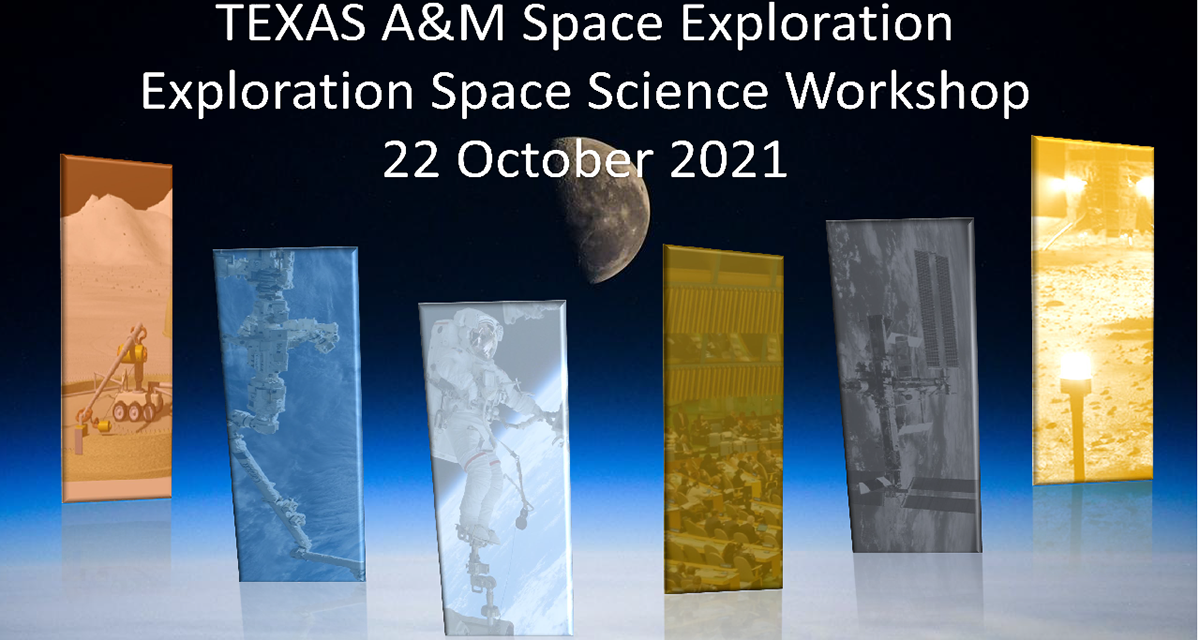 Space science is a major field of research in many disciplines throughout Texas A&M University, and recently a College of Geosciences professor invited all of those researchers to gather together virtually.
Dr. Ryan Ewing, professor in the Department of Geology and Geophysics, planned and hosted Exploration Space Science Workshop virtually Oct. 22, open to the entire Texas A&M community.
One of Ewing's major research projects involved studying Mars-like environments in the Icelandic highlands, which aided in the Mars 2020 Mission. Numerous research groups on campus are studying aspects of planetary and space science, he said. He recalled even being contacted by the Department of Construction Science for some insight on lunar construction in recent years. Due to this unique but mutual vision, the Extraterrestrial Engineering and Construction Research Initiative (EXTEC) was founded at Texas A&M, with participation from the College of Engineering, College of Architecture, and College of Geosciences. It was exactly this multidisciplinary participation that made Ewing wonder just how many "subgroups" exist in the field of space exploration.
To further explore this question, he helped plan and host the Exploration Space Science Workshop. The Professors and researchers that attended had a diverse background in numerous  fields, including earth sciences, planetary sciences, astrophysics, cosmology, astrobiology, and the list goes on.
Professors who spoke during the workshop include Dr. Marion Nachon, Associate Research Scientist in Geology and Geophysics, on the surface of Mars, Dr. Jonelle Walsh, Assistant Professor in Physics and Astronomy, on Black Holes, Dr. Mathias Katzfuss, Associate Professor in the Department of Statistics, on the statistics of space, Dr. George Allen, Assistant Professor in Geology, on Surface Water and Ocean Topography (SWAT), Dr. Anita Rapp, Associate Professor in Atmospheric Sciences, on using sensors in atmospheric sciences, and Dr. Darren Depoy, Professor in Physics and Astronomy, on exoplanet research. During the discussions, one of the main goals was to recognize how large and diverse this area of research is and if any fields are being left out, which the scholars present were quick to list to the hosts.
Another goal set for this workshop was to plan the expansion of Texas A&M's already established influence on space exploration sciences. Since the university is a Space Grant institution, the reality of becoming "a recognized leader in space exploration" and "supporting the national vision" set by NASA, DOE, Space Force, and others, is more than just a wish, it's a projection. The workshop allowed for the many professionals to answer the question "what do we want to do and what do we need to do it?"
It was agreed upon by attendees that the inclusion of current and future students in the University's research of space was vital to Texas A&M's future, which speaker Emily Wilkinson, a third year student and president of Students for the Exploration and Development of Space (SED) spoke on. The group allows any major to participate, not just students already studying space. "The space community at Texas A&M is thriving and growing," Wilkinson said, "the students belong there no matter what they bring to the table."
As Texas A&M continues to produce fantastic scholars in many areas of research and encourages all disciplines to participate in programs like SED, the potential this university holds on the future of space exploration seems infinite, much like space itself.
By Abigail Spears '23