Raquel Bryant Receives New NSF Grant And Inaugural NAGT JEDI Award
Geology and Geophysics Postdoctoral Fellow Dr. Raquel Bryant is leading many efforts to promote diversity within geosciences and recently received NSF funding to support that work.
Nov 15, 2021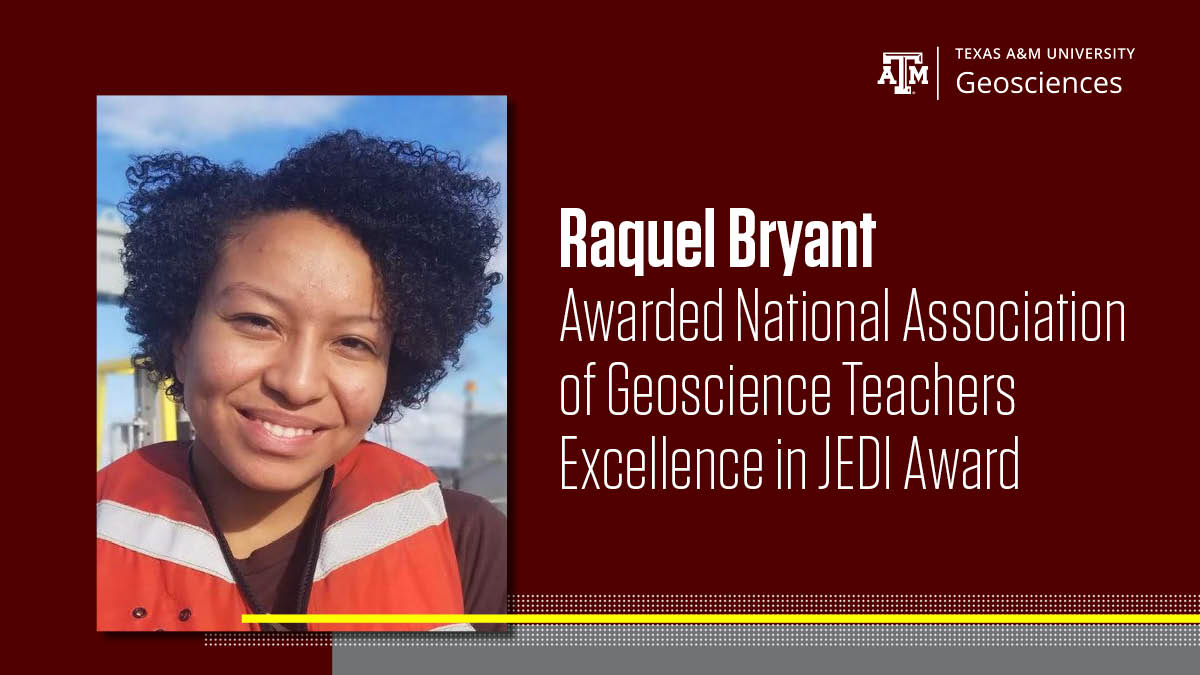 Dr. Raquel Bryant, postdoctoral research associate fellow and Geosciences Future Faculty Fellow in the Department of Geology and Geophysics, and a team of researchers have received funding from the National Science Foundation (NSF) and the American Geophysical Union (AGU) to organize a Second National Conference for geoscientists, during the summer of the fiftieth anniversary of the original First National Conference.
In 1972, Dr. Randolph Bromery, Chancellor of the University of Massachusetts Amherst and visionary justice leader, championed a movement to increase diversity within geosciences and mineral engineering by hosting the First National Conference. Held in Washington D.C., the conference was focused on barriers, opportunities, and strategies for broadening participation in earth science and related disciplines. Fifty years later, the geosciences remain one of the least diverse disciplines within the STEM fields.
"Equipped with the knowledge of what out predecessors did, and what our contemporaries are doing, to advance justice in geosciences, it is clear that the missing ingredient for broadening participation in our discipline is not more time," Bryant said. "What we need is a plan and an expansive coalition to making robust, irreversible progress over the next fifty years."
She said that the second conference will draw on lessons from the past fifty years of advancing diversity in geosciences, leverage the expertise of today's geoscience leaders, and engage the foundational principles of modern civil rights movements. Dr. Bryant, along with her co-awardees Dr. Rachel Bernard, (Amherst College), and Dr. Benjamin Keisling (Lamont-Doherty Earth Observatory), aim to provide a generative space where existing partnerships are renewed and new ones are formed while also paving the way for the next 50 years of geoscience leadership. Bryant, Keisling, and Bernard have also assembled a program committee made up of senior and mid-career geoscientists from different sectors that will be advising them and helping them hone their vision as they embark on planning the conference program in the coming months.
Bryant was also recently recognized as the inaugural recipient of the National Association of Geoscience Teachers Excellence in JEDI Award (Justice, Equity, Diversity, and/or Inclusion).
"I'm honored to be the inaugural recipient of the NAGT Excellence in JEDI award," Bryant said. "My goal is to inspire my colleagues and students to pursue excellence in broadening participation and advancing student success, just as they do in research."
To learn more about the Second National Conference or Bryant's work in promoting diversity and inclusion within the geosciences, contact her at raquel@tamu.edu.
By John Sarao