Sustaining The Blue Economy: NSF Funds Texas A&M Research On West Coast Fisheries Management
Led by a Texas A&M oceanographer and funded by NSF's Convergence Accelerator, a multi-disciplinary team of scientists will develop an intelligent spatial decision support system for U.S. West Coast fisheries communities threatened by climate change.
Oct 25, 2021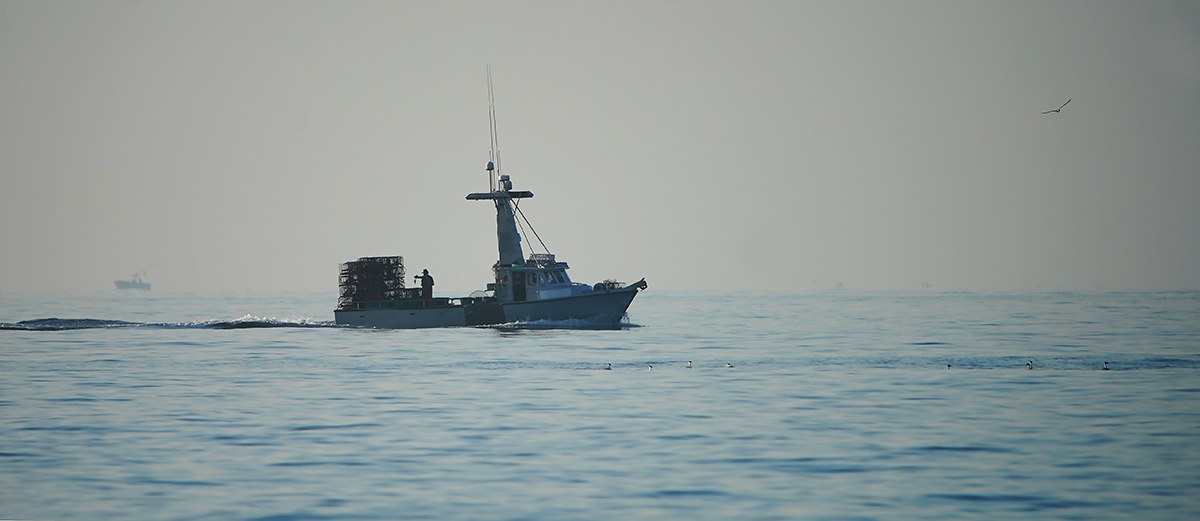 Climate change is posing new threats to West Coast communities dependent on fisheries. A new National Science Foundation Convergence Accelerator-funded research project led by Texas A&M University scientists is tackling those challenges with a power-house multidisciplinary team and cutting-edge modeling and decision-making technologies. 
The project is a large multi-institutional endeavor, led by Dr. Piers Chapman, research professor in the Department of Oceanography at Texas A&M, College Station, and brings together scientists from academia, federal agencies, and industry.
"We will develop new models and tools that will help keep California, Oregon and Washington coast fisheries communities sustainable in the face of ongoing decadal-scale climate change," Chapman said.
NSF's Convergence Accelerator Program aims to produce tangible solutions to national-scale societal challenges that cannot be solved by single disciplines but require innovative ideas, approaches and technologies from a wide, diverse range of sectors and expertise. Aligned to the program's 2021 cohort, the project will last for one year and is funded at $750,000. If successful, the team will be eligible to compete for an additional two-year project funded at up to $5 million.
Climate change-driven adverse ocean impacts are already hitting many coastal, fishing-dependent communities, including fishing-dependent Tribal Nations located on the U.S. West Coast, and these adverse impacts will likely accelerate for the foreseeable future, the researchers said.
"Climate change is causing increasing temperatures in ocean waters, as well as decreased oxygen concentrations," said Dr. Colleen Petrik, a co-principal investigator on the project and an assistant professor at the Scripps Institution for Oceanography at the University of California, San Diego. "These changes have serious effects on fish and shellfish stocks along the West Coast of the U.S, as they can reduce suitable habitat, alter breeding success, and affect migration routes."
"The team aims to help preserve these communities and their way of life, both economically and culturally, and communicating effectively with diverse stakeholders is a challenge, yet vital to the success of our project," said Dr. Keri Stephens, also a co-principal investigator on the project and a professor of communication studies at The University of Texas at Austin.
"Input from coastal, fishing-dependent stakeholder communities will be incorporated into every level of the project," Chapman said.
Combining the powers of ecosystem modeling, high-resolution climate modeling, social science and fisheries stakeholder engagement, communication, geographic information science (GIS), and fisheries management science, the multidisciplinary team will ultimately produce a climate-informed decision support system (DSS), called Sustainable Blue, for the region's fisheries.
Chapman will lead the project, with co-principal investigators Dr. Gokhan Danabasoglu, senior scientist at the National Center for Atmospheric Research (NCAR); Petrik; Stephens; and Dr. Zhe Zhang, assistant professor of geography at Texas A&M.
Project partners also include Dr. Ping Chang, professor of oceanography at Texas A&M; Dr. Jaison Kurian, assistant research scientist at Texas A&M Oceanography; Dr. Desiree Tommasi, NOAA project scientist at the Cooperative Institute for Marine Ecosystems and Climate at UC Santa Cruz; Dr. Matthew Long, scientist and Dr. Monica Morrison, postdoctoral researcher at NCAR; and Mr. Glen Spain, J.D., northwest regional director for the Pacific Coast Federation of Fishermen's Associations (PCFFA).
"The overall aim of the project is to deliver the Sustainable Blue DSS that combines the output of a series of high-resolution climate model simulations and predictions with local knowledge, fisheries management policy, and decision-making tools to provide the necessary information for fisheries management and other decision-makers to respond to changing climatic conditions," said Chang. "High-resolution is needed to ensure that the models can reproduce correctly the changes we see in data collected at sea." 
The final Sustainable Blue DSS will enable knowledge co-production between scientists and fishery stakeholders through a shared knowledge base derived using stakeholders' engagement activities, Chapman said.
"The DSS, by being linked to the latest information from our high-resolution models, will enable fisheries managers to make better long-term decisions on fish catches and fleet management. Stakeholders will make use of a simple-to-use, web-based system that provides access to the information they need," Zhang said.
By Leslie Lee, Texas A&M Geosciences