Dr. Yina Liu Awarded Early Career Research Fellowship By NASEM
Texas A&M Oceanography's Dr. Yina Liu recently received a 2021 Early Career Research Fellowship from the National Academies of Sciences, Engineering and Medicine.
Oct 18, 2021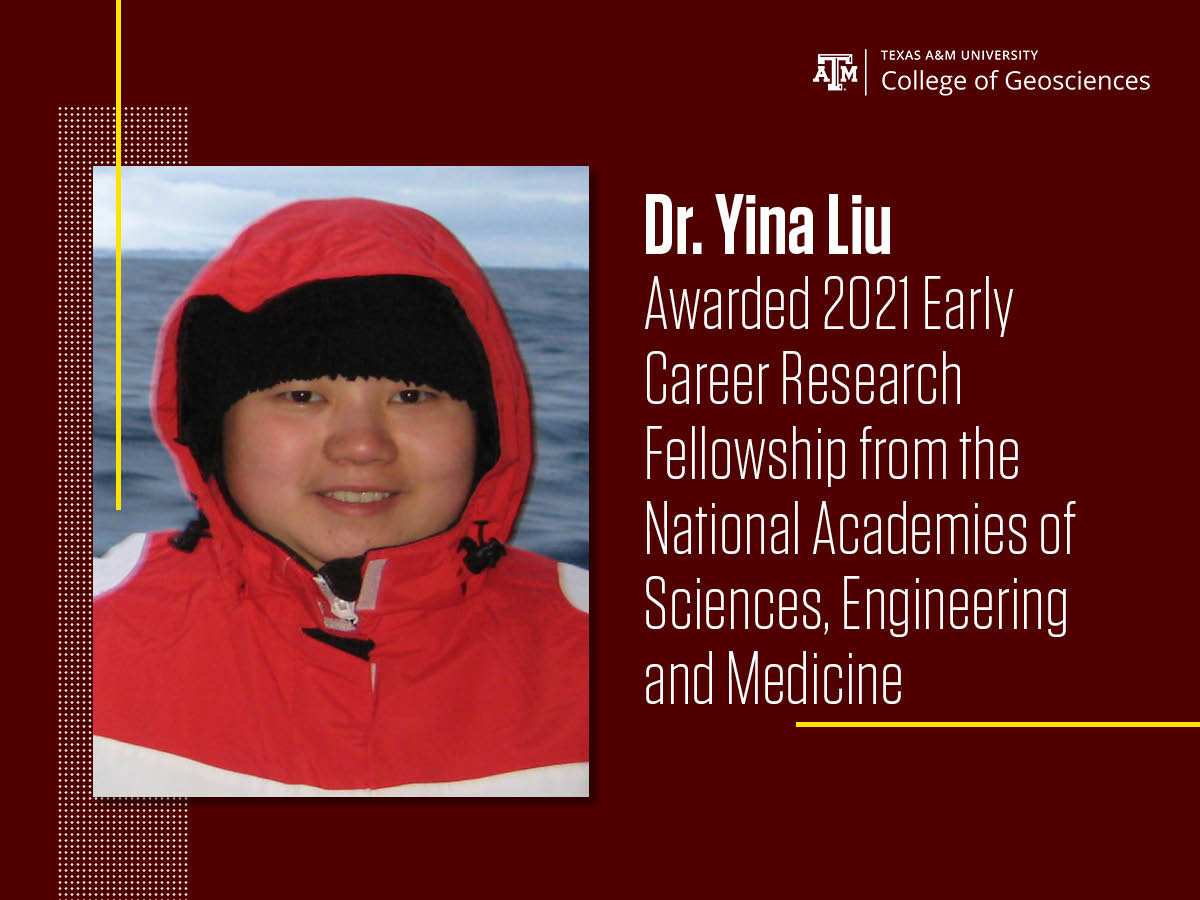 The Gulf Research Program of National Academies of Sciences, Engineering and Medicine (NASEM) recently announced the eight scientists to receive the Early Career Research Fellowship (ECRF). Among them was Texas A&M Oceanography's own, Dr. Yina Liu.
"Dr. Liu is a rising star and is incredibly deserving of this award," Texas A&M's Oceanography department head, Dr. Shari Yvon-Lewis, said. "She is both a thought leader in the field of organic biogeochemistry and a thoughtful mentor and advocate for her students and research staff."
As an assistant professor of oceanography and the analytical chemistry research and development team lead at Texas A&M's Geochemical and Environmental Research Group, Liu's focus is in organic biogeochemistry and is studying organic compound cycling and how it affects biological and ecological processes. A proponent of multiple approaches, she uses both targeted and untargeted analyses and data science in her research.
Because the ECRF award is not attached to a specific project, she will have the opportunity and freedom to pursue creative, high-risk high-reward research ideas that might have previously been impossible.
"I am very excited about this opportunity, not only because this fellowship provides me with support to conduct new research, but also because NASEM has vast interests in promoting diversity, equity, inclusion, and justice," Liu said. "I have always been passionate about including diversity, equity, inclusion, and justice as integral parts of my research; but with this particular opportunity, I get to work with my fellowship mentor, Dr. Pamela Plotkin, on implementing them. "
"The ECRF Fellows will investigate specific issues related to the Gulf's changing ecosystems, with the goal of producing research that informs decisions that enhance environmental protection and stewardship," according to a NASEM press release.
"I would like to thank my research group members, Sangeetha Puthigai, Xiaolei Xu, and Dr. Michael Shields, for their support and hard work that enabled the science projects," Liu said. "Working with them has been the most rewarding and inspiring experience."
"I would like to thank my mentor, Dr. Pamela Plotkin," she continued. "Dr. Plotkin has been an amazing female scientist role model and has introduced me to many new topics regarding engaging the community and communicating science to the general public. Finally, I would like to thank the Department of Oceanography and the College of Geosciences for fostering a welcome and supportive environment for early-career faculty members like myself."