Montana Etten-Bohm Recognized With Texas A&M CIRTL Bednarz Award
Atmospheric Sciences Ph.D. candidate Montana Etten-Bohm was recognized with prestigious award for her teaching and research contributions.
Sep 17, 2021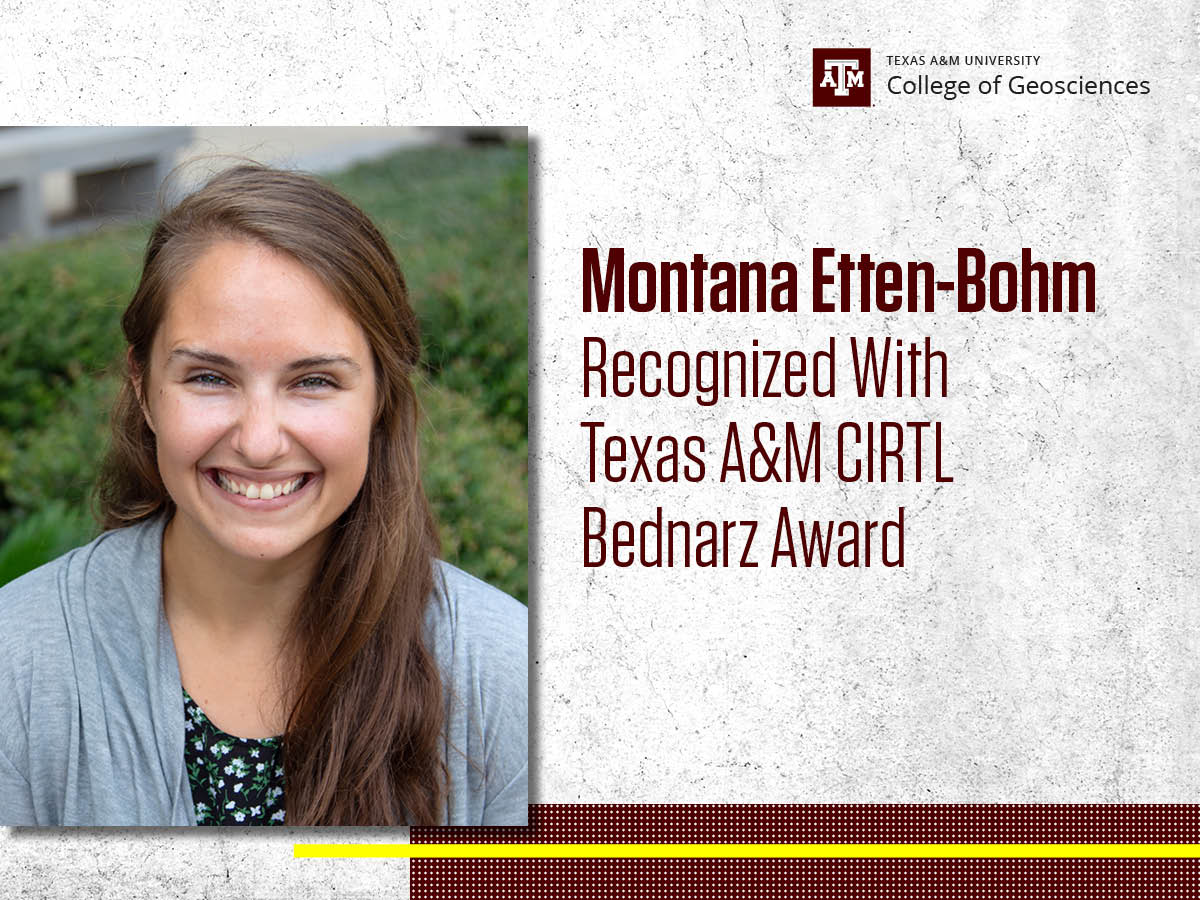 Texas A&M University's Center for Integration of Teaching, Research, and Learning (CIRTL) recently awarded the Bednarz Award to Atmospheric Sciences Ph.D. candidate Montana Etten-Bohm in recognition of her superior Teaching-As-Research (TAR) Fellows project and overall involvement, the center said.
The Bednarz Award was established in 2016 to honor the many contributions of Dr. Sarah Bednarz, professor emerita of geography, to CIRTL, by annually recognizing an outstanding doctoral student in CIRTL programs.
Because of Etten-Bohm's passion for undergraduate education, specifically in the field of meteorology, and desire to learn more about the field of education, she has been heavily involved in CIRTL programs, she said. She has completed the Academy of Future Faculty and the Teaching-As-Research programs, as well as the CIRTL Massive Open Online Course Local Learning Community and the College Classroom Teaching course. Through completion of these courses and programs, she has earned the CIRTL Associate, Practitioner, and Scholar certificates.
"I've always loved meteorology and being able to spread my passion through teaching is incredibly rewarding," she said. "Not only can I have an impact on someone's life in the classroom, but in meteorology, I'm also capable of equipping students with skills that could ultimately save a life."
"Montana is a talented educator," said Dr. Courtney Schumacher, Etten-Bohm's advisor. "She is organized, well-informed, and intent upon teaching students in the best way possible. This may mean using different methods and tools depending on the topic, which was the essence of her TAR Fellows research. Her results have implications on how we teach hundreds of students the most difficult concepts in introductory meteorology every year."
In the Department of Atmospheric Sciences, she has also been very involved in teaching, assisting as both a teaching assistant and graduate assistant lecturer, and was awarded the Outstanding Teaching Assistant Award for the Department of Atmospheric Sciences in December of 2020.
"Montana has also been an invaluable contributor to our department's educational mission by teaching labs and large lecture classes with high praise from her students, an indicator of her passion for teaching and her respect for student learning," Schumacher said.
After completing her Ph.D., she will be joining the University of North Dakota's Department of Atmospheric Sciences as an instructional assistant professor in the fall of 2022.
By Leslie Lee