GIST Student Kendahl Hejl '22 Reflects On Her Summer Internship At NASA
Hejl interned in NASA's Space Communication and Navigation Program this summer.
Sep 29, 2021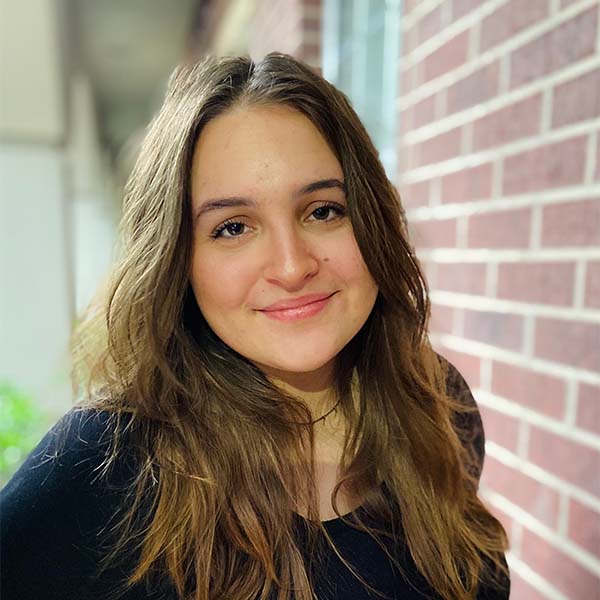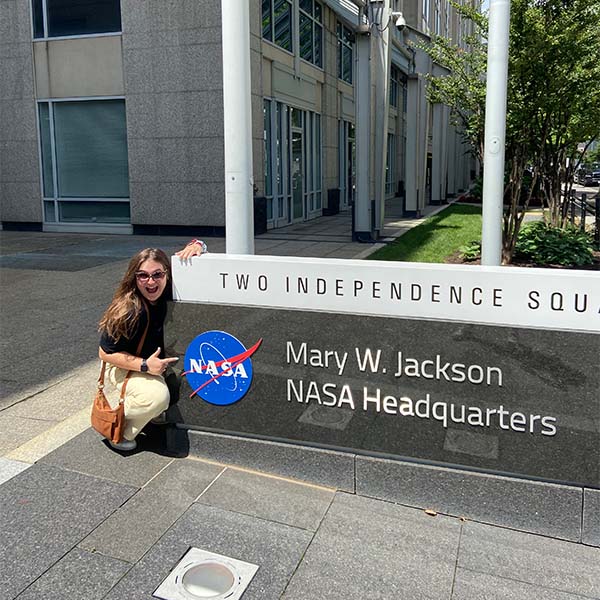 Kendahl Hejl '22 recently completed a summer internship to remember, working as an intern in NASA's Space Communication and Navigation Program.
As a GIST student in the Department of Geography at Texas A&M University she had already gained valuable GIS knowledge and skills, yet was missing the experience of fully utilizing this knowledge. This changed after her NASA internship began.
Hejl credits her acceptance into the Space Communication and Navigation Program to her studies at Texas A&M. 
"My position this summer was very much involved with computer programming, which my major touches on, but not in depth," she said. "However, I was brought on due to my knowledge about theories of geodetic science behind what I was doing. The classes I took at Texas A&M really helped me adjust to the technicality of the job."
Taking A Chance, Gaining New Skills
Hejl said that she had never considered applying to NASA for a summer internship, because at the time she wasn't sure if her skills and knowledge could be used. However, she rose to the occasion, applied, and was accepted.
Under Headquarters, she worked with many other fields, including software engineers, electrical engineers, and research scientists, coding, collecting and analyzing data from the NavCube 2.0, a GPS Receiver on the International Space Station.
"After learning how to code, I wrote scripts that automatically pulled data from the receiver and transferred it into another script that analyzed that data, visualizing it for us to use," Hejl said.
In addition to working with the GPS Receiver, she also had a chance to attend the Space Generation Advisory Council Fusion Forum, in which NASA has a small number of young interns go to a four-day event and speak with companies that are involved with space, like Rocket Lab and Origin. 
"We worked with the CEOs of these companies to write recommendations to the United Nations Committee on Peaceful Uses of Outer Space concerning satellite sustainability, which the forum was surrounded on," she said. "It was great to not only have the opportunity to meet with them, but also to write something that is going to be used by the UN."
Hejl is excited to bring this new technical knowledge she found at NASA back with her to Texas A&M and apply it to her scientific studies.
Looking Back On Campus Life
As a first generation college student, it was serendipitous that Hejl found her way to the GIST major.
"I had no idea where I wanted to go, but I knew I loved the Earth, so I was lucky to find the GIST degree program around the same time I had discovered what GIS was," she said. "It was a leap, and it was scary, but looking back, I would definitely say it's gone well for me."
In addition to being focused on her major, Hejl has participated in many extracurricular activities. She is a member of Aggie Classics, which is a women's leadership organization at Texas A&M, and is the vice president of membership for the Geography Society that focuses on the academic and social aspects in the field of geography. 
Hejl is also a Certified Aggie Research Scholar at Texas A&M, and has had multiple opportunities to perform research projects for the College of Geosciences, working with many professors including Dr. Wendy Jepson in Geography and Dr. Yangyang Xu in Atmospheric Sciences. 
As a true Aggie, Hejl is also a big football fan. One of the most memorable experiences she has at Texas A&M is the 2018 home game against LSU which she was able to attend, and stayed for all seven overtimes.
"That game is definitely going to be something that I am going to tell my kids about," she said.
Into The Unknown
Through her undergraduate career and internship at NASA, Hejl has a better understanding of what she wants for her future. Currently, she's planning to pursue graduate school after completing her degree.  She's looking at a few programs,  and hopes to further her studies in remote sensing through satellites, and using remote sensing to promote sustainable space practices.
"We're making these big steps towards space development and science, and we have to be sustainable in the way that we're accomplishing that, and I think a key feature in doing that is utilizing remote sensing."
Though those fields are new and full of unknowns, Hejl is excited to see what the unknown of the future, and space, holds for her.
By Abigail Spears '23