Alyssa Alsante Named A Texas A&M CIRTL Teaching As Research Fellow
Oceanography graduate student Alyssa Alsante was awarded a fellowship from the Texas A&M Center for the Integration of Research, Teaching and Learning.
Aug 4, 2021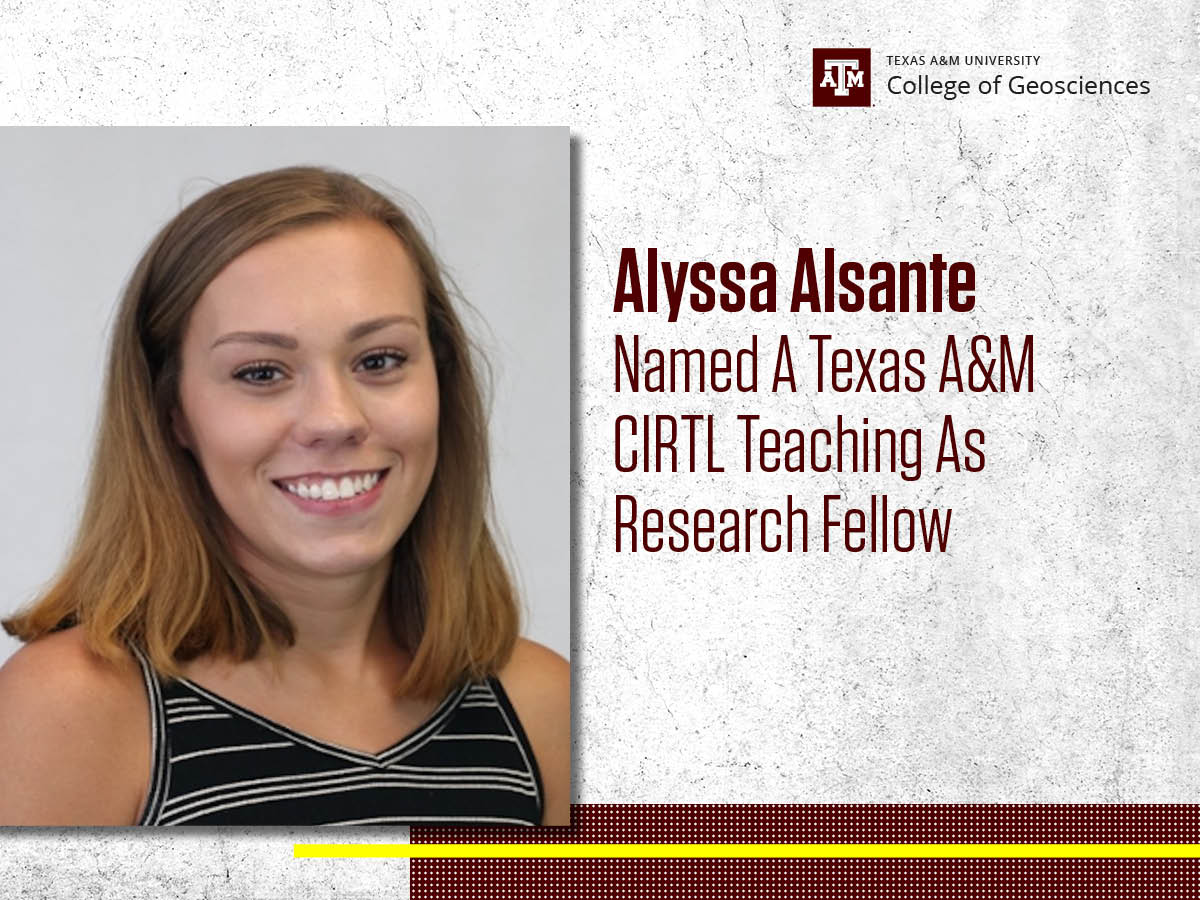 Online learning has increased in popularity, most significantly over the last 18 months. The ongoing pandemic underscores how important alternative learning methods can be. Alyssa Alsante, oceanography graduate student at Texas A&M University and one of this year's Center for the Integration of Research, Teaching and Learning (CIRTL) Teaching as Research (TAR) Fellows, hopes to learn more about how online formats affect student learning.
Serving as a teaching assistant for both the online and in-person sections of Oceanography Laboratory (OCNG) 252, Alsante will be able to compare the two learning environments with direct input from her students. She can also leverage the tools available to teachers to better measure student engagement with the material online.
"Students may not spend as much time using web-based lab modules as they would if it were in person," Alsante said. "It will be important to determine if students are succeeding in both modalities and suggest improved teaching strategies for online courses in the future to promote student success."
Alsante will have the support of Dr. Chrissy Wiederwohl, instructional associate professor in the Department of Oceanography and the primary investigator on this project. Wiederwohl oversees the lab and teaches the oceanography majors section of the corresponding lecture, OCNG 251.
"When Alyssa approached me about working together on this project, I was immediately on-board," Wiederwohl said. "Student success is something I think about a lot with my classes.  This research will help us better understand how we can modify the class to maximize student learning."
The center awards a stipend to Teaching as Research Fellows after hitting certain milestones in their project, equaling up to $1,000. The fellowship enables graduate students to experiment with teaching methods in real class settings under the guidance of a faculty mentor in their field of study.
"I am starting my project in the fall semester and may extend into spring semester, depending on online enrollment and student interest in participating in the study," Alsante said. "Then, I will write a report that will be available to faculty and teaching assistants at the university and present my findings at a scientific conference where my results may be implemented in future teaching practices."
Ideally, the project will also result in a peer-reviewed publication, the final milestone of the TAR fellowship program.
"I am excited to work with Dr. Wiederwohl in the TAR program to understand how online courses could be affecting student learning and improve our online courses in the future."
By Justin Agan '18