Two Weeks Of Chasing: Aggies Complete Multi-State Convective Storms Field Study
Texas A&M Meteorology students recently completed a two-week long field experience studying severe weather, forecasting storms, and safely storm chasing.
Jun 30, 2021
In May of 2021, a group of Aggie meteorology students set out on a two-week field study to forecast, observe, and study severe weather. The study was led by Dr. Chris Nowotarski, associate professor in Texas A&M University's Department of Atmospheric Sciences, who researches the dynamics and structure of severe weather.
Nowotarski led a group of 20 undergraduate students across the Great Plains, ranging from Hays, Kansas, to their home base in College Station. Alongside atmospheric sciences faculty Dr. Don Conlee and Dr. Erik Nielsen, they taught and trained students on how to properly conduct a storm chase.
The class consisted of structured weather briefings, weather balloon launches, and equipment training. Every student involved was able to both observe and learn from the veteran storm chasers. Rising junior Annisa McCollom said her experience was beyond impactful "because we got to forecast [storms] beforehand and go and actually see it happen in the field."
Not only did the students learn how to operate meteorological equipment, but they also provided invaluable data from weather balloon launches to surrounding National Weather Service offices. The data collected helped forecasters at each office prepare the public for severe weather later that evening.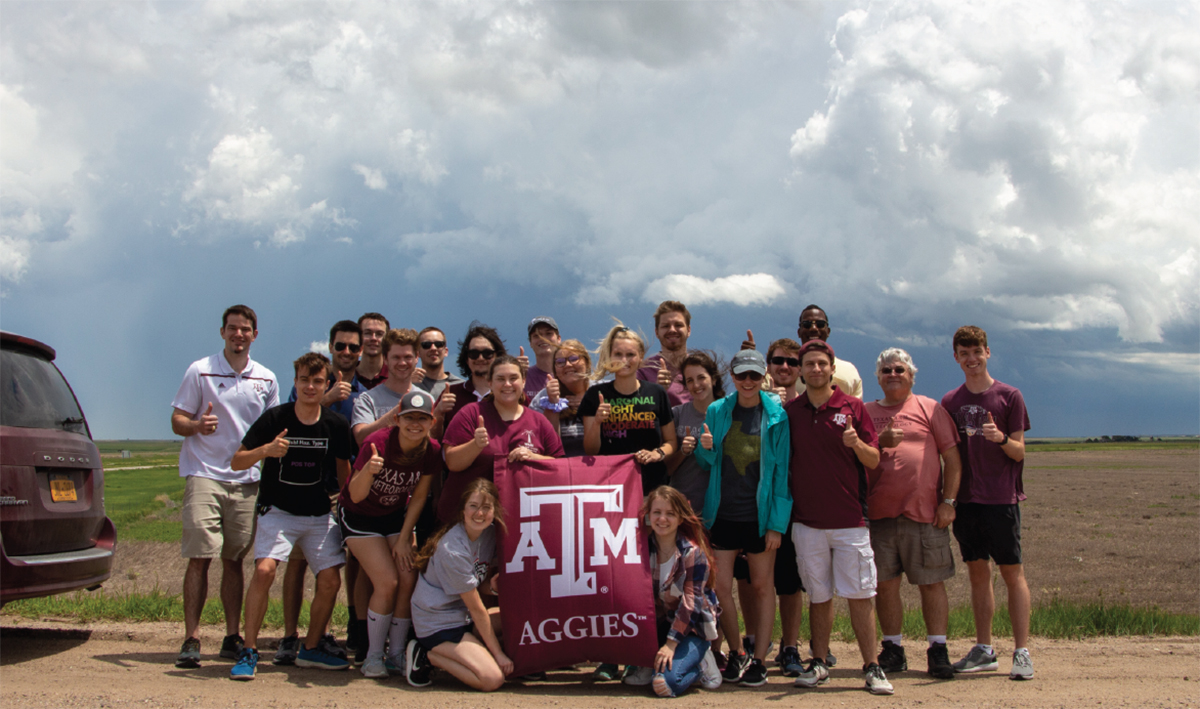 Even other colleges contributed to the success of this field study, as Western Texas College and Fort Hays State University provided space on their campuses for the Aggie weather briefings.
Opportunities like these are very common in the College of Geosciences at Texas A&M. These students have developed their meteorological technical skills and gained experience in properly communicating weather information.
It was an incredible experience for the undergraduates, and Dr. Nowotarski wishes to host a version of this course in the future. And yes, they did see some tornadoes.
by Drew Davis, Texas A&M College of Geosciences