Meet The Texas A&M Students Who Conducted Mars Perseverance Research In Iceland
Emily Champion and Kashauna Mason were part of a 2019 research project that helped ensure the success of the rover and helicopter operating on Mars today.
May 19, 2021
Many Texas A&M students have access to high-impact research opportunities, but in the summer of 2019, two Texas A&M College of Geosciences students helped conduct research that was out of this world.
In 2019, NASA had tasked Texas A&M with researching an environment similar to Mars, two years before the Mars 2020 Mission would successfully land on the red planet. That environment — lifeless, gray, rocky terrain, with mountains and plains that stretch for miles on end — was in Iceland.
Texas A&M geology undergraduate student Emily Champion was selected by Dr. Ryan Ewing, professor in the Department of Geology and Geophysics, to assist with the research, and Ph.D. student Kashauna Mason was also part of the world-class research team. Post-doctoral researcher Dr. Marion Nachon was a member of the research team as well.
For three weeks, Texas A&M Geosciences students and scientists studied the geology of the terrain, and tested a rover and a drone, in support of the Mars 2020 mission's Perseverance rover and Ingenuity helicopter, which are successfully operating on the surface of Mars today.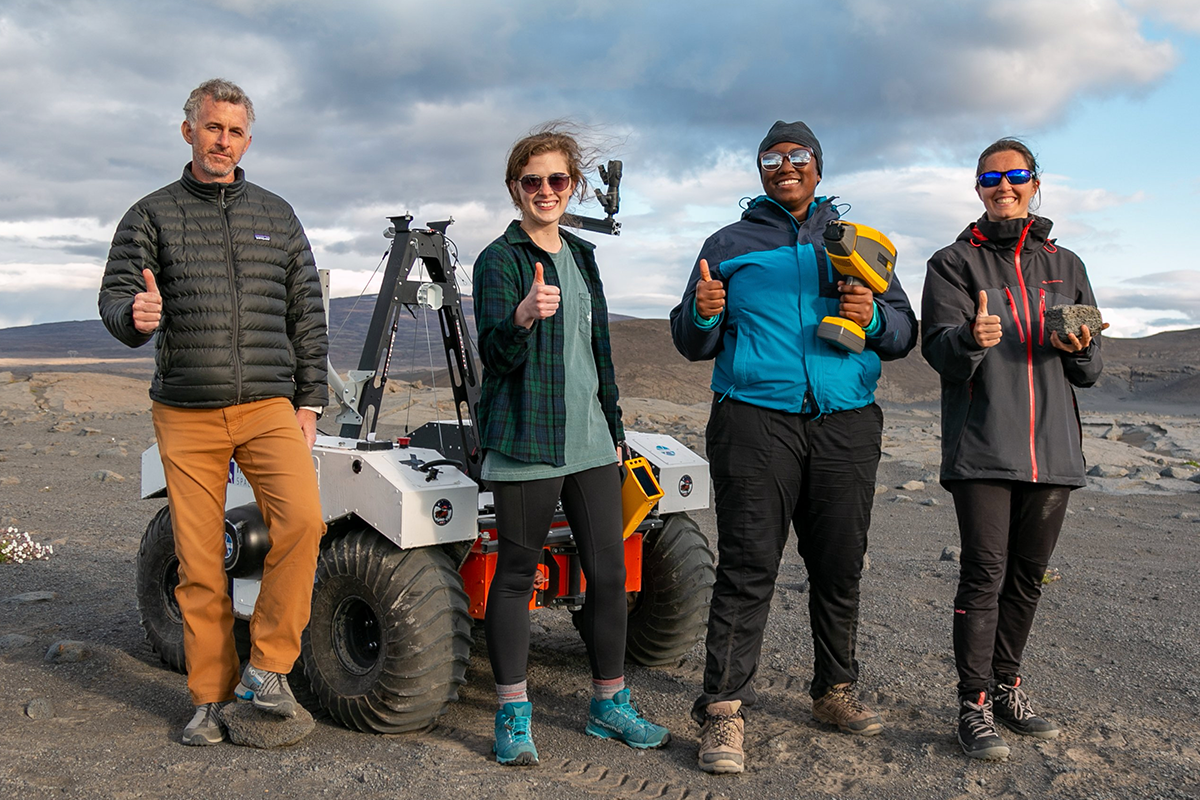 The team was located two hours north of Reykjavik in the Icelandic highlands near a trio of glaciers, and included 19 people representing NASA, Stanford University, Purdue University, and Canadian space firm Mission Control.
"I learned a lot about what it is to be a scientist, what it is to work for NASA, but also how to collect measurements in the field, how to work with other scientists, and how to be a team player," Champion said. She is now a student in the Fast Track Program in Geology and Geophysics, which is an accelerated 5-year path leading to a bachelor's and master's degree.
Not only did the students get to interact with renowned scientists and learn how to conduct field measurements in an incredible environment, but their research also furthered the operations of the now active Perseverance Rover.
The time that Champion and Mason spent with the research team huddled in a small Icelandic hut furthered the world's understanding of geology here on Earth and on other planets. The opportunities Texas A&M offers its students are extraordinary. The question now is — where will Aggie geosciences students go next?
By Drew Davis, Texas A&M College of Geosciences