May 2021 Graduates Recognized With Awards And Honors
The College of Geosciences virtual graduation celebration was May 18, and commencement was held May 19 in Reed Arena.
May 27, 2021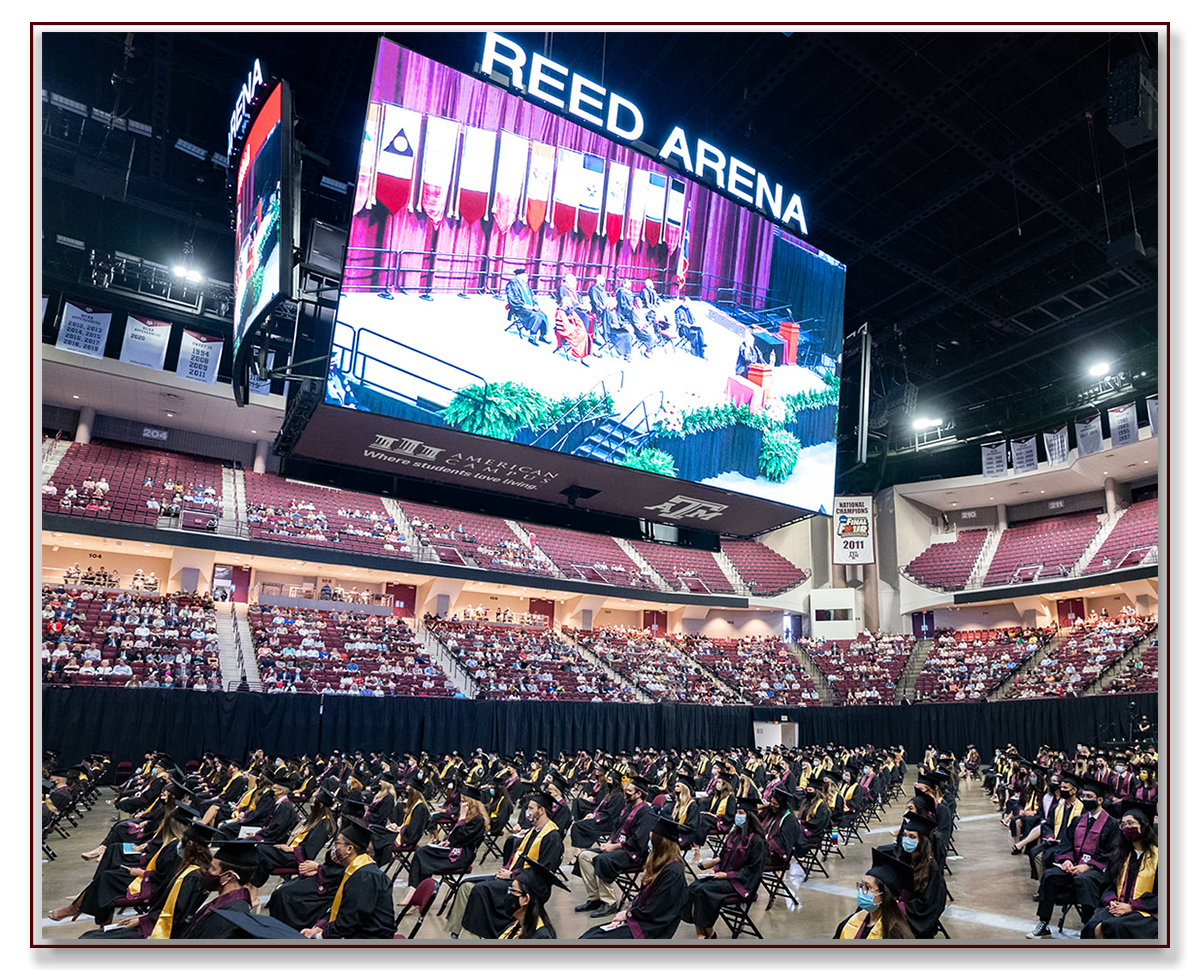 The Texas A&M University College of Geosciences would like to congratulate its May 2021 graduates. Graduating seniors, families and friends, faculty and staff joined together in an online Graduation Celebration May 18 to celebrate and recognize the students' accomplishments.
"Congratulations to all of you on your inspiring accomplishments completing our degree programs, which are incredibly rigorous," said Dean of the College of Geosciences Dr. Debbie Thomas, who led the event. "You should all be very proud, and we wish you all the best in your future endeavors.
Geosciences students receiving their doctoral degrees were honored at the doctoral commencement and hooding ceremony on May 8, and undergraduate and graduate students received their degrees at the May 19 commencement ceremony.
"Please draw from your courage, your strength, and your discipline to lead by example," Thomas said. "Your knowledge and skills as geoscientists are critical to the current and future challenges facing society. Geoscientists are the very foundation of sustainability. In addition to meeting today's needs, while enhancing the prosperity and security of future generations, sustainability requires a society that trusts science. So, lead us there Aggie Geoscientists!"
The following students were honored with awards at the event.
Department And Program Honors
Environmental Programs Outstanding Graduating Seniors 
Amanda Wright, Environmental Geosciences
James "Will" Maddux, Environmental Geosciences
Kennedy Mayo, Environmental Studies
Kenji Blum, Environmental Studies
Undergraduate Excellence in Oceanography Award
Geography Outstanding Student Award
Luke Vitullo, Geography
Christina Shaw, GIST
Klein Family Scholarship
GTU National Honor Society
Eshan Zia
Elyse Burgess
Nathan Bradley
Christina Shaw
Abir Chaudhuri
Nathan Young
Geology And Geophysics Outstanding Senior Award
Deanna Flores
Catherine Lloyd
Colton Barr
Kade Flynn
Atmospheric Sciences Outstanding Senior Award
Outstanding Student Award
These students began their last semester with a cumulative grade point average of 3.75 or higher.
Colton Barr
Leanne Blind-Doskocil
Kenji Blum
Elyse Burgess
Kristina Djinis
Kade Flynn
Analisa Garcia
James "Will" Maddux
Kennedy Mayo
Daniel McKinney
Clara Migala
Christina Shaw

Emily Smith

Luke Vitullo
Amanda Wright
College of Geosciences Medallion Milestone Scholars
The Medallion Milestone Scholars Program identifies those who have excelled within and beyond the classroom. Recipients have demonstrated leadership, professionalism, citizenship and/or research skills while building collaborative relationships in the academic, local or global community.
Gold
Lance Belobrajdic
Leanne Blind-Doskocil
Hannah Davis
Jeanette Gallardo Gonzalez
Joseph Miles Langfeld
James "Will" Maddux
Chelsea Parada
Erin Sherman
Silver
Rachel Eldridge
Kade Flynn
Matthew Herdrich
Kalli Johnson
Bailey Ohlson
Joshua Ostaszewski
Dalton St. Romain
Kayleigh Thomas
Bronze
Dylan Halbeisen
Nicole Hernandez
Andrew Jansen
Katherine Maberry
Anneliese Olbrich
Nadia Partida
Amber Schlessiger
Julia Villafranca
James Wilde
Watch the College of Geosciences May 2021 Graduation Celebration.
By Leslie Lee