Jason Sylvan Receives Simons Early Career Investigator Award
The Texas A&M oceanographer was recently honored by the Simons Foundation.
May 7, 2021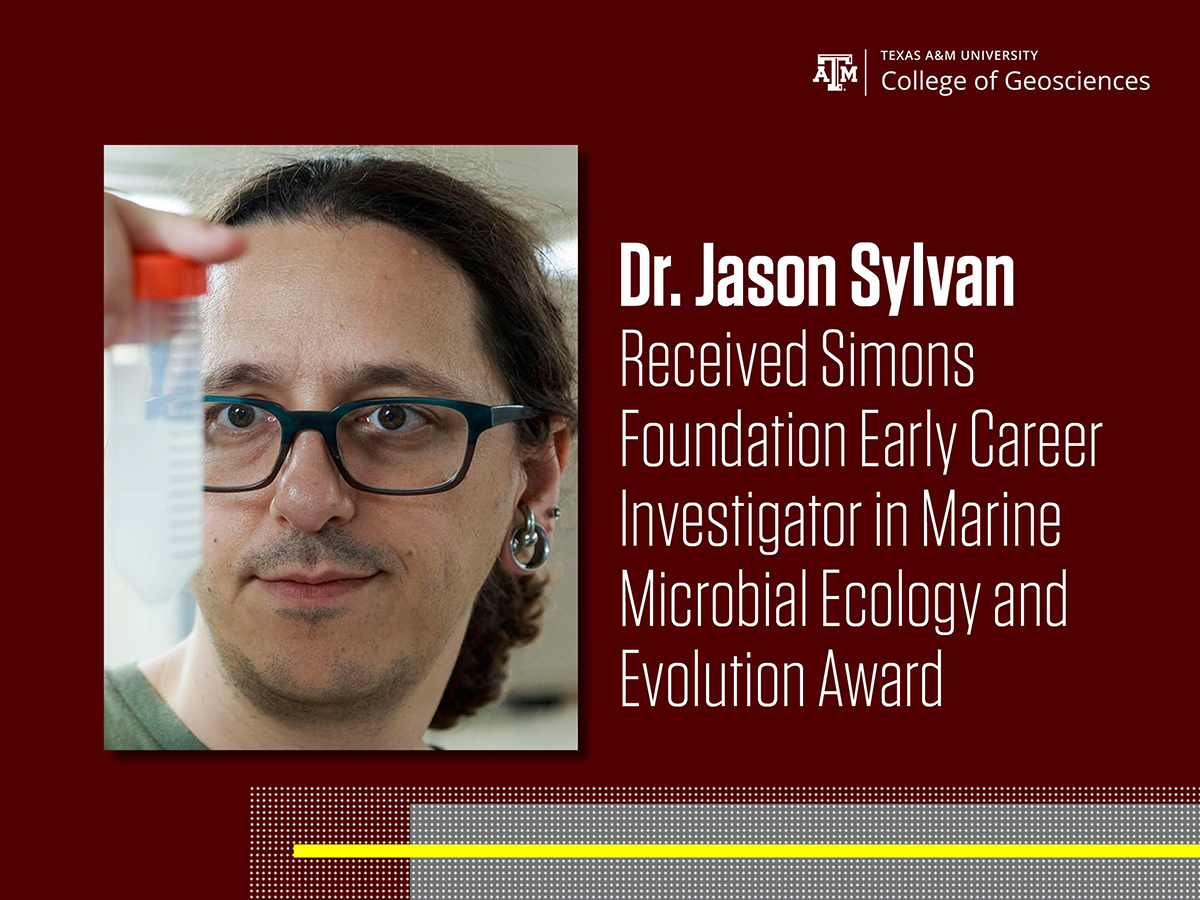 Dr. Jason Sylvan, associate professor in the Department of Oceanography at Texas A&M University, recently received a Simons Early Career Investigator in Marine Microbial Ecology and Evolution Award, from the Simons Foundation. This award provides support to launch the careers of outstanding investigators whose research will advance their field, the foundation says.
"Dr. Sylvan is incredibly deserving of this award, and it will undoubtedly help him advance understanding of the microbial ecology of hydrothermal vents," said Dr. Shari Yvon-Lewis, Texas A&M Oceanography department head. "Dr. Sylvan is an excellent mentor for his students and postdoctoral researchers, and I anticipate this award will help him provide more support and mentoring opportunities for them."
Sylvan is a microbial ecologist and biogeochemist whose research broadly focuses on interactions between marine microbes, their environment and the feedback between the two. The Sylvan Lab focuses on two broad topics: microbial ecology at and below the seafloor, and the response of microbial communities to major perturbations.
These topics manifest as studies of microbial ecology below the seafloor, often in collaboration with the International Ocean Discovery Program (IODP); microbial ecology of hydrothermal vent ecosystems; oil spill microbiology; and the response of coral ecosystems to disturbance. His lab combines traditional microbiology methods such as culturing and microscopy with cutting-edge molecular biology analyses, bioassays to quantify rates of metabolic processes, and biogeochemical measurements to generate interdisciplinary insight into marine microbiology. 
Sylvan graduated from Brandeis University with a B.S. in biology and received his M.S. and Ph.D. in biological oceanography from Rutgers University, where he studied coastal bottom-water dead zones that result from excess nutrient runoff. He then conducted postdoctoral research focused on seafloor geomicrobiology in the department of biological sciences at the University of Southern California. Sylvan was a 2016 Kavli fellow and a 2016 IODP Ocean Discovery lecturer, and he received the Texas A&M Geosciences Dean's Distinguished Achievement Innovative Educator Award in 2018.
The Simons Foundation's mission is to advance the frontiers of research in mathematics and the basic sciences, and it supports research by making grants to individual investigators and their projects through academic institutions. 
By Leslie Lee