Texas A&M Students Delivered Water And Filters To Texans In Crisis
Students in the College of Geosciences and the Texas A&M chapter of Wine To Water provided water filters to Texans still facing household water crises after February's winter storms.
Apr 12, 2021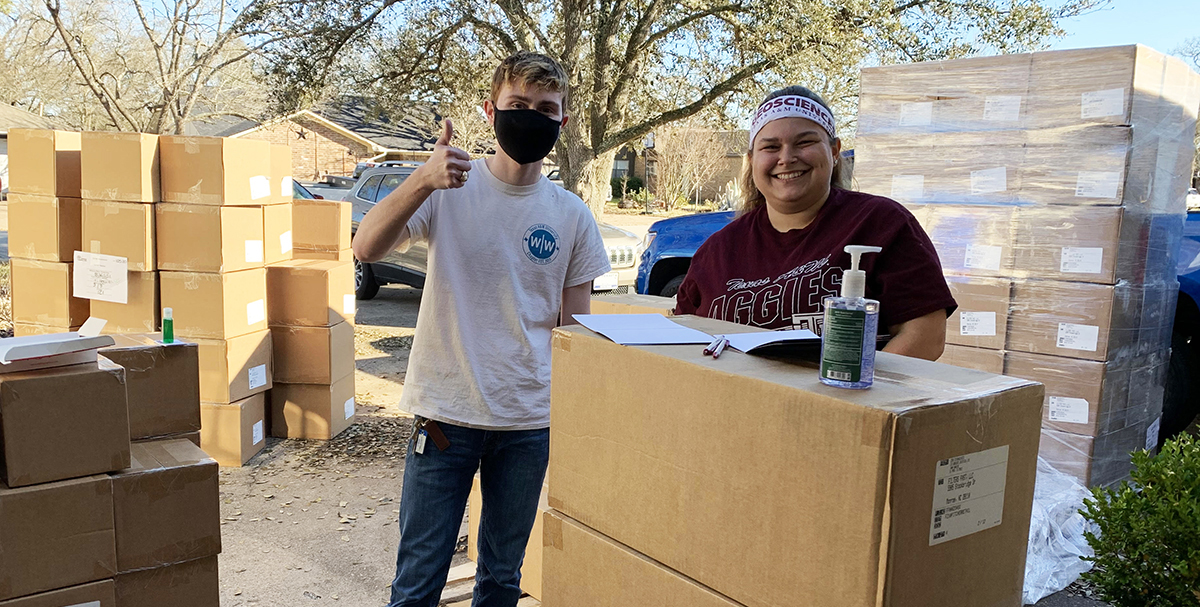 The Valentine's Day extreme winter storms that impacted millions of Texans' safety, electricity and water supplies caused long-term disruptions for some residents. Weeks later, household water instability persisted for thousands of people, and Texas A&M University students have worked to help.
Students in the Texas A&M College of Geosciences and the Texas A&M chapter of Wine To Water recently delivered water filters to residents in need all over the state. These Aggies have driven water and water filters to Bryan, College Station, Waco, Corpus Christi, Rockport, Port Arthur, Livingston, Baytown, Elkhart, and Longview.
ZeroWater filter systems were donated by Wine To Water to the student chapter for distribution, said Judy Nunez, geosciences director of student recruitment and chapter advisor.
"The needs were real," she said, "And these students were 'water warriors,' as Wine To Water founder Doc Hendley says." 
The students also helped distribute 14 pallets of water donated by Mananalu, a sustainability-focused aluminum-can water company owned by actor Jason Momoa. The canned water supplies were delivered by students to Elkhart, Corpus Christi, and fire departments in Palestine and College Station, thus far. 
Passionate About Water
The students involved in Wine To Water are passionate about providing access to clean water and sanitation to those in most need, Nunez said, and this winter those needs were right here in Texas.
"Delivering water pitchers and filters to Livingston and Longview is only part of the story," said Jaron Capps '21, a geographic information science and technology major in the Department of Geography. "As I talked to different organization leaders, I became much more aware of the disaster. In Livingston, people were coming up to the Manafest Food Bank asking for water over food, and for the counties around the Longview Area, some families were still without water, a month after the winter storms."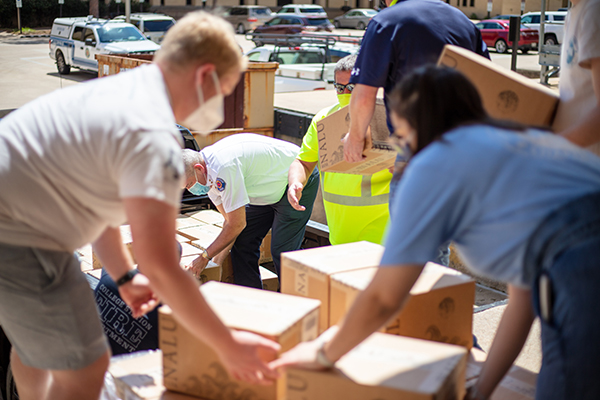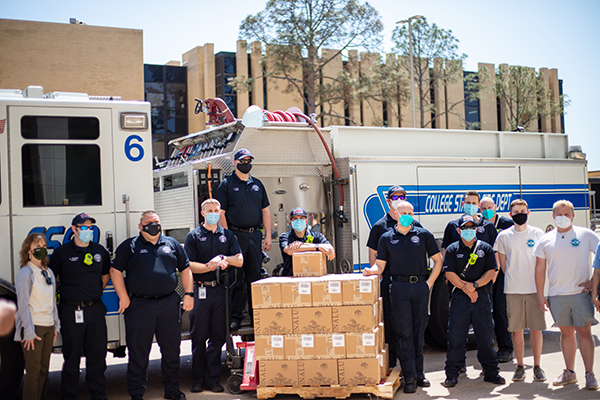 "With everything that was taught, given, and bestowed down to me, I am grateful to jump to action when called, especially giving back to the communities that sculpted my youth by helping hundreds of individuals get access to clean water," Capps said. 
"Most of the students in the student organization learned about the global water crisis through a first year seminar course taught through the College of Geosciences," Nunez said. "The seminar, plus real-world experiences, often within their own hometowns, have opened their eyes to the impact of emergencies, disasters and policy decisions on vulnerable populations."
Helping People No Matter What
"I love helping people no matter what the situation and when Judy told me that there were people without water I jumped at the opportunity to load my truck with water and filters and deliver them  to those who needed them," said Hannah Davis '20, a senior Geography major.
Davis delivered water and filters to Rockport/Fulton ISD, Elkhart First United Methodist, and the Palestine Fire Department.
"With the help of our student organization members and the delivery of our water filters, the communities we helped were now able to filter their water to not only drink but also to cook with," she said. "Being able to drink clean water can help our communities avoid health issues that come from drinking dirty/contaminated water."
By Leslie Lee, Texas A&M College of Geosciences