Students On The Water: Oceanography Students Assist Quarterly Research Cruises
Oceanography students joined faculty on a quarterly research cruise in Galveston Bay to assist in sample collection and gain valuable experience in the field.
Apr 20, 2021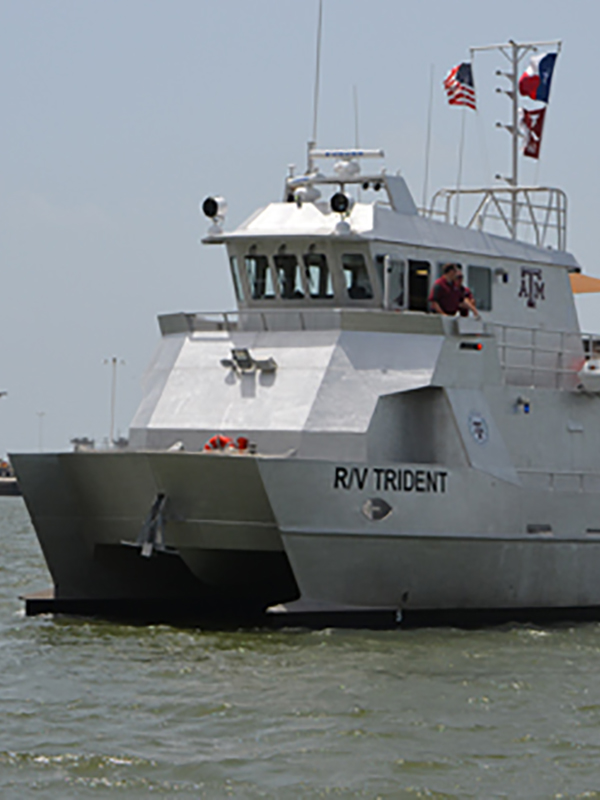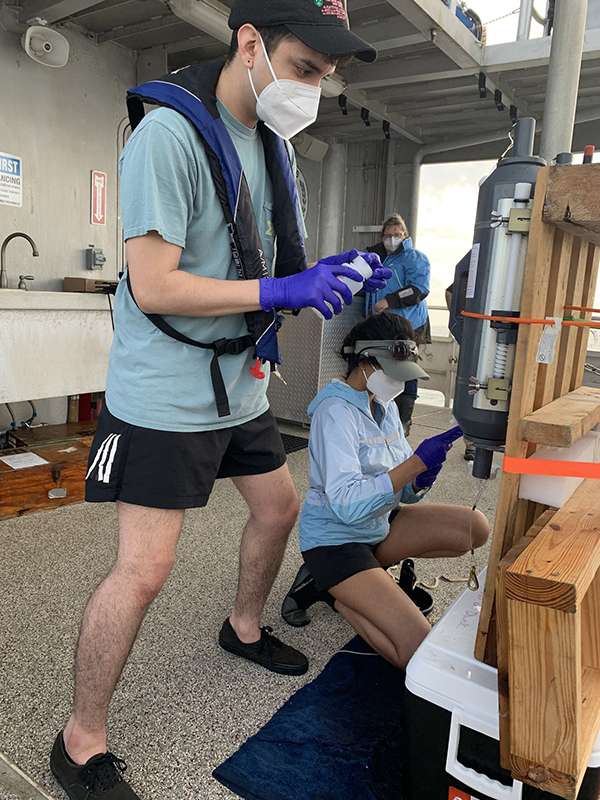 Since the summer of 2017, Texas A&M University Department of Oceanography researchers have been conducting quarterly research cruises on Galveston Bay. On March 13, Oceanography Department Head Dr. Shari Yvon-Lewis and Assistant Professor Dr. Yina Liu took students out to Galveston Bay on the quarterly research cruise, enabling multiple faculty and graduate students to collect samples for various research projects.
These research cruises provide valuable experience for all levels of students. The March 13 outing consisted of a single day on the water where professors and students took samples at sites ranging from the mouths of the Trinity and San Jacinto Rivers in the northeast and northwest parts of the bay, respectively, down the western side along the ship channel.
In Spring of 2020, quarterly cruises were suspended due to COVID-19 and were suspended again in Fall of 2020 due to mechanical issues with the ship. This cruise was the first to take place since the pandemic began but safety protocols still played a part in limiting how long they could be out on the ship together. Unfortunately, this forced the elimination of some regular sampling sites and limited the number of students allowed to only those who were essential to the research projects. The department hopes to open cruises up to more students again once the need for physical distancing is eliminated.3
This cruise included two graduate students and three undergraduate students. Two undergraduates work as technicians for the professors and the third is an undergraduate researcher. While each worked with their respective professors on the cruise, they also worked together as a team throughout the trip.
Yvon-Lewis, the chief scientist of the cruise, and her students looked for volatile compounds such as chlorofluorocarbons CFC 11, CFC 12, and HCFC 22 (a refrigerant), manmade freons known to deplete stratospheric ozone that are now banned. They looked for other manmade compounds like bromoform and chloroform, used in wastewater treatment, also harmful to the ozone layer. They also sampled for methane and nitrous oxide, two potent greenhouse gases that have mostly natural sources.
"We have seen these compounds to some degree in Galveston Bay in the past," Yvon-Lewis says. "We are looking at these compounds in the bay to see how big of a source they could be to the atmosphere and potentially help identify some of the same sources and if they are coming from the same places that [pharmaceutical and personal care products] PPCPs are in the Houston Ship Channel."
Liu's project centered on finding traces of pharmaceutical and personal care products (PPCPs) and per and polyfluoroalkyl substances (PFAS), found in firefighting foam, non-stick cookware, and water-repellant textiles.
These quarterly cruises are the first time these contaminants will be tracked in Texas waters over time and across the salinity gradient from freshwater sources into the saltier waters of the bay.
"The goal is to look at how they distribute in the bay and whether the concentration of these compounds is affected by changes in weather events or unexpected events like fires that discharge a lot of firefighting foams into the environment," Liu says.
Liu's research was funded by the Texas Commission on Environmental Quality (TCEQ) as an ongoing project for the next two years. They hope to secure future funding to keep the cruises going beyond that time. Not only do additional cruises add temporal resolution to the research data so emerging pollutants can be tracked over time, but they are also a valuable source of experience for students.
"Historically, this cruise, initiated by Dr. Yvon-Lewis, has enabled multiple graduate student theses. Dr. Yvon-Lewis is the chief scientist for this cruise, but she brought a bunch of additional analysis in addition to what is funded by TCEQ," Liu says. "This is how oceanography works, we work together, and one funded cruise can spin off into many different educational and research opportunities."
One of the graduate students on the trip has since graduated and two of the undergraduates will be starting in their own graduate programs soon. Sangeetha Puthigai, a Biomedical Sciences student from Texas A&M will start her graduate study with Dr. Liu.
"Research opportunities such as an oceanographic cruise often inspire students to think outside the box and apply their knowledge on a much bigger scale – the global ocean," Liu said.
"If anyone else tells you, 'I want you to get up at 3:30 in the morning, work all day and get back at 11 at night,' anyone else would respond, 'you're crazy!'" said Hunter Adams, a junior and undergraduate researcher in Yvon-Lewis's lab. "This is definitely the best part of the science, the field work and getting to interact with people, it's a very valuable experience."
"It was my first time doing anything like that, my first time on a cruise in Galveston Bay," Nina Mangor says, an oceanography graduate student. "It was kind of like a 'sink-or-swim' situation, and I feel like I swam."
Yvon-Lewis confirmed her student's ability to "swim".
By Justin Agan '18