Student Forecasters Keep Aggieland Weather-Aware
Meteorology students gain unique experience providing broadcasted forecasts to local radio and TV stations.
Apr 21, 2021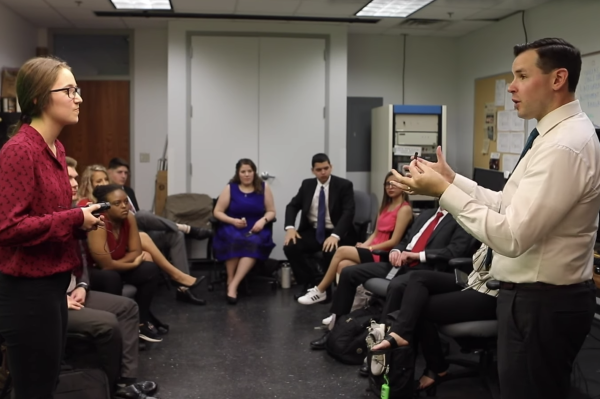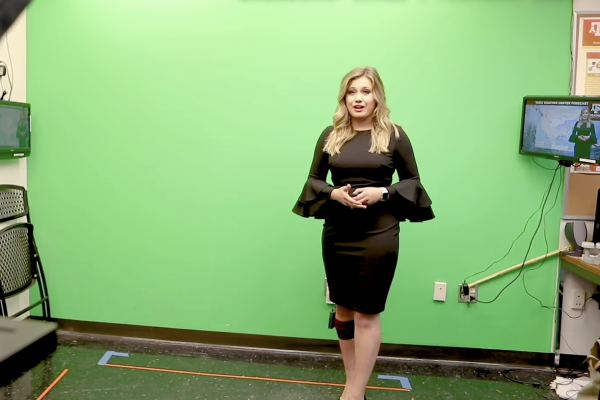 At the top of the Texas A&M University campus, student weather forecasters in the Department of Atmospheric Sciences make sure that Aggieland gets essential information: an accurate daily weather forecast. Students broadcast weather forecasts using television, radio, and social media videos on Twitter and Facebook.
This hands-on experience gives Texas A&M meteorology students an invaluable leg-up in the atmospheric sciences job market, which is both growing and competitive. Recent graduates need a diverse portfolio of education and experience engaging with aspects of the operational work meteorologists are expected to do, professors say.
And that's just what they get at Texas A&M.
On-Air Experience For Aggies
The Atmospheric Sciences Department provides a fully equipped broadcast facility for students to practice presenting their weather forecasts in a simulated broadcast environment. This studio is co-located with the Texas A&M radar facility (ADRAD), giving students access to up-to-date observations of the local area during precipitation events as well.  
The studio and radar lab are there to provide students not only with practice broadcasts for the ATMO 461 Broadcast Meteorology course but also for producing a portfolio reel for their resume, as the forecasts are submitted to and presented by local TV and radio stations.
On the radio, students provide 30-second forecasts for FM stations 90.9 KAMU in College Station and 90.5 KTRL in Stephenville for the mornings and evenings every day from Monday to Friday, which are presented the following day hourly. Filmed forecasts also started broadcasting on local TV station KAMU-TV in 2020, and the station's PBS Kids channel as well. The filmed forecasts also give students the opportunity to work with green screens and video editing. All of the forecasts are also available on Twitter and Facebook.
Students are encouraged to make use of the broadcasting booth early on, both by professors such as Dr. Don Conlee, instructional professor and undergraduate mentor, or from other students, such as Senior Broadcast Coordinator Jeanette Gallardo or Junior Broadcast Coordinator Abby Thornton.
"My biggest piece of advice for incoming meteorology undergraduates is to simply get involved within the Texas A&M Student Chapter of the American Meteorological Society (TAMSCAMS) and try something new," Gallardo says. "Through there you can join TAMU Weather Broadcasting, Texas Aggie Storm Chasers, participate in a mentoring program, gain valuable knowledge about the field, and connect with other students and professionals."
She sets the schedules for the broadcasts, trains students on using the broadcasting and production equipment, and manages the Aggie weather social media accounts that highlight student forecasts.
Along with Mia Montgomery, a recent graduate who is now a meteorologist at KBTX, Gallardo got the TV portion of the local broadcasts up and running last spring and now acts as a liaison between the local stations and the student forecasters.
First-Year Students Get Hands-On Experience
Kenzie Allen first learned about the broadcast facility when she attended GeoX in 2019, and started making forecasts almost immediately after starting her freshman year.
"Meteorology is something I've always been interested in," she said. "But I am still unsure of the specific career endeavors I want to pursue after graduating. Broadcast meteorology is one of those options, so this is giving me a great opportunity to learn the basic skills that are associated with it."
Elizabeth Ohlemacher, a transfer student who came to Texas A&M for its meteorology program, hadn't intended to study broadcast meteorology at all.
"Honestly, I never intended to do anything with broadcasting," she said. "But when I heard about it, I thought it would be a good way to meet new people and to get something on my resume."
She was introduced to the broadcast booth through her ATMO 201 course, as well as it being suggested for new students by TAMSCAMS. She wasn't necessarily interested in broadcast meteorology specifically, but is interested in making forecasting her long-term career.
"I personally want to be a forecaster for NWS or a company," she says, but remains open to what broadcast meteorology has to offer and has become aware of the skills it takes to be a successful broadcast meteorologist.
Turning Childhood Dreams Into Successful Careers
Effrage Davis-Hester, a recent graduate, said she's been her family's designated weather forecaster for years.
"I was a kid when I saw my first tornado in Oklahoma, and that drove me learn everything that I possibly could about the weather in order to stay safe," she says. "It was my job to let my family know when and where we should be expecting any type of precipitation."
She said she didn't initially know about Texas A&M's forecasting program, but quickly jumped on it in the fall of 2018, when local broadcasts were radio only. She said that forecasting for such a long time has helped her experience forecasting a large variety of different weather conditions. Like Gallardo, Allen, and Ohlemacher, Davis-Hester is interested in forecasting as a career, and her experience at Texas A&M is likely to help her in the future. 
Gallardo credits the Weather Broadcasting program with providing her with several opportunities.
"Those opportunities include presenting research about bilingual broadcast meteorology, getting internships, networking, and currently, to serve as the Student Technician for the ATMO 461 class." she says. "As a second-year Broadcast Coordinator, I have also gained valuable leadership and management experience as well. Most importantly, though, I've been able to build amazing friendships with the people I've met through the program."
Making the Forecasts
We can really feel those spring temperatures this week! And those april showers. Grab an umbrella and raincoat on Friday if you need to brave the storm. @wxannajohnson has your forecast. pic.twitter.com/ehqvt5aFXu

— Texas A&M Weather Broadcasting (@tamuweather) April 21, 2021
Nowadays, broadcast meteorologists don't simply re-package NWS forecasts for their area, but make their own forecasts using the same data and knowledge that General Forecasters working with the NWS use.
Part of the process of the meteorology undergraduate program is learning those tools and how to apply them to the process of forecasting. Often, underclassmen use the NWS forecasts as a basis for their own. However, as they take courses and gain a better understanding of atmospheric dynamics and the intricacies of weather forecast models, their ability to make their own, independent forecasts grows.
"To make my forecasts, I use [NWS] hourly weather forecast graphs for the daily," Allen says. "In my atmospheric science classes, I'm learning about the tools that I use in my forecasts, so it's been a great way to apply my knowledge and familiarize myself with tools that I will be using in my future career."
Davis-Hester makes use of the College of DuPage's weather tools for her forecasts, which is a collection of various atmospheric observations and forecast models. She also uses GARP and AWIPS, rendering software for observational and forecast data created by Unidata that are similar to the programs used by National Weather Service forecasters; Texas A&M provides licenses for these programs for students to use. "I still follow the same 5 basic steps of forecasting that was taught in ATMO 203," she said.
Those five steps are the basic process that all students at Texas A&M are taught to frame their forecasts. It starts with big picture questions: what are the large-scale conditions affecting a given area, and how are they expected to change in the coming days?
After that, what were the conditions in a specific forecast region, why were they as they were, and are they expected to continue or is there a weather system approaching that could change things? Then the process starts to focus on more specific questions, such as whether clouds and precipitation will be present, and if so how much; what the expected temperature range would be, and why are those temperatures expected; and finally whether your forecast matches with forecast models and Model Operational Statistics (MOS) are suggesting, and if not why.
Through this, students touch on the majority of the weather conditions that will affect a given area and can assess how their forecasts match up with guidance. The latter is an especially useful skill in forecasting, and by practicing with a variety of locations, such as through the Weather Challenge—a national weather forecasting competition—students can hone their forecast skills and be well-prepared for forecasting well-beyond their Texas A&M undergraduate careers.
By David Coates