Oceanography Graduate Student Awarded Schlanger Ocean Drilling Fellowship
Texas A&M oceanography graduate student Ronnakrit Rattanasriampaipong was selected as a recipient of IODP's Schlanger Ocean Drilling Fellowship.
Apr 21, 2021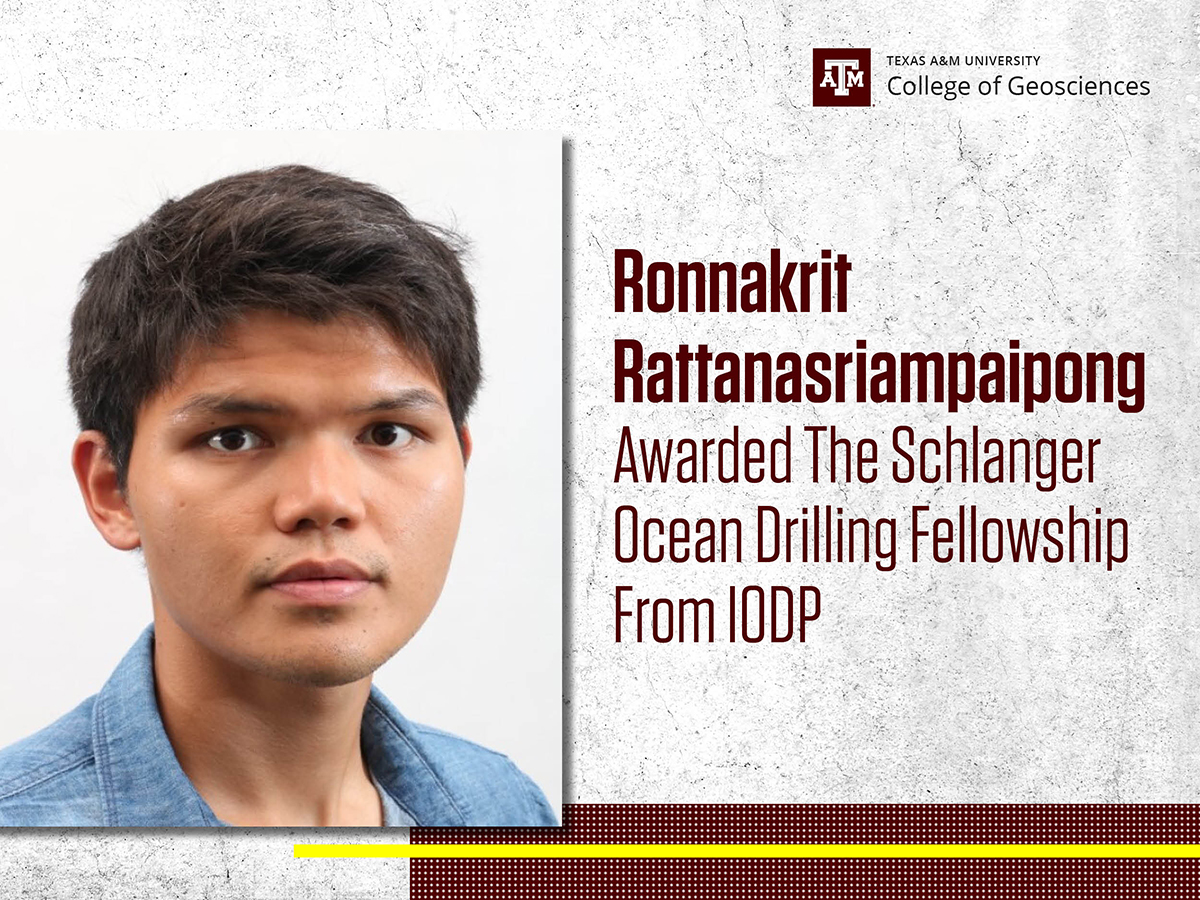 Along with six other students around the country, Ronnakrit Rattanasriampaipong, a Ph.D. student in Texas A&M University's Department of Oceanography, was recently awarded the Schlanger Ocean Drilling Fellowship award from the International Ocean Discovery Program (IODP) for 2021-2022. Schlanger fellows are selected by the U.S. Science Support Program (USSSP) of the IODP based on one-year research proposals submitted by applicants.
Rattanasriampaipong's research intends to reconstruct sea surface temperatures for certain parts of the global oceans over approximately the last 66 million years, the Cenozoic Era. To accomplish this, he will have to analyze sediment cores taken from various places in the global oceans that date back through that time frame.
"Part of the reason is to do better climate projections for climate modeling techniques, people need long-term records," Rattanasriampaipong says. "Instrumental climate records are only about a century old."
There are very few studies that provide long-term continuous data on sea surface temperature and his goal is to find places in the global oceans that can help fill in the gaps in this data, he said.
"We have several studies that studied very specific time intervals in the past with a higher resolution in details, which is nice. We lack the continuous picture of how our sea surface temperature evolved over the last 66 million years."
The $30,000 fellowship award is for a 12-month period, at the end of which he will be able to attend a meeting of the U.S. Advisory Committee for Scientific Ocean Drilling (USAC) to present his initial results and take part in USSSP activities.
Rattanasriampaipong praised his advisor Dr. Yige Zhang, and his committee member Dr. Ethan Grossman, professor in Texas A&M's Department of Geology and Geophysics, for their support.
"Since all of the samples for these experiments are coming from IODP, themselves, I would like to thank them for providing samples," Rattanasriampaipong says. He expects this project to contribute to his dissertation and hopes to propose future projects to the National Science Foundation or NASA.
By Justin Agan '18