Geosciences Students Establish National Association Of Black Geoscientists Chapter And Host First Event
The Black Voices in Geoscience virtual event was hosted by the new Texas A&M chapter of NABG on April 20.
Apr 23, 2021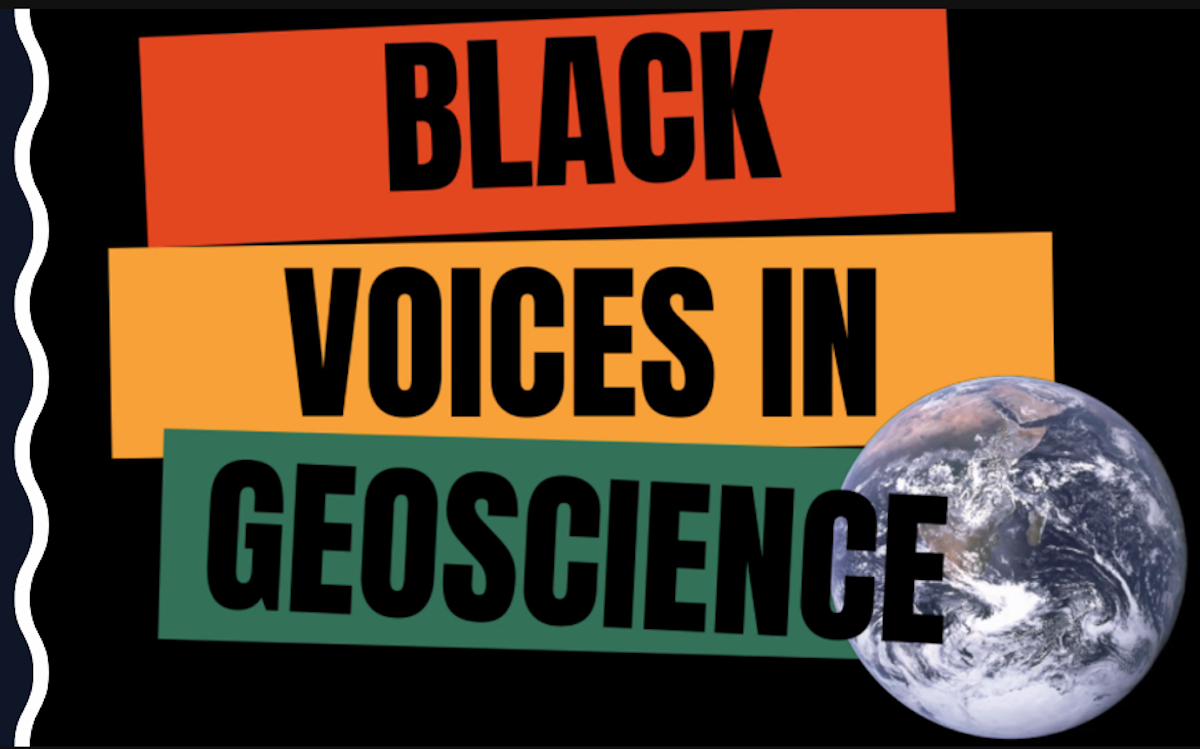 Graduate students in the Department of Geology and Geophysics recently established the  Texas A&M University chapter of the National Association Of Black Geoscientists (NABG) chapter. Texas A&M NABG was founded this year by the organization president, Jessica McKay; vice-president, Peace Eze; and treasurer, Kashauna Mason; all of whom are graduate students in the Department of Geology and Geophysics. 
Texas A&M NABG hosted their first virtual event, "Black Voices in Geosciences," April 20. The event consisted of four talks from invited speakers, followed by a 15-minute Q&A panel with speakers and participants. The featured speakers were Dr. Raquel Bryant from Texas A&M, Joshua Anadu from Oklahoma State University, Tomieka Searcy from BP, and Kashauna Mason from Texas A&M. 
Mason spoke about her identities and her career path to become a PhD student at Texas A&M specializing in planetary geology. She credited faculty mentoring during her undergraduate career with providing key research experience and crucial insight into how to apply to graduate school in geology. 
Anadu introduced himself as a young scientist and provided an analysis of Black people engaging in the outdoors along with the average financial costs of outdoor activities. He proposed an exciting idea for decreasing barriers for Black people, and supporting engagement in the outdoors.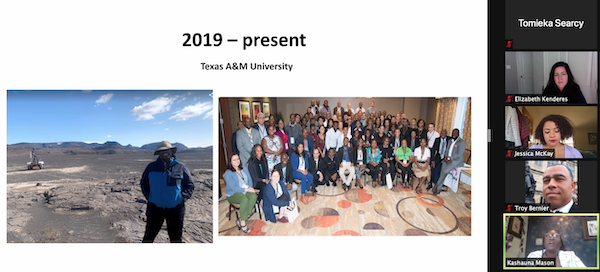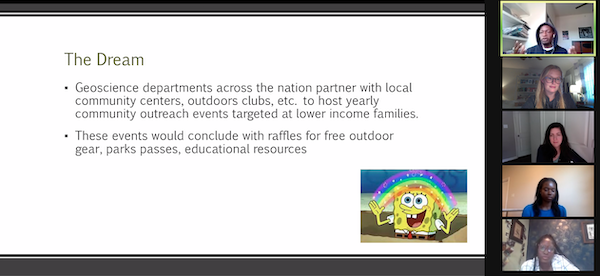 Searcy presented on her experience as a Black geoscientist working in the private sector, and how to utilize a professional development plan for professional success. 
"Always be open and honest with who you are, deliver technically, and be aware of the job opportunities out there," Searcy said. 
Bryant spoke about her doctoral and post-doctoral research, and the historical impact of Dr. Randolph Bromery, the first Black Chancellor at University of Massachusetts Amherst. Bryant said that the lack of diversity in the geosciences must be addressed by looking at historical context, intentionality, and Critical Race Theory. 
The second hour consisted of small group discussions centered around diversity, equity and inclusion in the Geosciences. Small groups discussed everything from what community means to them, to finding key commonalities, to offering personal and professional support.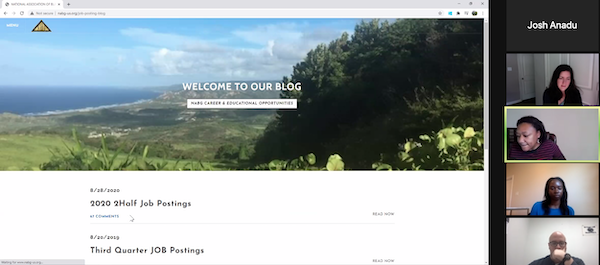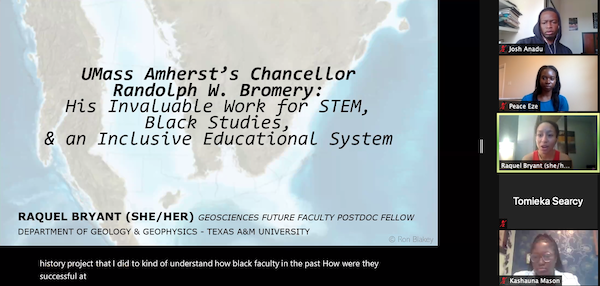 "We were first inspired to form a NABG Chapter at Texas A&M because we wanted to develop a sense of community among the Black geoscience population at the university," said McKay. "As many people know, the geosciences fields are significantly lacking in diversity. Meaning, many students with minoritized identities may feel isolated or lack a sense of belonging, I know this was the case with myself. Our hope in starting this NABG chapter is to offer that sense of community and place for students to feel like they belong."
"While community building is our foundation, we also hope to increase the number of culturally responsible geoscientists at Texas A&M and to aid the College of Geosciences in creating an inclusive, equitable, and diverse environment for all students," she said.
"Our goals are to encourage leadership and fellowship among geoscience students, inform students of scholarships, grants, and financial aid, and provide career development programs and information to students," Eze said. 
If you are interested in becoming a NABG member, you can email
tamu.nabg@gmail.com
. Membership and participation in NABG are open to all students. Anyone with an interest in creating a more inclusive culture within the geosciences community is welcome.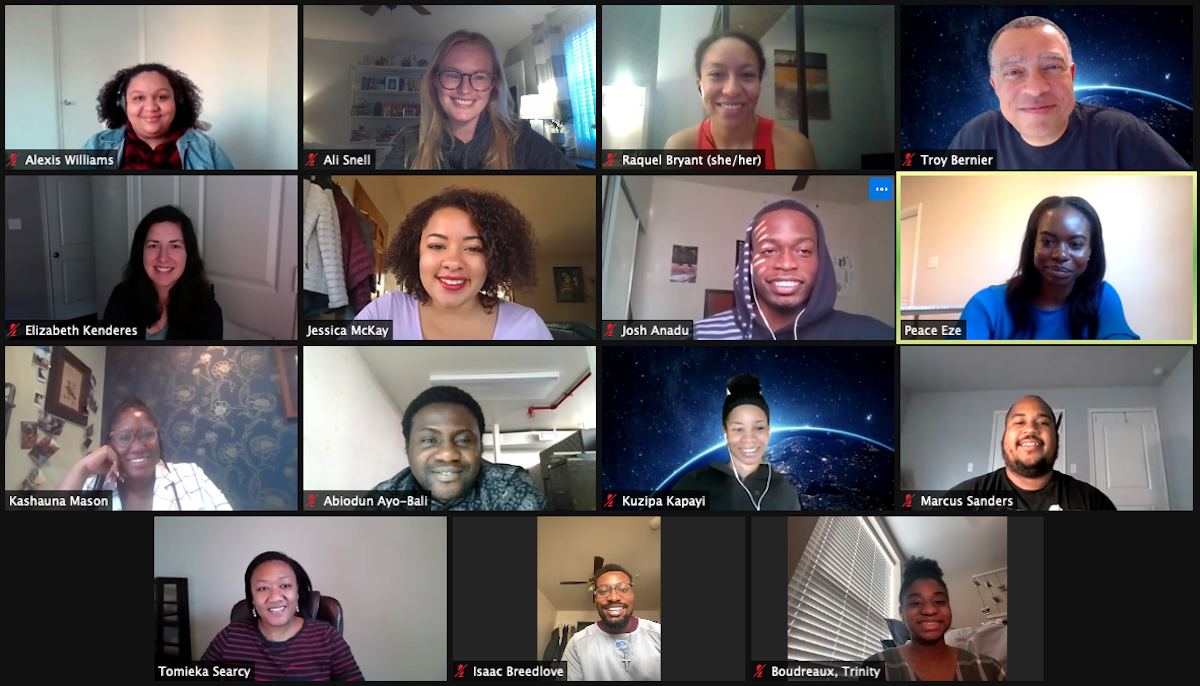 "NABG welcomes all!" Eze said. "Social, outreach, and professional development activities provide great avenues for engagement."
Before attending graduate school at Texas A&M, Kashauna Mason was a NABG member at her undergraduate institution. She recounts greatly benefiting from her involvement as a NABG member.
"My first NABG conference was the first time I saw many people who looked like me who were interested in the same thing I was, geology!" Mason said. "There was an instant sense of community being in this environment with people who understood how out of place it could feel back in our respective institutions."
"With this new chapter here at A&M, I am excited to share the sense of belonging that I felt with NABG with others," Mason said. "I want other students to know that they belong here in this space."
The Texas A&M NABG chapter aims to provide a community for geoscience students at the university. 
By Ali Snell