Steve DiMarco Named Marine Technology Society Fellow
Dr. Steve DiMarco was recently awarded the prestigious title of Marine Technology Society Fellow for his outstanding contributions to the advancement of ocean science and innovation.
Dec 16, 2020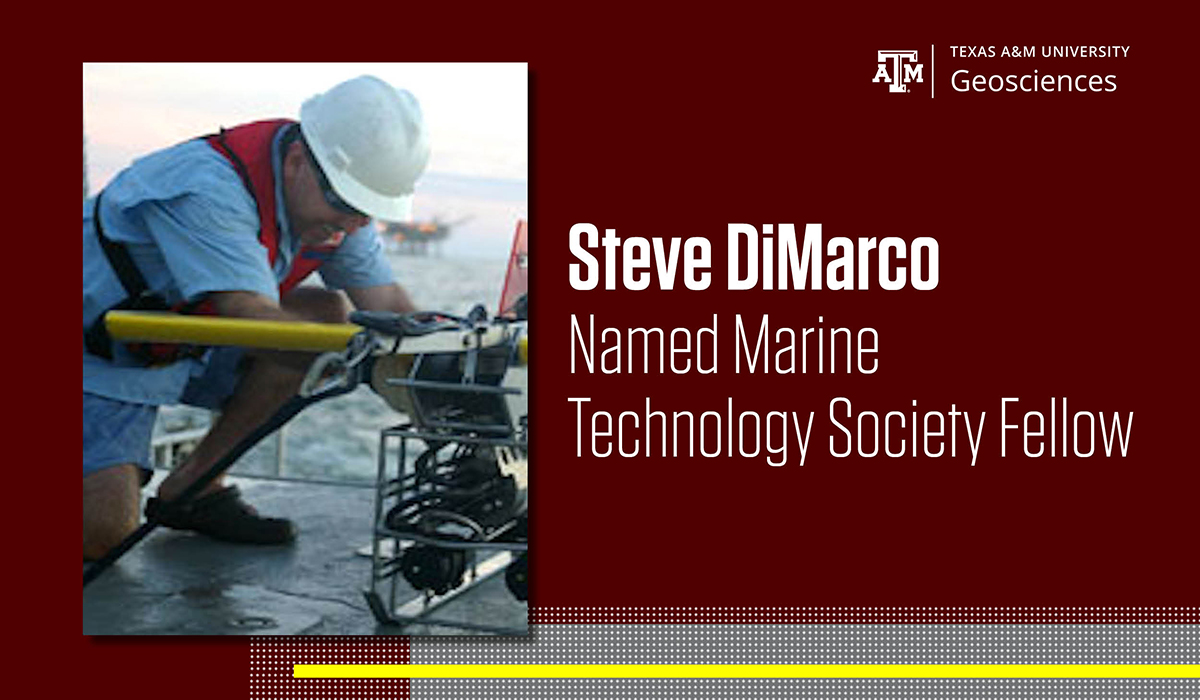 On Oct. 8, the Marine Technology Society (MTS) presented their annual awards at the virtual Global OCEANS 2020: Singapore – U.S. Gulf Coast conference. Among this year's recipients was Dr. Steve DiMarco, Professor in Texas A&M University's Department of Oceanography and Ocean Observing Team Lead at the Geochemical and Environmental Research Group (GERG).
DiMarco was honored with the distinguished title of MTS Fellow alongside four other professionals in the field of marine science and technology. The society, incorporated in 1963, didn't start awarding the title until 1975. MTS bestows the title on select members in recognition of their contributions to the advancement of society objectives and distinguished achievements in their field.
"A very small percentage of membership gets this award, so for me, it's a very prestigious award," DiMarco says. "It's very humbling to receive it and to be nominated."
"This award is well-deserved," says Dr. Shari Yvon-Lewis, Head of Texas A&M's Department of Oceanography.
DiMarco specializes in creating and operating real-time ocean observation systems and he emphasizes the need for more technically trained professionals in the field. To that end, he makes every effort to create connections for his students in industry and government, in addition to academia.
"That's really where the ocean observing system focus in our department and college comes from, the training of the next generation of professionals that maybe don't need a PhD, but know how to operate equipment, process data, and have knowledge of how the ocean functions," DiMarco says. "I place a lot of my students within industry and government."
DiMarco also points out his department's commitment to hiring veterans for their unique skillsets, work ethic, and character. GERG operates the Texas Automated Buoy System (TABS) in the Gulf of Mexico and employs several veterans as technicians.
"They are my heroes," DiMarco says. "Nothing exemplified that more than when Hurricane Harvey hit, those guys were out on the boat, servicing one of the buoys off of South Padre Island."
"Dr. DiMarco has always put students first. He is an advocate for students gaining real-world experience and skills," Yvon-Lewis says. "He has been instrumental in the development (and continued improvement of) of our Master of Ocean Science and Technology (MOST) degree program, which focusses on teaching students these important and marketable 'Met Ocean' and 'Ocean Data Analysis' skills."
By Justin Agan '18