Gerald North Honored With 2020 AGU Ambassador Award
Texas A&M University Distinguished Professor Emeritus Dr. Gerald North was honored for his tremendous contributions to science.
Nov 23, 2020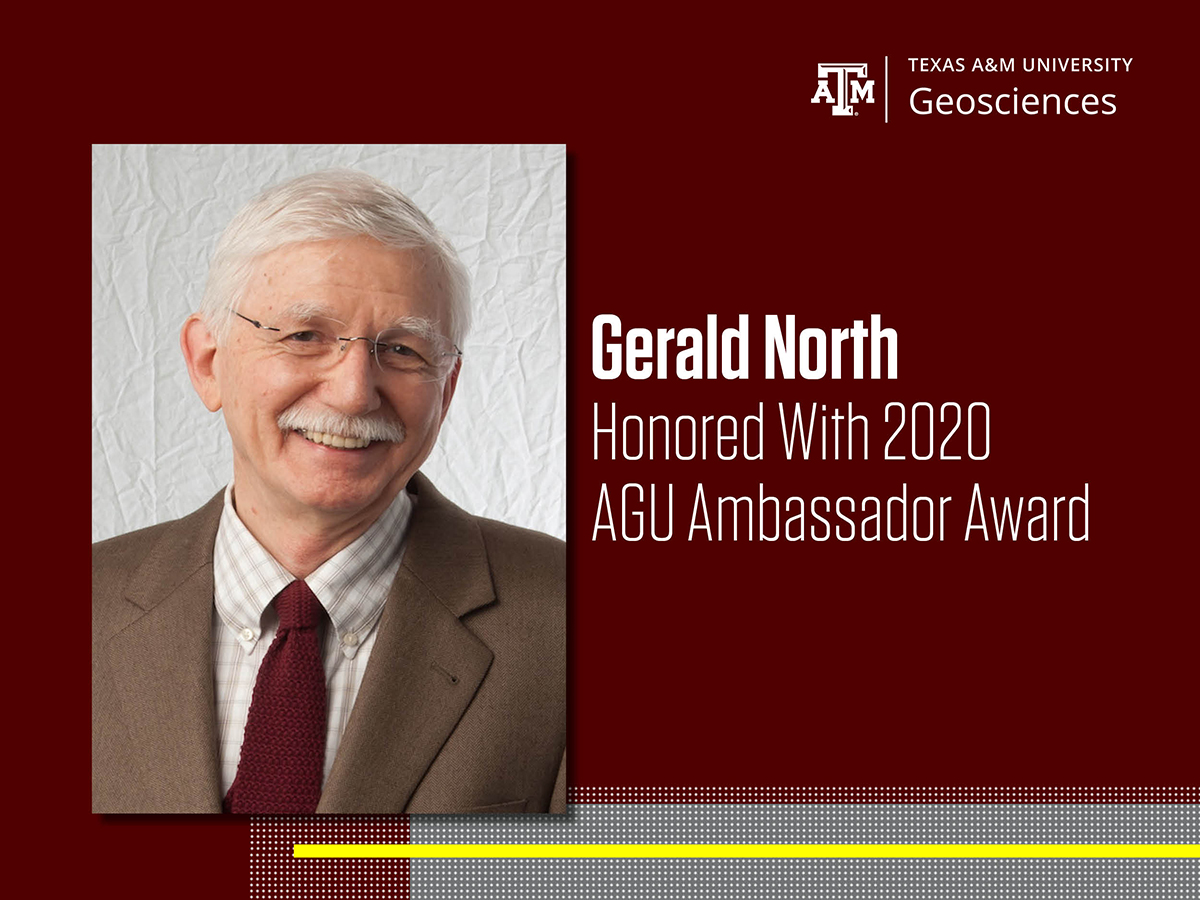 Dr. Gerald (Jerry) North, University Distinguished Professor Emeritus of Atmospheric Sciences and Oceanography at Texas A&M University, has received a 2020 Ambassador Award from the American Geophysical Union (AGU). North is one of only five scientists in the U.S. who were chosen for the honor. 
AGU will formally recognize this year's recipients in December at an online celebration during Fall Meeting 2020. 
"We all owe Dr. North a great deal of gratitude for tirelessly leveraging his scientific expertise and accomplishments to advance trust in and understanding of climate science," said Dr. Debbie Thomas, dean of the Texas A&M College of Geosciences. "Dr. North's heroic contributions continue to elevate our science and provide hope for a sustainable future."
"These honorees — scientists, leaders, educators, journalists, and communicators — have made outstanding achievements and contributions to the Earth and space sciences community," said AGU President Dr. Robin Bell in a news release. "These individuals embody our shared vision of a thriving, sustainable, and equitable future for all powered by discovery, innovation, and action. These honorees have built their work with integrity, respect, diversity, and collaboration together with deep engagement in education and outreach." 
The Ambassador Award is given annually to one to five honorees in recognition of their outstanding contributions to one or more of the following areas: societal impact, service to the Earth and space community, scientific leadership, and promotion of talent/career pool. The Ambassador Award honors individuals whose achievements extend beyond those recognized by traditional scientific discipline awards.
North's memoir, "The Rise of Climate Science," was recently published by the Texas A&M Press and details his four-decade career leading the modern field of climate science. 
By Leslie Lee '09