Drilling Into The Past
Researchers share an inside look at the impact of the R. Ken Williams '45 Radiogenic Isotope Geosciences Laboratory.
Oct 21, 2020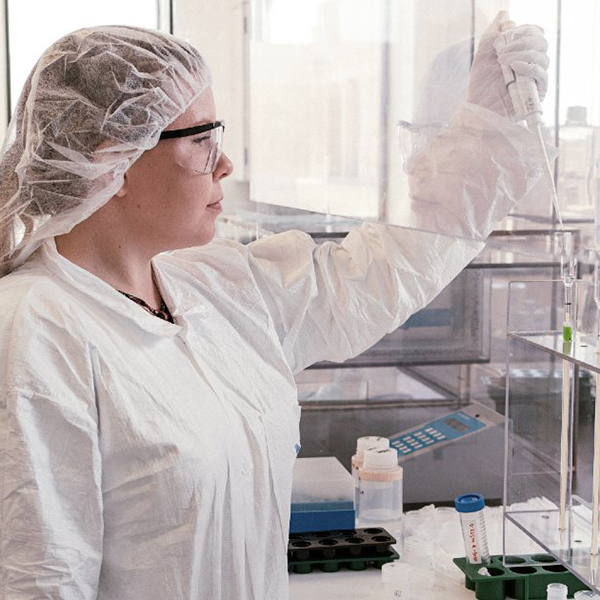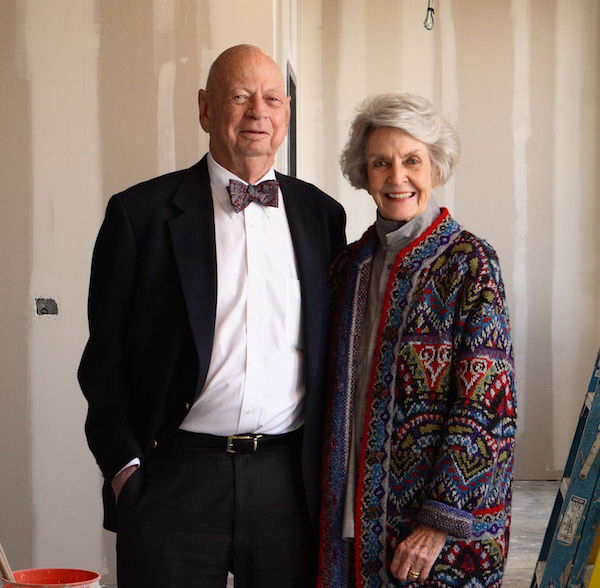 It's not an exaggeration to say that Alyssa Schultz's life was changed by her experiences in the R. Ken Williams '45 Radiogenic Isotope Geosciences Laboratory.
It all began with fish teeth.
Schultz '17 was majoring in wildlife and fisheries sciences at Texas A&M University. She knew she wanted to pursue an advanced degree when she completed her bachelor's, though her area of academic interest was hazy. No matter what scientific specialty she chose, lab experience would be essential, so she went to work as a research assistant in the Williams Lab. Her job was to sort through samples of deep-sea sediment, searching for the tiny, dagger-like teeth of fish from the Cretaceous period. Squinting through a microscope, Schultz painstakingly isolated the teeth with a miniscule, static-charged brush.
"There's a lot of isotopic information in teeth and other marine materials," Schultz explained. Using a mass spectrometer and other equipment in the Williams Lab, these sediments could be analyzed to reconstruct a picture of ancient ocean conditions, including acidity, temperature and the movement of currents, from different time periods.
The samples may have looked like an unremarkable tube of ashy powder to the untrained eye, but to Schultz, stepping into the lab and leaning over the microscope was like gazing through the veil of time to a period when massive reptiles ruled the land and seas.
Like a fish, she was hooked.
Life Under Water
Schultz added an oceanography minor to her degree before applying to the Ph.D. program in the College of Geosciences. Today, she is studying paleoceanography and paleoclimatology, examining ocean life of the past to gain a clearer picture of what the future holds.
Her current research looks at information contained within 4,000-year-old deep-sea corals. These incredibly long-lived organisms are under threat from increasing temperatures and acidification of the oceans. "Their skeletons are literally dissolving," Schultz said.
Schultz explores the isotopes of boron from core samples of the corals, which live more than 50 meters below the surface in the dark and cold regions of the ocean. "Boron acts like a fingerprint for pH over time, so we can use that data to reconstruct ocean acidity over the lifespan of the coral," she explained. "We look at how the ocean has responded to different climatic events in the past and use that information to better understand what our ocean might do in regard to current climatic change. Those findings can better inform policy, conservation efforts and ocean management."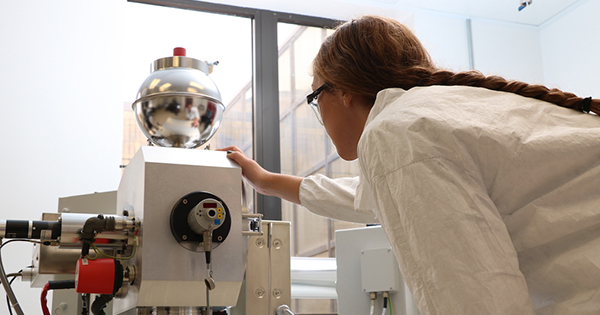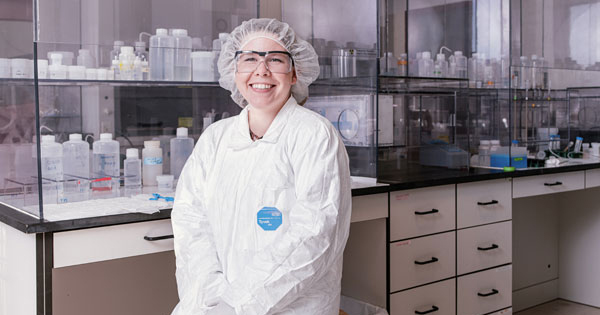 Schultz noted that polar ice caps are melting, sea levels are rising and corals that have been alive for millennia are being destroyed. While some might find this type of research alarming, she is undaunted. "I am motivated to do this work because I see its impact," she said. "I want to help. I would feel discouraged if I wasn't doing something."
A Climatic Contribution
Climate science like Schultz's research would not happen at Texas A&M without the Williams Lab. 
Since it opened in 2008, the lab has been the site of hundreds of interdisciplinary studies on topics from biomedical research to plate tectonics. The work conducted there has wide-ranging health impacts for humans, animals and the planet. 
Ken Williams emphasized geological expertise in oilfield exploration during his career in the petroleum industry long before it was fashionable. He once drilled the ground for oil. Today, his legacy is that others can drill it for insights, utilizing tools in the lab that bears his name.
Those doing the drilling include Dr. Debbie Thomas, dean of the College of Geosciences. She recently led an expedition off the coast of New Zealand to collect seafloor samples that are now being mined for information in the Williams Lab. Her husband, Dr. Brent Miller, is also on the faculty in the College of Geosciences. "This lab has made our careers possible," said Thomas, who noted that several top faculty members have joined the college in part because of the potential for research available through the Williams Lab, including Dr. Franco Marcantonio, who currently holds the Ken Williams Chair in Ocean Drilling. 
Thomas and Miller were instrumental in the process of making the lab a reality 12 years ago, and Thomas is very proud of the work accomplished in the lab since. "This lab places us in the league of the best programs in the country," she said. "It has put Texas A&M University on the map for geosciences and climate science. It has definitely lived up to its promise." Beyond mere reputation enhancement, the lab has enormous practical value. "The research that has been done here has transformed our understanding of a lot of geologic history," Thomas added.
The college's work has never been more urgent.
"The scientific community recognizes that in order to understand the global warming scenarios into which we're headed, we really have to study the geologic past at intervals of time known to have been as warm or warmer than what is predicted for the next century," said Thomas, whose latest research looks at such a period — 50 million years ago.
In the lab, the sediments Thomas collected off the coast of New Zealand from that time period will be dissolved in acid and analyzed to determine how much of certain elements are present. "Everything must be done in an exceptionally sterile environment to achieve accurate results," Thomas explained. Researchers must wear protective suits, head covers, special shoes and gloves. "It's similar to the preparation necessary for extraterrestrial missions," she said.
The isotopes they are seeking occur in such minute abundances in the samples that even the trace amount of lead in the dust in one's hair could throw off the experiment. The air in the lab is filtered through fume hoods to create an ultra-clean environment. The facility also features separate rooms for wet sample preparation, rock crushing and mineral separation.
The lab space is designed for several researchers to be working at once. A good thing, too, as it is a high-use facility, constantly in demand by graduate students as well as faculty from across campus.
The gift that made this research facility possible was a $2 million commitment from the late Ken Williams and his wife of more than 50 years, Jane. An initial cash gift enabled the construction of the lab and was followed a few years later by an estate gift that provides ongoing support. "This was a truly unique and transformational gift because it was the first gift in the college that not only established a state-of-the-art laboratory but that also provided the excellence funds that are absolutely critical for maintaining it," Thomas shared. "The excellence fund allows the lab to thrive in perpetuity."
Thomas recalled meeting with the Williamses when they visited campus during construction of the lab. "The whole family was so excited about what the gift enabled us to do," she recalled. "Mr. Williams was such a kind, generous, genuinely-engaged Aggie. He wanted to help us do even more excellent work."
Thanks to his gift, that important work will continue for many years to come, with Texas A&M's College of Geosciences leading the way.