Under the Radar
Get an in-depth look at the history and future of the Aggie Doppler Radar.
Aug 24, 2020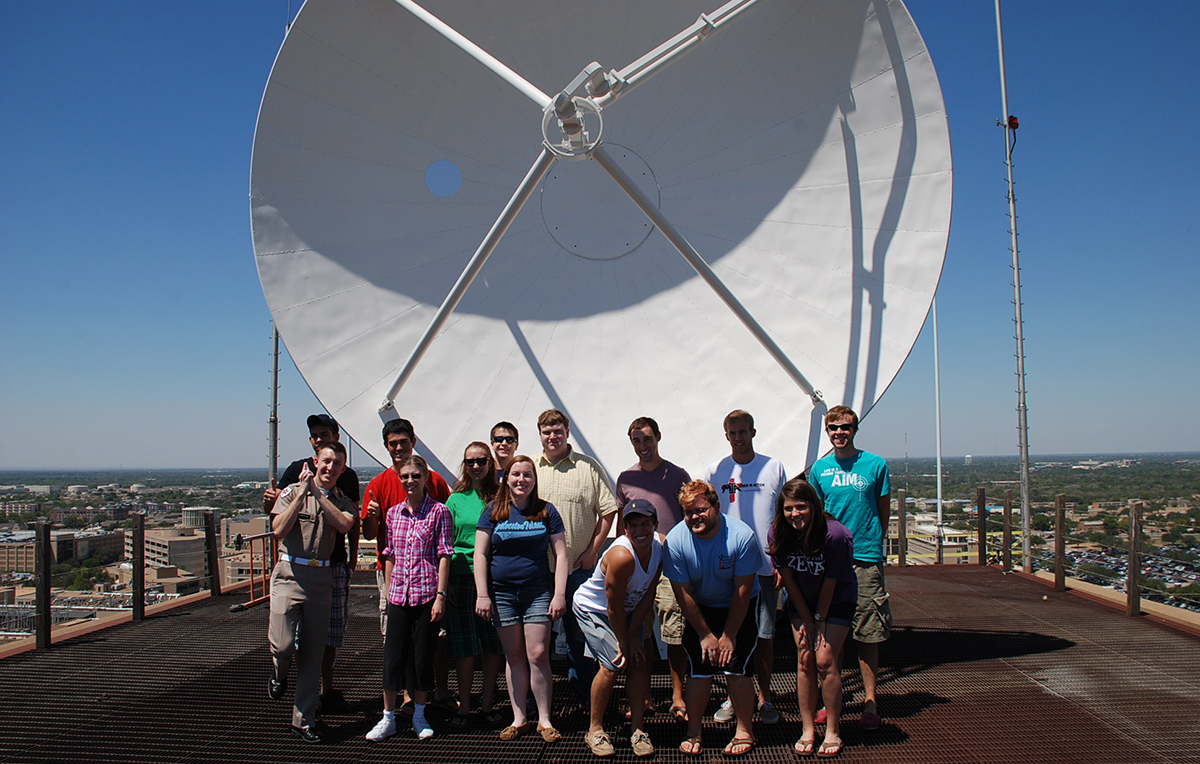 Perched on the roof of the David G. Eller Oceanography and Meteorology Building, or O&M Building, the Aggie Doppler Radar (ADRAD) sits at the highest point on campus. Its giant dish, measuring 16 feet in diameter, can be seen far and wide. Though many passersby strolling through central campus have seen the radar, its deep history and value to Texas A&M University and the atmospheric science community remain a mystery to most.
Dr. Don Conlee '94, an instructional professor in the Department of Atmospheric Sciences in the Texas A&M College of Geosciences, wants to shed light on ADRAD's utility as an unparalleled educational tool and proud piece of Aggie history.
Dedicated To Weather Education
A Mississippi native, Conlee earned his bachelor's degree in meteorology from The University of Louisiana-Monroe and enlisted in the U.S. Navy as an oceanographer and meteorologist. While still on active duty, he enrolled at Texas A&M in 1991 to pursue a doctorate in meteorology, crediting his decision to the university's excellent reputation with service members and veterans.
Despite having no previous ties to Texas A&M, he quickly came to call the university home during the three years he spent in College Station. "Like everybody who comes here, I fell in love with the place," Conlee said. After eventually retiring from service and spending time working in the private sector, Conlee eagerly accepted an offer to return to Aggieland as a faculty member in 2009.
Initially brought on as an instructional professor specializing in operational meteorology, Conlee has deeply involved himself in ADRAD's operation and educational programming. In his 11 years as an Aggie faculty member, he has gained a reputation for encouraging students' enthusiasm and curiosity as well as instilling solid habits for conducting scientific weather research.
A Reputation For Innovation
The ADRAD is the only S-band, Doppler-capable weather radar in the country located directly on a college campus. The radar on top of the O&M Building today was technically built in 1962 but has been continually updated, modified and refurbished to keep up with new advances in technology. It was moved to its current home overlooking campus in 1973 and given Doppler capability, along with its current name, in 1992.
The origins of weather radar research at Texas A&M go back to the 1950s when Aggies conducted foundational research on tracking weather using radar technology. "Researchers here did seminal work determining what wavelengths could be used for weather radar," Conlee said.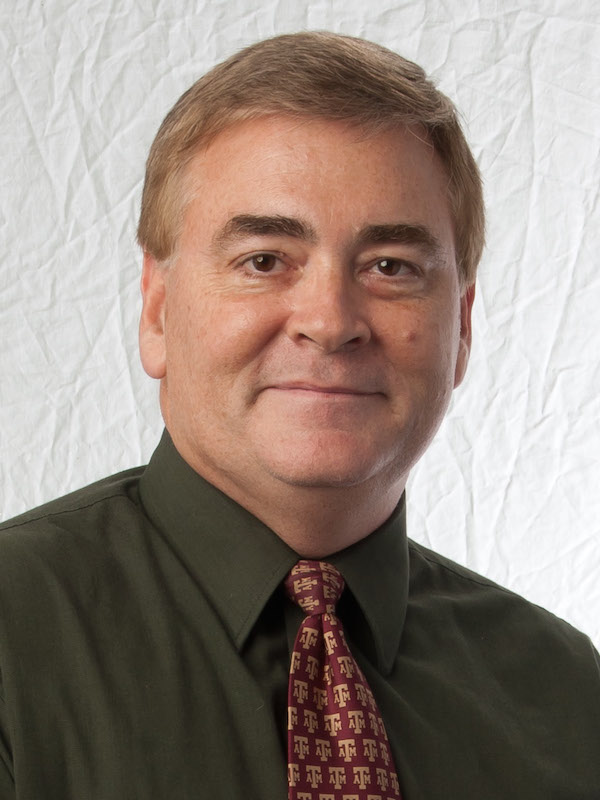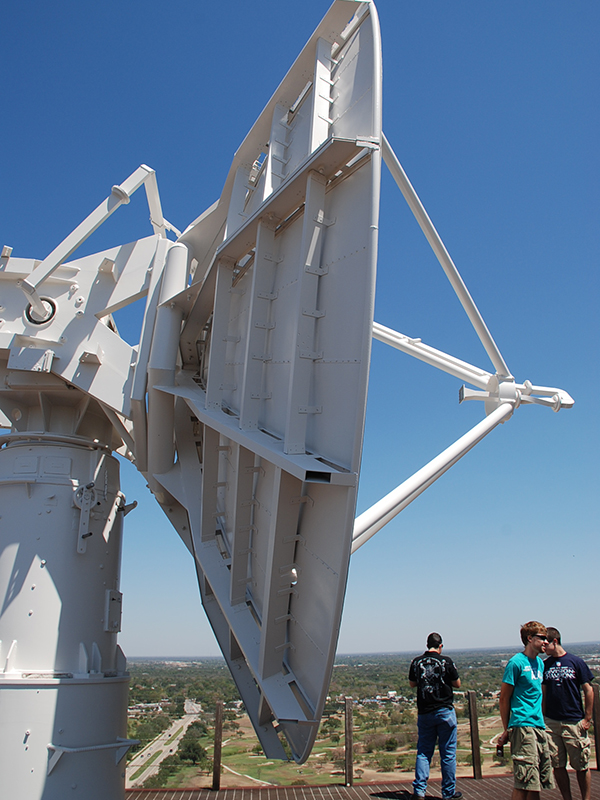 On April 4, 1956, Aggies collecting data from a storm reported readings of a "hook echo," a radar pattern associated with tornado-producing conditions, north of Bryan, Texas. They communicated their data to the U.S. Weather Bureau Forecast Center in Kansas City, Missouri, which issued a tornado forecast for the area. This event has been credited as the first radar-based tornado warning in history. Though Conlee is skeptical of the historical claim ("Aggies like to tell tall tales," he said.), the event speaks to the innovative prowess of Aggie meteorologists throughout history. 
A Teaching Tool Unlike Any Other
Conlee is deeply involved in ADRAD and its educational programs, but he is quick to credit Dr. Courtney Schumacher as the key driving force in updating the radar to its current capabilities. "She not only revitalized ADRAD, but she also started a program to allow undergraduates to interface with it."
That program is the Student Operational ADRAD Project (SOAP), which allows undergraduate and graduate meteorology students the opportunity to operate the fully-functional weather radar firsthand—a unique learning opportunity that sets ADRAD and Texas A&M's meteorology department apart from similar research radars and programs. 
"Students here are trained to run and monitor the radar in severe or interesting weather situations," Conlee said. "That's just an irreplaceable experience that most students around the country—even those at institutions specializing in radar—don't get to do. There's no substitute for that."
Admittedly, ADRAD's technical capabilities do not represent the cutting edge of radar technology. Its current specifications are closer to what national researchers used to predict the weather in the 1990s. However, Conlee considers it the most capable weather radar dedicated to education in the country.
The Unfriendly Skies
ADRAD is first and foremost an instrument for education and research, not for pinpoint weather forecasting. The radar's location, however, gives it the potential to do much more than teach students.
"With the influence and help of Dr. Chris Nowotarski, we have made data from the radar much more usable not only for the public but also the National Weather Service (NWS) and local media," Conlee said. "Especially toward the northeast, we provide the best coverage in the area."
As a result of ADRAD's prime real estate, the NWS has routinely called upon its data to track and assess severe weather across Texas. When a deadly tornado tore through the East Texas town of Onalaska on April 23, 2020, ADRAD was in the best position to record the tornado's formation and help the NWS deliver timely warnings to the community. 
While ADRAD's technological and logistical limitations prevent it from being run continuously, it has continuously proven its value not only in helping teach Aggie students to study weather but also as a living monument connecting those students to the history of radar research at Texas A&M. "It takes a significant amount of maintenance and upkeep to run ADRAD," Conlee said, "but Aggies and Texans definitely benefit from this resource."
The College of Geoscience seeks a $2 million endowment to provide for the continued maintenance of ADRAD as a unique educational tool, forecasting aid and historical icon of the Texas A&M atmospheric sciences program. To learn more about this special giving opportunity, contact Jay Roberts '05, assistant vice president for development.