New Major Gift From Traci And Curtis Samford Establishes Geosciences Career Center
Turning dreams into reality for Texas A&M Geosciences, a gift from Traci '11 and Curtis Samford '83 will impact generations of geosciences students.
Aug 26, 2020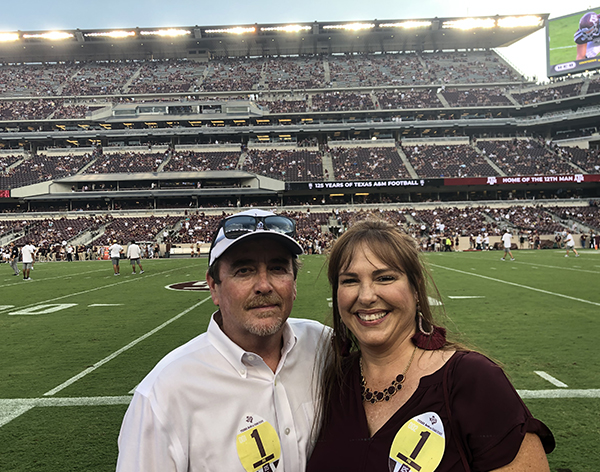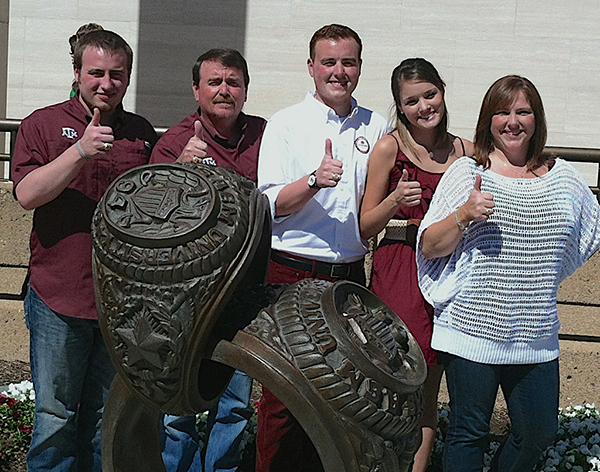 Making the leap from college graduate to successful professional can be full of challenges —from navigating interviews, to landing a job, to learning a company's culture, and transitioning to life after college. Generations of Texas A&M University College of Geosciences former students have taken on world-changing careers with unique difficulties and opportunities — and now thanks to a major gift from two former students, today's Aggies will have access to expansive and accessible career preparation services and support.
A generous recent gift from Traci '11 and Curtis Samford '83 has officially established the Traci '11 and Curtis Samford '83 Geosciences Career Center, which will be a newly renovated physical space in the Eller O&M Building and will serve as a satellite of the Texas A&M Career Center.   
"We are excited for this opportunity to give back to Texas A&M," Curtis Samford said. "This opportunity to help students find a way to the next level in their life after college, to take that next step — that was very meaningful to us, to help contribute to students' success." 
The center will be located on the first floor of the O&M Building, and construction will begin later this year. It will also serve as the base of operations for the geosciences associate director of career services, who will lead operations of the center.
"I am just grateful beyond words for the vision and generosity of Traci and Curtis Samford," said Dean of the College of Geosciences Dr. Debbie Thomas. "Their gift is an investment in the future careers of our students and could not have come at a more critical time." 
A Vision For The Future
Geosciences leadership envisioned the center as a powerful way to leverage its strength as a small college, providing students with the unparalleled resources to immediately connect the skills and knowledge they gain in Geosciences degree programs to their future careers.
"It's very clear to me that Dean Thomas and the College's faculty and staff care very much about their students and their success," Samford said. "As a member of the College Advisory Council, I've been able to see how much the faculty really care. Not only that, but the College's focus on excellence in education is also inspiring."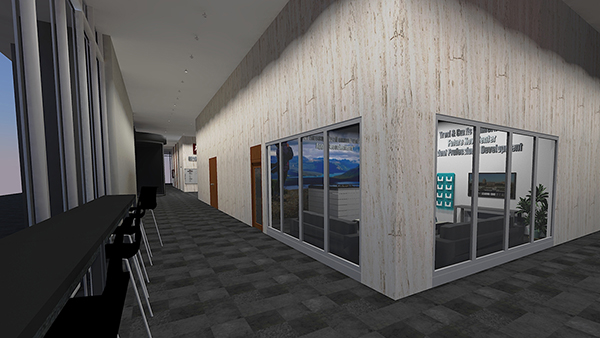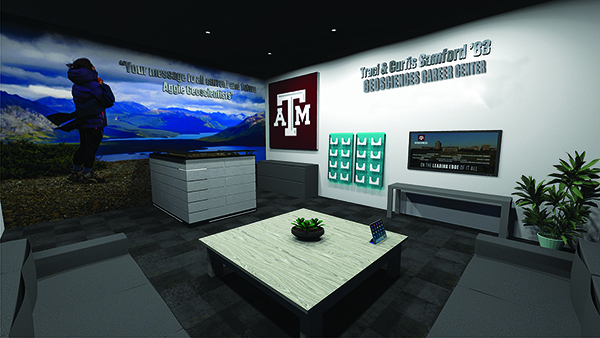 Room 109 in the O&M Building will be transformed into a highly collaborative facility dedicated to all dimensions of beyond-the-classroom professional development, including internship and career placement. When planning the new space, the College utilized the architectural rendering software, Sketch Up, part of the new Trimble Technologies Lab, to envision the center's design and concept.
"This partnership with the Texas A&M Career Center paves the way for the College of Geosciences to have a dedicated facility and a dedicated associate director within our own space," Dean Thomas explained. "We are also deeply grateful for the support of Provost Fierke, Joe Pettibon, and the Career Center Executive Director Samantha Wilson for their support of our strategic vision."
The Geosciences Career Center is also mission-critical to the College's goal of leading the nation in broadening and deepening participation in the geosciences, she said, and it will help recruit students by connecting them to intentional pathways to impactful and rewarding careers.
"This partnership with the TAMU Career Center is a game-changing resource for Aggie Geoscientists, and could not have arisen at a more opportune time for our students and their families."
Helping Graduates Become Successful Professionals 
As they partnered with College leadership on the vision for the Career Center, the Samfords drew from their experience of helping their sons transition from Texas A&M students to successful professionals in new careers, as well as their experiences in recruiting college graduates to their companies.
"As seniors are considering their first career move and looking at opportunities, it's key to look at the culture of a company: will it be a good fit for you?" Curtis said. "A lot of students after school, focus on prestigious companies or the highest-paying positions, and they don't spend enough time looking at the culture of the company and is it the right fit for them."
Curtis Samford graduated from Texas A&M with a bachelor's degree in geophysics in 1984, and he now serves as the President and Chief Executive Officer for AFG Holdings, a private equity backed OEM serving the oil and gas industry, as well as providing products and services to the broader aerospace/defense and industrial markets. Traci Samford graduated from Texas A&M in 2011 with a bachelor's degree in accounting and was an accountant for Anadarko Petroleum Corporation for several years before retiring. Their two sons graduated from Texas A&M in 2011 and 2013.
"Even once you get hired, it's important to remember that you still have a lot to learn," Traci said. "Your degree gets you in the door, the connections you make at Texas A&M get you in the door, all of that prepares you for the job, but you're not done learning – you still have to learn how to apply everything you learned at school and make it work in your job."
Dean Thomas said that the new career center will be a visible testament to the Samfords' investment and the College's commitment to the power of a Texas A&M Geosciences degree. She also credited former Geosciences Director of Development Gary Reynolds with partnering with the college and the Samfords to make this dream a reality for Geosciences students.
"Aggie Geoscientists will forever associate the Samfords with the promise that their hard work and passion will connect them directly to an intensely rewarding career."
By Leslie Lee '09