Oceanography Graduate Students Receive Awards
The Department of Oceanography recently presented awards for teaching and research.
Aug 19, 2020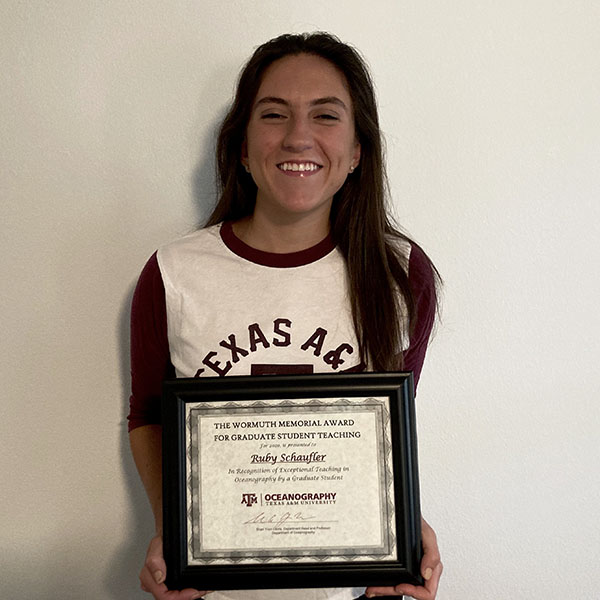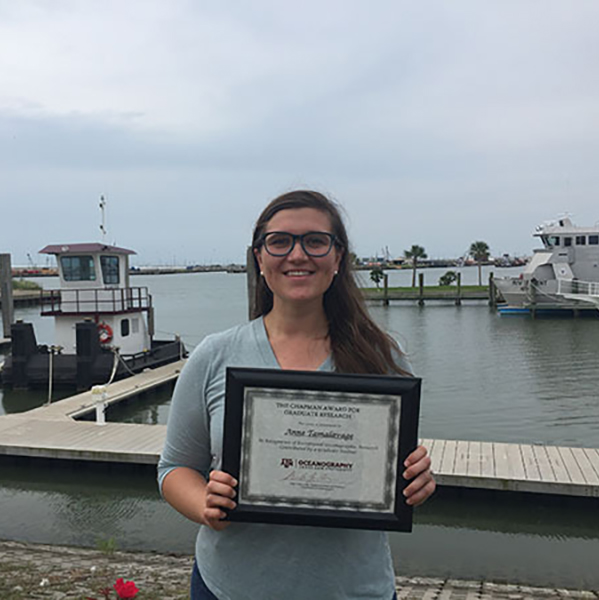 Graduate student awards for undergraduate teaching and research were awarded on July 14 by Dr. Shari Yvon-Lewis, head of the Department of Oceanography at Texas A&M University, to two graduate students: Anne Tamalavage and Ruby Schaufler.
Schaufler earned the John Wormuth Memorial Award for Undergraduate Teaching for her efforts in teaching the Introduction to Oceanography Lab to undergraduate students.
"I've been a TA (teaching assistant) every semester since I started graduate school, so it was nice to earn an award for that because I didn't come in with any prerogative of being a teacher or working in academia," Schaufler says.
"I would like to thank my advisor, Dr. Niall Slowey, and my students, who have always been accommodating and attentive," Schaufler says. "Dr. Wiederwohl, our instructor of record, does a great job of leading the TAs so expectations for the course and the TAs are clear. She deserves a big thank you."
In her research, Schaufler uses alkenone and foraminiferal biomarker geochemical isotope analysis as a tool to quantify and examine variations in sea surface temperature and atmospheric carbon dioxide. She wants to create paleorecords of sea surface temperatures and atmospheric carbon dioxide from the late Pleistocene through the present and compare them with existing records from other climatological proxies.
Tamalavage earned the Chapman Award for Graduate Research for her work using sedimentological and geochemical proxies in paleoclimatic reconstructions. Using geochemical proxies (including organic matter preserved in the sediment) from cores retrieved from the bottom of sinkholes and blue holes in the Caribbean, she works to reconstruct past climates from 3,000 to 50,000-years-ago.
"So, our group normally works to produce paleoclimate reconstructions from the Holocene, the most recent geologic epoch. However, we recently recovered a core that dates to about 50,000 years ago during the last glacial period. Coupling of ocean and atmospheric changes were really dynamic during this time, and we can map those changes through time using these sediment records," Tamalavage says.
"I would like to acknowledge the Department of Oceanography and Dr. Piers Chapman, for whom the award is named and former head of Oceanography, for recognizing graduate student research success," Tamalavage says. "I'd also like to thank my mentors, Dr. Patrick Louchouarn and Dr. Pete van Hengstum, and my collaborators, most importantly my current lab mates: Shawna Little (of Texas A&M University Galveston), Tyler Winkler, and Richard Sullivan."
Tamalavage also spends some of her time volunteering on the Publications Committee for the American Geophysical Union where she hopes to be a voice for diversity initiatives and early career scientists like herself.
By Justin Agan