Meet Yina Liu, New Oceanography Assistant Professor
Liu will also lead a research team at the Texas A&M Geochemical and Environmental Research Group.
Jul 13, 2020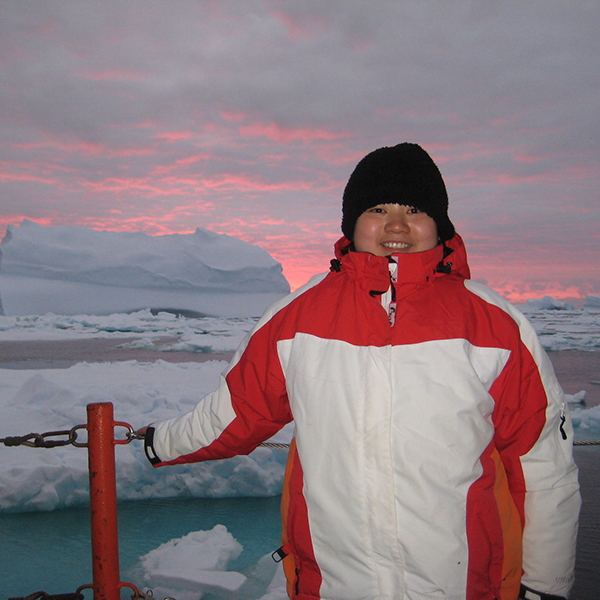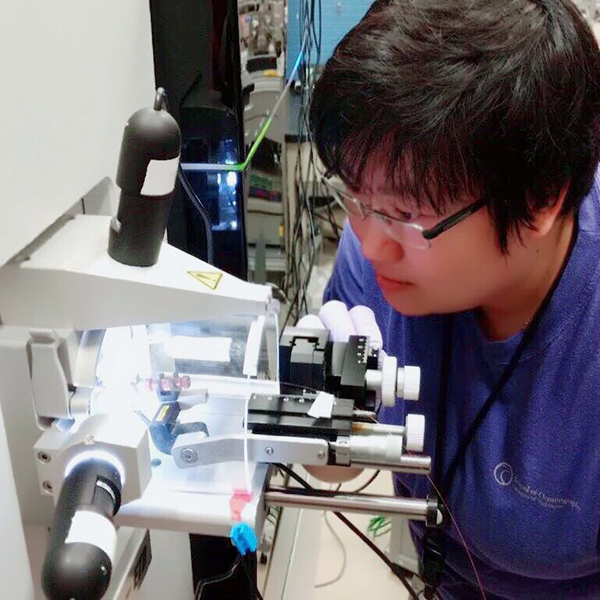 Dr. Yina Liu '13, assistant professor in Texas A&M University's Department of Oceanography, recently returned to Aggieland after receiving her Ph.D. here in 2013.
Liu's research focuses on organic biogeochemistry, with particular interest in how organic compounds', both natural and anthropogenic, cycling affect biological and ecological processes and vice versa. She will also serve as the Analytical Chemistry Research and Development Team Lead at the Texas A&M Geochemical and Environmental Research Group (GERG).
Finding A Passion For Oceanography
Before becoming a college professor, Liu's journey could have taken her in a very different direction.  
After growing up in the southern region of China, Liu attended the University of California, Irvine. As expected, she initially majored in economics to put herself on track to becoming a successful addition to her family's business.
"I grew up in a business family, so science was not even my dream," Liu recalled. "It was just an interest; I was not thinking that one day I may become a scientist or anything like that."
That train would soon change tracks due to the smallest of detours.
During a break in between classes on an otherwise normal day in college, Liu went looking for an open restroom because the one in her building was closed. That led her to the building next door.
The Earth System Science building, known as Croul Hall, was covered with poster after poster of research projects and presentations, adorning the walls and classrooms. She discovered that each one told a story about professors and students conducting research all over the world.
"So, this is a cool gig, that people can do science by traveling to the Arctic and different places," Liu remembered thinking. "I want that kind of lifestyle."
She would later find out that the amount of travel was extremely small compared to the amount of time spent in the lab or writing, but that did not deter her from her new goal one bit. Liu would soon follow her interests and the advice of an advisor to change her major to Environmental and Earth System Sciences.
Her family was even more surprised when she told them she wanted to go to graduate school to study Oceanography and ozone-depleting chemistry. Her family asked, "Are you lost in your life?" Liu recalled after telling them about graduate school, but she had found her passion and career.
"I went to Antarctica my first semester of grad school, so that was fun," Liu says. "Then later, time working in the lab and writing was totally not what I signed up for, but the thing is, I love it."
The Journey Back To Texas A&M
After earning her Ph. D. from Texas A&M in 2013, Liu went to work as a post-doctoral researcher under Dr. Elizabeth Kujawinski, a senior scientist at Woods Hole Oceanographic Institution (WHOI).
"Initially, she had an idea for a postdoc (project) which actually has been a nice idea that she has carried through and will now be working on as a faculty member," Kujawinski recalled. Unable to take her on initially, Kujawinski eventually gained funding for a different project that she was then able to bring Liu on board for. "It would not have been her first choice at the time, but she did a beautiful job with it," Kujawinski says.
Liu worked at WHOI from 2013 to 2015, conducting broad analyses of organic geochemistry compounds in the oceans.
This untargeted analysis allowed the researchers to not only see known molecules, but also find previously unknown compounds. The analyses were made possible with an ultra-high-resolution mass spectrometer, a machine that can identify compounds and parts of compounds down to the molecular level.
While learning to use these tools at Kujawinski's lab, Liu studied the effects of weathering and biodegradation on oil in the ocean. Her work helped to further understand what parts of oil dissolve in water, what concentrations of dispersants were found in tar balls – large lumps of solidified crude oil, and what parts of oil were degraded by which organisms in the ocean.
"What she was really good for in my lab was her ability to really dive into a data set and just keep pushing and pushing until she found the core nuggets in it," Kujawinski says. "The parts that really tell you something about the fundamental processes going on."
Liu's work ethic and growing expertise would lead her to a second post-doctoral position at the Pacific Northwest National Laboratory (PNNL) in Richland, Washington. She would spend the next two years there, working with a new software called Formularity that would help researchers analyze and understand the vast amounts of data that were gained from high-resolution mass spectrometry.
At PNNL, Liu got the chance to add more data science experience to her repertoire and combine that expertise with her other interests. She was specifically interested in halogenated organic compounds, both man-made and naturally occurring, found in diverse ecosystems such as at the terrestrial-aquatic interface. Halogenated organic compounds are organic molecules with any halogen group, such as fluorine, chlorine, bromine, etc. attached to them.  Liu's first grant at PNNL was to develop an algorithm to "hunt" these halogenated organic compounds in the high-resolution mass spectrometry data.
Returning To Familiar Ground
Eventually, Liu would bring her new knowledge and expertise back to Texas A&M. She returned to Texas A&M shortly after her second postdoctoral position concluded. She intends to make the best of this opportunity.
"Marine Organic Biogeochemistry has not been taught in a while," Liu said. "I would love to offer that class again." She has a passion for making difficult subjects more accessible to people so they can better relate to the concepts and understand how those concepts relate to their everyday lives. She also wants to have very diverse research come from her lab at Texas A&M.
Liu's lab is focused on multiple aspects of atmospheric and ocean biogeochemistry. They use advanced methods, including ultrahigh-resolution mass spectrometry and Liu's data pipeline, to identify and characterize complex organic mixtures found in the environment. They use these methods to answer questions like how halogens that attach to natural organic matter can affect the carbon cycle and ozone chemistry or how microbes can breakdown crude oil components after an oil spill in the ocean.
Dr. Michael Shields '11, an assistant research scientist in Liu's lab, studies the carbon cycle using biomarkers, which are compounds indicative of a carbon source or biogeochemical process, that become deposited in the sediment of rivers and the ocean. For example, by measuring amounts of lignin (a structural component of vascular plants) in the sediment, he can see how vascular plant carbon contributes to the carbon cycle in a region.
"I like to remind myself, they're like molecular fossils," Shields said. "You can't see the plant there anymore, but still find its trace."
Shields looks for known compounds in the sediment but has always wondered what else might be there that he is missing. That is part of what brought him back to Texas A&M to work for Liu and learn from her.
"Dr. Liu is very strategic, and very deliberate in how she plans her projects and executes them, and that makes it very easy to work with her as a researcher; you know exactly what your role is and what your tasks are," Shields said.
When Liu came to College Station years ago, her mission was to start a career path in oceanography — much different from her original plan since childhood. Now Liu returned to Aggieland with a new mission: to serve the students and the scientific community by providing exciting education and research opportunities to the next generation oceanographers.
Liu hopes to show her students and anyone with an interest in science that even the toughest subjects can be accessible and help answer questions that relate to everyday life. She plans for her lab to have ample opportunity to conduct diverse and important science in a field of study where so many disciplines intersect — oceanography, atmospheric science, biology, geology, and chemistry.
Learn more about Dr. Yina Liu's lab and her most recent publications.
By Justin Agan '18