Geology And Geophysics Graduate Student Sailed On Two IODP Cruises In One Semester
John Sarao completed two scientific cruises in the fall of 2019.
Apr 16, 2020

John Sarao, a Ph.D. student in the Department of Geology and Geophysics at Texas A&M University, completed two scientific cruises with the International Ocean Discovery Program (IODP) in the 2019 fall semester. He served as a nannofossil biostratigrapher on both cruises. 
Sarao's research centers around paleoclimate reconstructions of the past 300 thousand years using microfossils as proxies. Reconstructions based on calcareous nannofossil-derived alkenones have become one of the more reliable and trusted proxies in paleoclimate research focusing on sediments Eocene age or younger. 
He focuses on using changes in nannofossil assemblages as well as the biomarkers produced by the microfossil group to reconstruct the climate history of the eastern margin of the Pacific Ocean from the Holocene. 
His first cruise, Expedition 379T: Extending high resolution paleoclimate records from the Chilean Margin to the Eemian, was the inaugural JOIDES Resolution (JR) JR100 cruise. The JR100 is a month-long, non-IODP cruise funded by a new NSF program that enables scientists to use the JOIDES Resolution research vessel to collect long sediment cores up to 100 meters in length. 
Expedition 379T sailed from Jul. to Aug. 2019, leaving port from Punta Arenas, Chile, and sailed through the straits of Magellan to reach the first study site. As part of the study, 8 sites were drilled along the Chilean Margin, and finally the cruise docked in Antofagasta, Chile. This cruise was led by Dr. Samantha Bova and Dr. Yair Rosenthal from Rutgers University.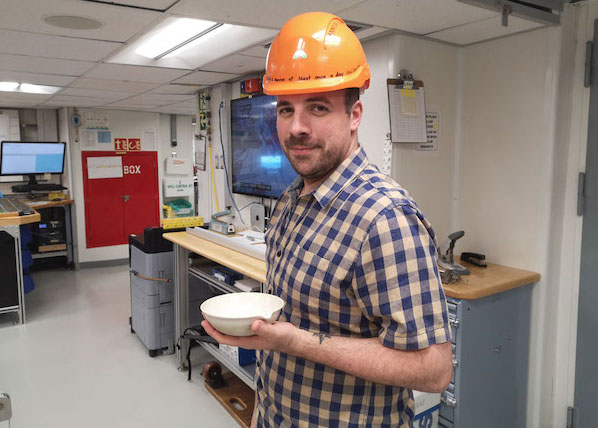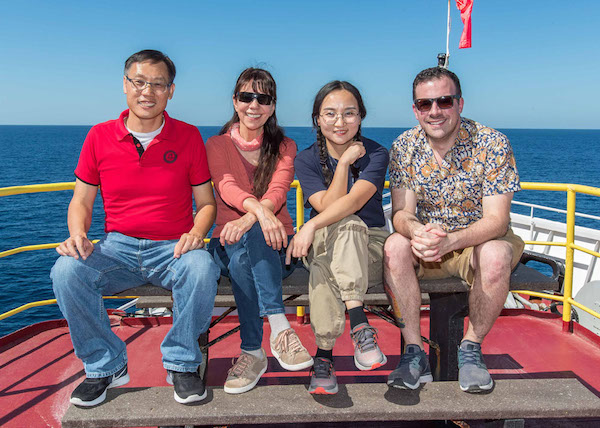 "The atmosphere on the JOIDES Resolution is a unique one," Sarao said.  
"You take 20 to 30 subject matter experts and allow them to interact in close quarters discussing the science that makes them excited to get up in the morning. That facilitates learning and collaboration better than anything I've ever seen. It was truly an honor to be part of these two expeditions and be among the select few that get to participate in such a fast-paced, world-class experience."
The second cruise, Expedition 385: Guaymas Basin Tectonics and Biosphere, was an official IODP cruise focused on the tectonic history and biosphere of Guaymas Basin, Gulf of California. Expedition 385 sailed out of San Diego, CA from September to November 2019. The co-chief scientists in charge of the cruise were Dr. Andreas Teske of the University of North Carolina and Dr. Daniel Lizarralde of the Woods Hole Oceanographic Institution.
IODP is funded by the National Science Foundation and other participating countries. IODP coordinates seagoing expeditions to study the history of the Earth recorded in sediments and rocks beneath the ocean floor. The JOIDES Resolution Science Operator (JRSO) operates the scientific drillship, and the JRSO is based in the Texas A&M College of Geosciences. One of the three IODP ocean sediment core repositories is housed at Texas A&M. 
By Ali Snell