Message From The Dean
Dean of the College of Geosciences Dr. Debbie Thomas writes to the Aggie Geosciences Family.
Apr 21, 2020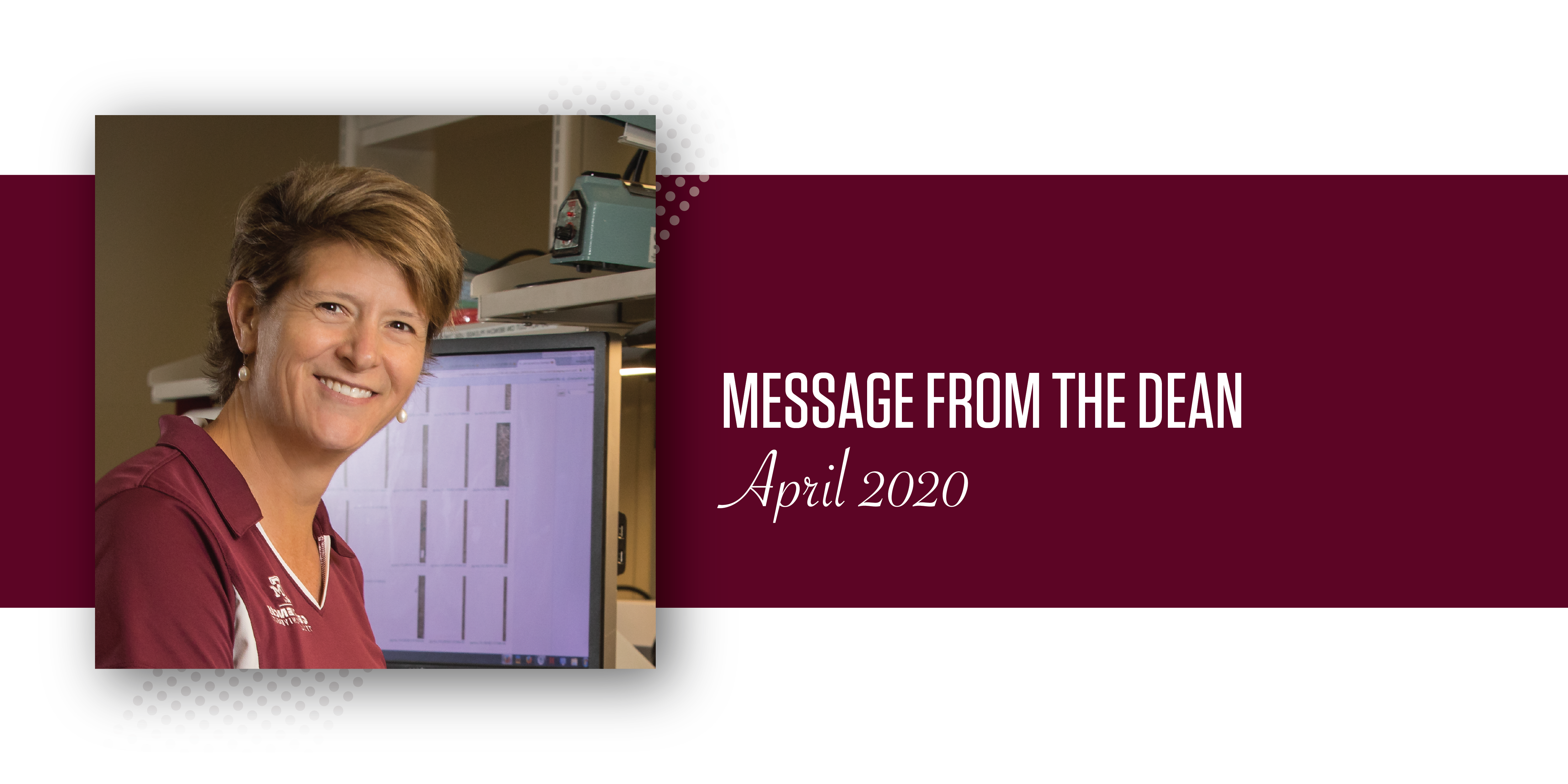 Aggie Geosciences Family,
I hope you all are safe, healthy, and as comfortable as possible sheltering in place as we all band together to fight the spread of the coronavirus. As we all conduct our operations from home, it is easy to lose sight of the good we are doing and the ways, both small and large, that we are helping a world that desperately needs us. Surviving the day-to-day seems herculean enough. In fact, I'm reminded of a scene from my life-long favorite book, The Hobbit. For those of you who know the book, recall the portion of the journey where Bilbo and the Dwarves find themselves lost in the treacherous gloom of Mirkwood Forest, low on food and hope (and likely toilet paper). One day they send Bilbo up one of the taller trees to see if there is any sign of an end to the forest. At the top he is greeted with sunlight, singing birds, and hope.
This issue of Impact is our collective chance to look above the forest for the hope and promise of the brilliant future that we are shaping. Please allow yourselves some time to explore the stories in this issue — I promise they will remind you of the tremendous value of higher education and the role that the College of Geosciences at Texas A&M University is playing to help the world through this crisis and emerge even stronger than before.
I wish to express my deepest gratitude to every member of the Aggie Geosciences Family.
Our students: for digging deep and learning how to learn in very new ways, and for trusting us to work by your side through every issue and challenge.
Our staff and faculty: your efforts these past several weeks to transform our learning environment and to support our students have been nothing short of heroic, and every single member of our team has risen to the occasion and made this transition possible — Advising, IT, Business, Instruction — everything you do matters.  
Our former students: your ongoing and new support is critical to our current and future students' success, and we are so deeply grateful for your engagement and generosity, and everything you do matters, now more than ever. 
When our students look back on this semester, they are going to remember our efforts, our compassion, our honesty and our humanity. They will realize that our leadership through this moment in history helped give them the resilience they need to succeed in life. Yes, the course material and learning outcomes that we teach day-in and day-out always remain critical, but we have all chosen to embrace this opportunity to teach resilience and how to navigate the future challenges that inevitably they will encounter, with intention and honesty.
We all presume that every student at every grade level in every country around the world will have an asterisk on their transcript or resume for this semester. BUT, Aggie Geosciences students will have a resume showcasing their indomitable can-do attitude backed up by a record of achievement that defies any asterisk:
Proven ability to adapt to unpredictably dynamic conditions and execute projects with integrity and compassion
Exceptional communication skills, employing multiple, concurrent strategies
Positive leadership through adversity, with the ability to elevate every team member to achieve the common goal
I wish to thank you all dearly for everything you do to help each other through this challenge. But, of course, that is what Aggie Geoscientists do. Thank you.
Dean of the College of Geosciences Dr. Debbie Thomas