Julia Reece Receives NSF CAREER Award
With the prestigious award, Reece will research how microfossils can trigger submarine landslides, and will also provide high-impact learning experiences to students.
Apr 16, 2020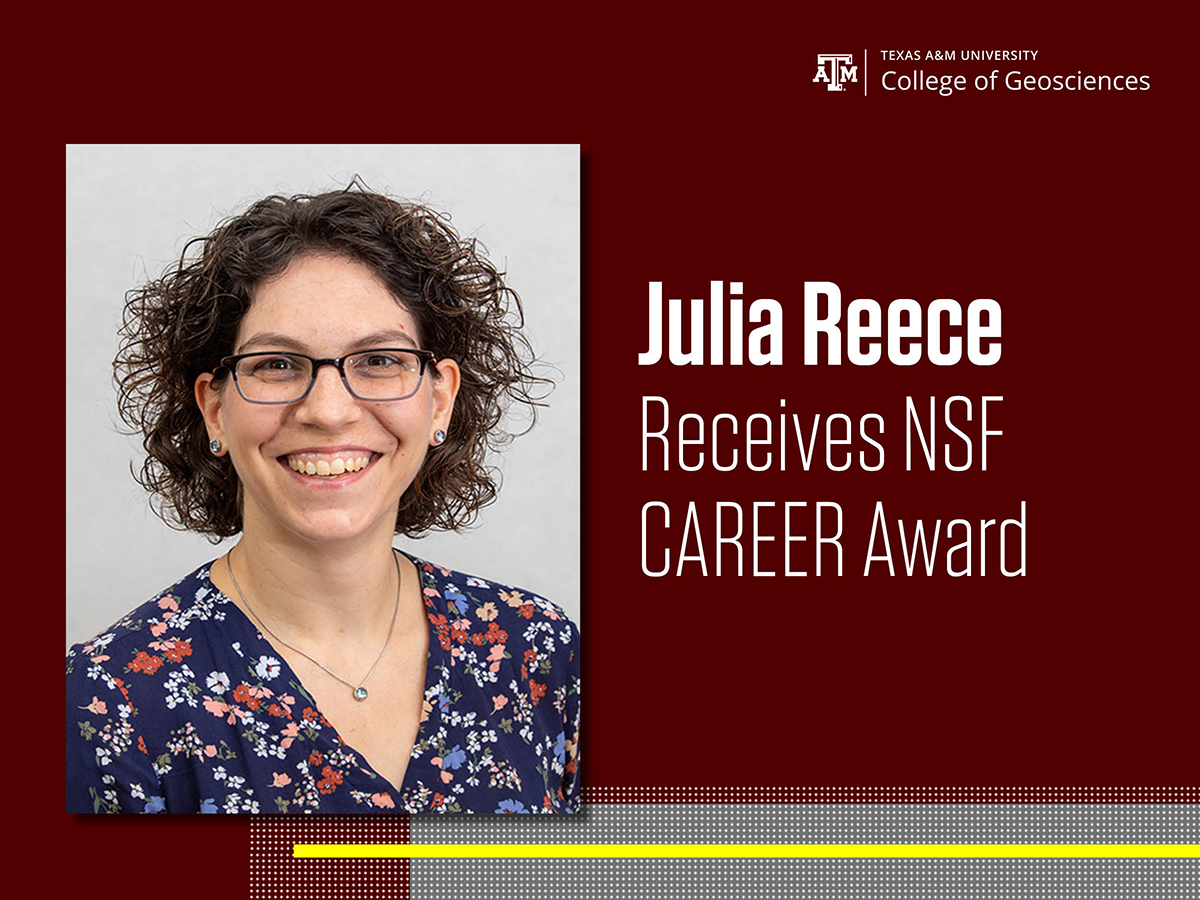 Dr. Julia Reece, an assistant professor in the Department of Geology and Geophysics at Texas A&M University, was recently awarded a prestigious CAREER Award from the National Science Foundation (NSF).
The Faculty Early Career Development (CAREER) Program offers NSF's most prestigious awards in support of early-career faculty who have the potential to serve as academic role models in research and education and to lead advances in the mission of their organization. 
"We are so proud of Dr. Reece's recognition!" said Dean of the College of Geosciences Dr. Debbie Thomas. "She has earned the prestige of the NSF CAREER Award through the profound impact of her research and her immense talents as a cutting-edge educator. But the true value of this early-career award is that it heralds the beginning of many, many more accomplishments and honors, and it is going to be a joy to watch Dr. Reece build on this foundation!"
Reece's project aims to answer the question: are microfossils drivers for submarine landslides?
"Earthquakes are usually thought of as one of the major causes of landslides," Reece explained. "But, we've found as a scientific community that many large, submarine landslides occur on passive continental margins around the globe, where earthquakes are absent — so why are they happening? What has caused them to occur?"
With this project, Reece will examine the role of microfossils in potentially destabilizing those  continental slopes through the development of elevated pore pressures in the subsurface. The research will integrate experimental and numerical efforts and aims to characterize the role of microfossils in weakening sediment layers, possibly causing large-scale glide planes for submarine landslides.
Improving scientific understanding of underwater landslides could improve prediction and mitigation capabilities, thereby saving lives, communities and billions of dollars.
"These landslides have a significant impact, with major societal and socioeconomic consequences," Reece said. "Submarine landslides damage ecosystems, and they can destroy or damage infrastructure, such as communications cables, pipelines, or oil rigs. And of course, these landslides can cause hugely destructive tsunamis."
The five-year project will support two graduate students in geology and geophysics. They will be testing and modeling geomechanical properties of mixtures composed of diatomites and marine sediments. 
Reece said that the project will also include education and outreach components, providing high-impact learning experiences and research opportunities for high school, undergraduate and graduate students. Her team will coordinate an Earth science educational program with a local high school, including annual workshops and two-week summer research camps.
"We want to show these students that geosciences can be a real career option for them, and a great field of study to choose as your destination in college," she said.
And, as part of a stacked undergraduate and graduate student course, a field trip to West Texas and New Mexico to study submarine slope channels and landslide deposits will also be developed. 
"Through all of these components," Reece said, "This project will foster next-generation researchers who can facilitate interdisciplinary science and broad collaboration to advance knowledge and mitigate natural hazards."
By Leslie Lee '09