Two Oceanography Graduate Students Receive AGU's Outstanding Presentation Award
Texas A&M Oceanography graduate students, Daianne Höfig and Tyler Winkler, were both awarded 2019 Outstanding Student Presentation Awards.
Feb 5, 2020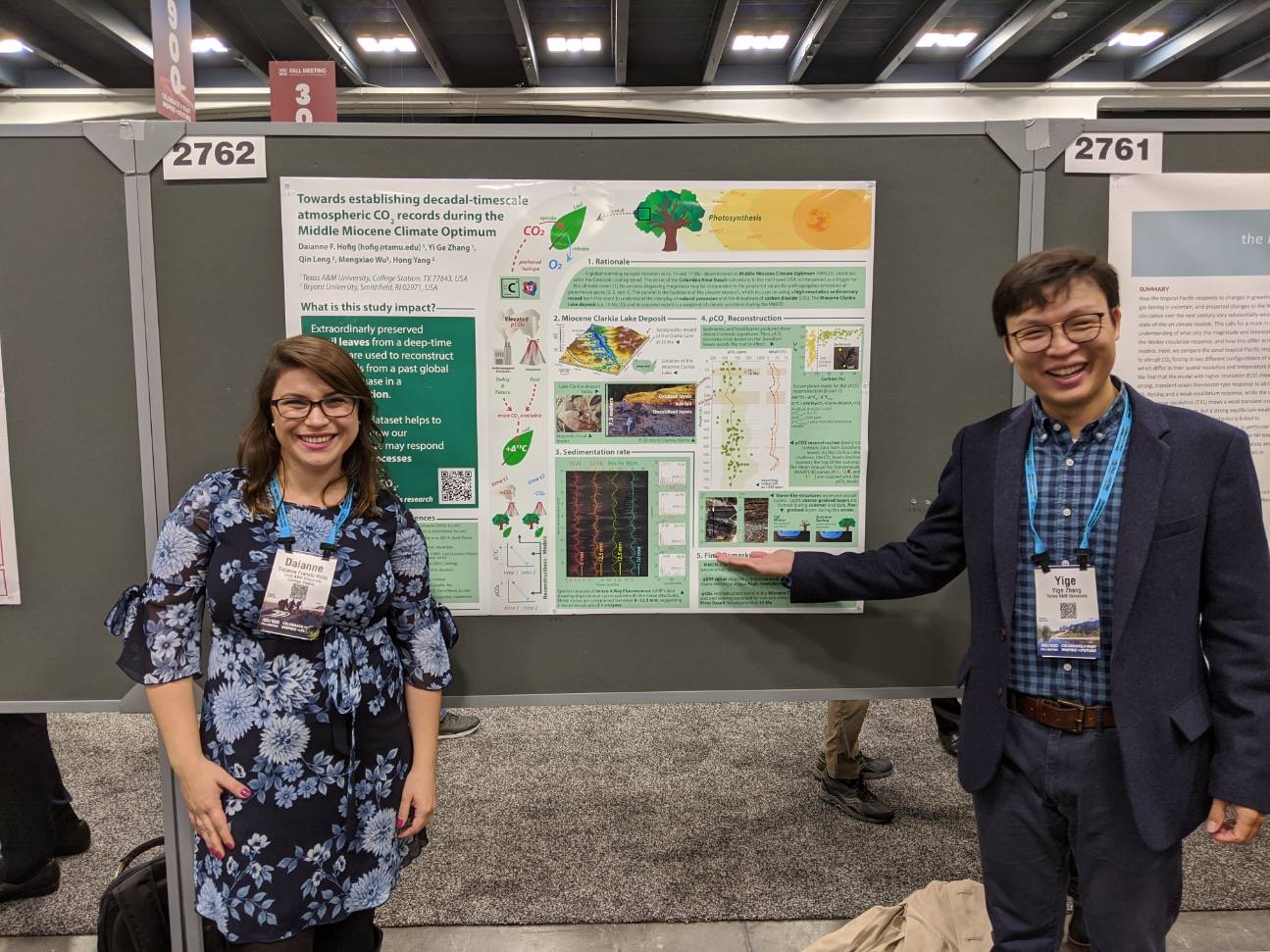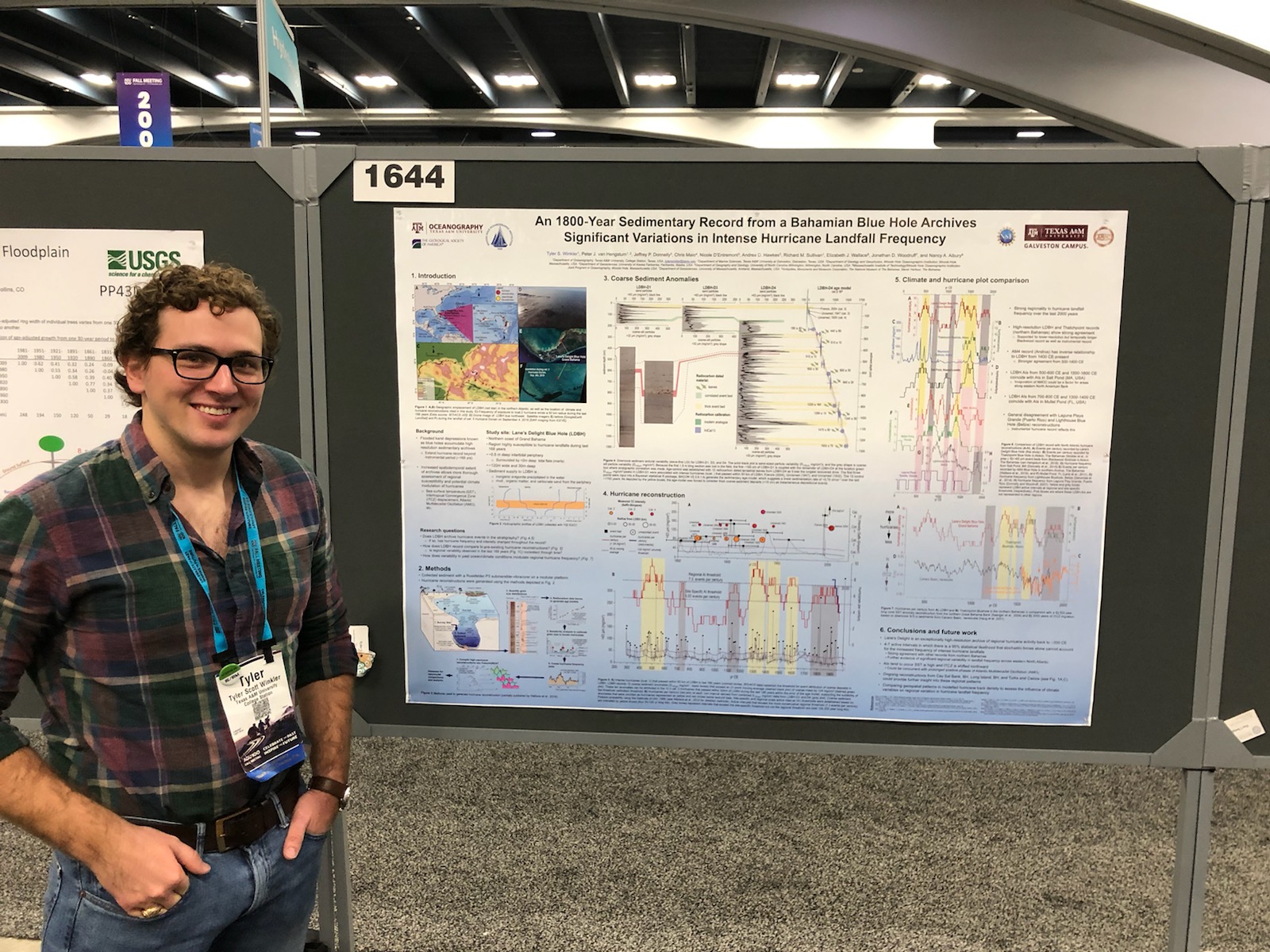 Daianne Höfig and Tyler Winkler, graduate students in the Department of Oceanography at Texas A&M University, both recently received an Outstanding Student Presentation Award from the American Geophysical Union (AGU). Höfig and Winkler presented their research at the 2019 AGU Fall Meeting in San Francisco from Dec. 9 – 13, 2019.
The Outstanding Student Presentation Awards (OSPA) are awarded to promote, recognize and reward undergraduate, master's and doctoral students for quality research in Earth and space science, and the ability to effectively communicate it. According to AGU, the prestigious award is granted each year to only the top 5% of student participants at the AGU Fall Meeting.
Höfig is an oceanography doctoral student and her research is focused on reconstructing the past atmospheric carbon dioxide (CO2) variation 15 million years ago using leaf fossils to understand the role of Earth's natural processes in controlling CO2 levels. Read more about her research in this article.
At the AGU Meeting, she gave a poster presentation titled "Towards establishing decadal-timescale atmospheric CO2 records during the Middle Miocene Climate Optimum."
"I feel humbled for being selected to receive this prestigious award," Höfig said. "I am proud to represent the awesome graduate research that is developed in the Department of Oceanography."
"I want to thank the coordinators and judges for their constructive feedbacks, my lab colleagues and advisor for the valuable feedback when I was preparing my poster and rehearsing for this presentation," she said.
Höfig's faculty advisor is Dr. Yige Zhang, assistant professor at Texas A&M Oceanography.
"And lastly to my department. Oceanography graduate students have the opportunity to present their research in the departmental weekly seminars - it is a great tradition! I took advantage of this opportunity in October, and it certainly helped me to prepare for presenting for a general scientific audience!"
Winkler is an oceanography doctoral student conducting research at the Marine and Coastal Environmental Science Department at Texas A&M University at Galveston. Winkler's research focuses on using sediment cores from blue holes (flooded sinkholes) in the northern Caribbean to reconstruct the frequency of pre-historic hurricanes throughout the last 2000 years.
"By resolving when and where pre-historic hurricane strikes were more frequent, I hope to better understand how past climate conditions influenced hurricane activity, so that we can better anticipate potential impacts of anthropogenic climate change," Winkler said.
Winkler also gave a poster presentation at the AGU Meeting, titled "An 1800-Year Sedimentary Record from a Bahamian Blue Hole Archives Significant Variations in Intense Hurricane Landfall Frequency"
Winkler's faculty advisor is Dr. Pete van Hengstum, associate professor at Texas A&M–Galveston.
"The centennial American Geophysical Union Fall Meeting was an epic event, and I was constantly in awe of the amazing science being shared around me," he said.
With roughly 25,000 participants and more than 1,000 sessions every year, AGU Fall Meeting is the largest international Earth and space science meeting in the world.
"I am beyond honored to be considered among the top 5% student presenters at the conference, and receiving this award has increased my confidence as a science communicator and affirmed the significance of my research," he said.
By Bumsoo Kim