Geology and Geophysics Graduate Student Receives AGU Outstanding Student Presentation Award
Texas A&M Geology and Geophysics graduate student, Monica Barbery, was awarded a 2019 Outstanding Presentation Award.
Feb 25, 2020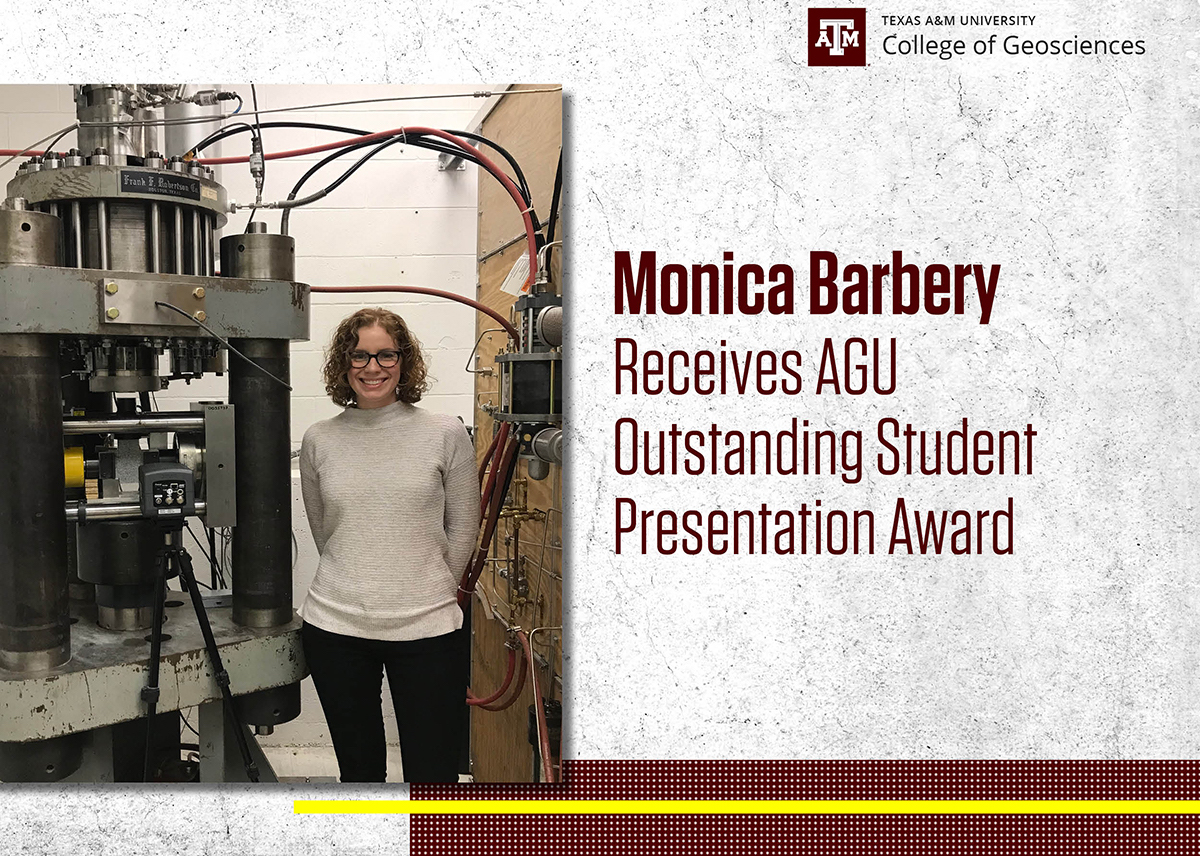 Monica Barbery, a graduate student in the Department of Geology and Geophysics at Texas A&M University, recently received an Outstanding Student Presentation Award from the American Geophysical Union (AGU). Barbery presented her research at the 2019 AGU Fall Meeting in San Francisco from Dec. 9 - 13, 2019.
The Outstanding Student Presentation Awards (OSPA) are awarded to promote, recognize and reward undergraduate, master's and doctoral students for quality research in Earth and space science, and the ability to effectively communicate it.
Barbery is a geology and geophysics doctoral student who works in the Center for Tectonophysics. Her research simulated earthquakes in the center's lab, using a high-speed biaxial apparatus, and measured surface temperatures during experiments by using a high-speed infrared camera. 
Temperature distributions were combined with 1-D thermal models to characterize the distribution and evolution of normal stress during sliding, and to understand how changing sliding surface conditions impact the frictional behavior of rocks during earthquakes.
At the AGU Meeting, she gave an oral presentation titled "Temperature and stress distribution on flash heated contacts in granite at seismic slip rates."
"I'm honored to receive such a prestigious award, and I'm grateful for the opportunity to be a part of Texas A&M's innovative research in geoscience," Barbery said. "I'd like to recognize the OSPA volunteer judges, liaisons, and coordinators for their dedication, and I'm thankful for their constructive feedback."
"I'm grateful for the feedback and support I received from my advisors when preparing and rehearsing my talk, and for the collective support from my fellow graduate students, faculty and staff in the Geology and Geophysics department."
Barbery's faculty advisors are Dr. Judith Chester and Dr. Frederick Chester, both professors in the Department of Geology and Geophysics.
By Ali Snell