December 2019 Graduates Recognized With Awards And Honors
The College of Geosciences graduation celebration was held Dec. 13.
Dec 19, 2019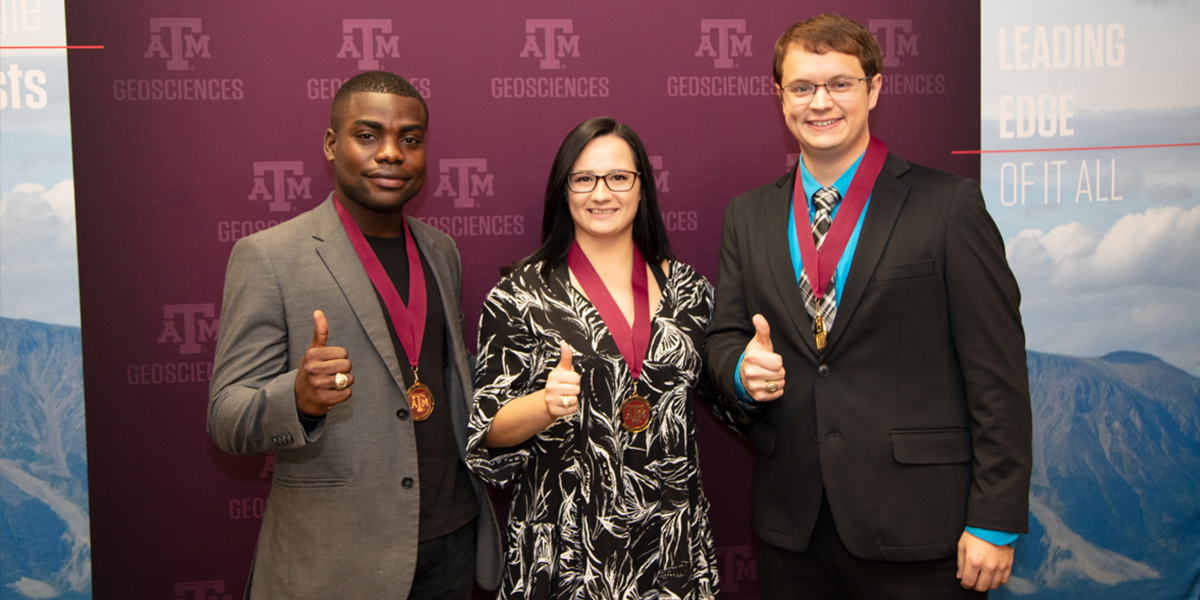 The Texas A&M University College of Geosciences would like to congratulate its December 2019 graduates. Commencement ceremonies were held Dec. 14 in Reed Arena, and prior to that, the College of Geosciences' December 2019 Commencement Reception and Awards Ceremony was held Dec. 13 in the Memorial Student Center.
Graduating seniors, families and friends, faculty and staff gathered to celebrate and recognize the students' accomplishments. The following students were honored with awards at the event.
Outstanding Student Award
Kailey M. Butler
Audrey N. Capra
McKenzie L. Erwin
Luke J. Gezovich
Michael R. Martinez
Tashara M. Oliver
Cassie M. Oswood
Miranda R. Peterson
Wyatt K. Scott
Synclaire Truesdale
Daniel W. Wanke
Emily P. Yoder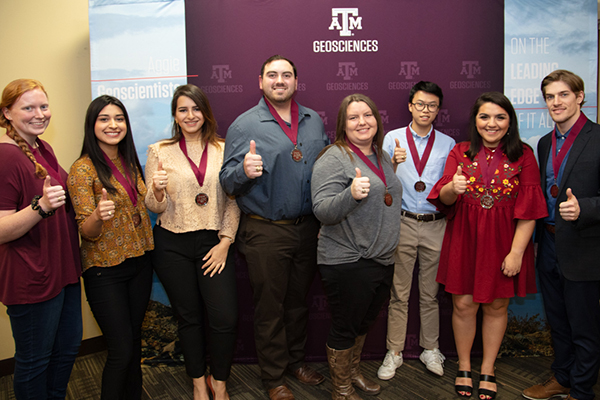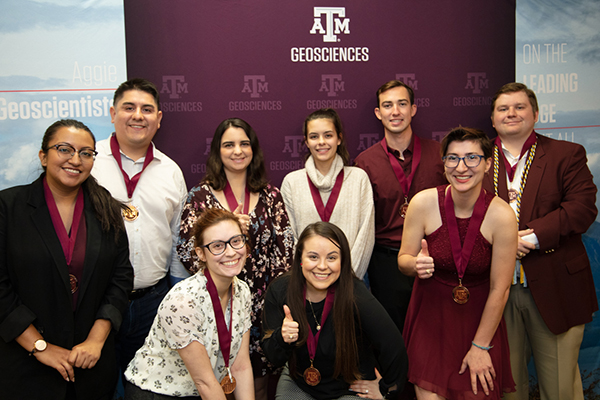 College of Geosciences Medallion Milestone Scholars
Gold
Kendall Byers
Gabriel Ibiassi Nambila
Joseph Marble
Dominique Martinez
Silver
Ariana Castillo
Haoyan Chen
Meredith Faix
Justin Fierova
Golnoush Hosseini Siahkal Mahalleh
Courtney Nevels
Hayden Smith
Alondra Trevino
Synclaire Truesdale
Bronze
Susana Aguayo
Audrey Capra
Danielle DeChellis
Chandler Farley
Cindy Figueroa
Michael Martinez
Miranda Peterson
Chelsea Schwartz
Trevor Surface
Amanda Tague
Daniel Wanke 
Excellence in Meteorology Award
Synclaire Elizabeth Truesdale
Environmental Programs Outstanding Graduating Senior Awards
Cassie Oswood - Environmental Geosciences
Miranda Peterson - Environmental Studies
Gamma Theta Upsilon Honor Society, Zeta Zeta Chapter
Trevor Duwain Surface
Geography Outstanding Student Award
Mary Anne Paige Upjohn
GIST Outstanding Senior Award
Daniel Wood Wanke
Geology & Geophysics Outstanding Senior Award
Luke J. Gezovich
Michael R. Martinez
Wyatt K. Scott
View and download photos from the reception.