From Airborne Research To Mapping Fires, Graduating Aggie Reflects On Her NASA Summers
Graduating meteorology senior Ariana Castillo '19 worked as a NASA intern for two consecutive summers while completing her degree.
Dec 12, 2019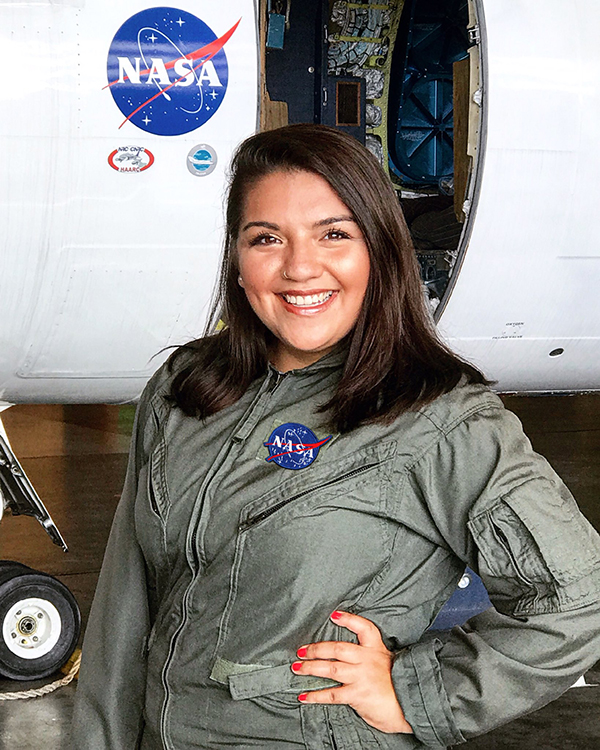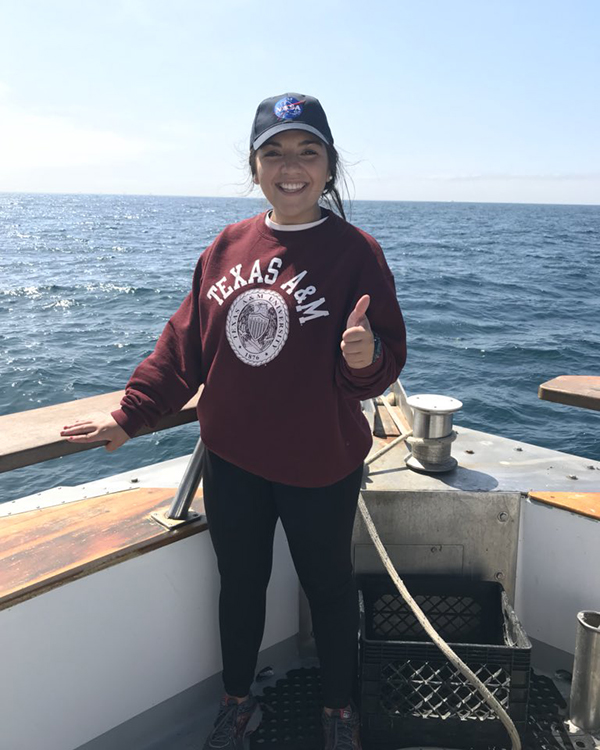 When it comes to Aggies working hard toward their dream careers, "if anyone tells you that you can't do something, don't listen," says Ariana Castillo '19, who will graduate Dec. 13 with a meteorology degree from the Department of Atmospheric Sciences, in the College of Geosciences at Texas A&M University.
Originally from Austin, Castillo knew as a high school student that she wanted to study meteorology.
"This is cliché, but I have loved meteorology since I was a little girl," she said.
When her family's home flooded after a tropical storm made landfall in Texas in 2010, Castillo's interest in the discipline was cemented.
"I had so many questions, so I decided to study meteorology to answer them. Finding my specific passion was not easy. I went on a mission trip to East Asia and saw all of the air pollution firsthand; I knew that was what I wanted to pursue."
Landing A Dream Internship
In 2015, Castillo dove into studying atmospheric sciences in Aggieland as a freshman. 
"There have been difficult classes that have made me want to pull my hair out, but at the end of the day, they've been so useful," she said. "You reap the rewards of the struggle — that's what makes this work."
For Castillo, one of the rewards of her determination was a dream internship. In 2018 she applied to NASA's Student Airborne Research Program (SARP) and was accepted.
"There's a common misconception that NASA only focuses on outer space," she said, noting that she didn't know about the Earth science internship opportunities at NASA until a friend told her about them.
NASA's SARP opportunities especially appealed to her, because they were interdisciplinary and wide-ranging.
"I think that one thing that set me apart as an applicant was, having a lot of passion," she said. "I think that is something NASA is very adamant about."
Her 2018 SARP internship was extremely hands-on, including field work to collect atmospheric and oceanographic data.
"I got to fly in NASA's DC-8 over California and the San Joaquin Valley," Castillo said. "We took air samples over one of the most polluted places in the country. It has a lot of high ozone and methane concentrations, and we collected data on that for a dataset that covers the past 10 years."
Later in the summer, she participated in a field work campaign on a boat in the Santa Barbara Channel, collecting water samples and data.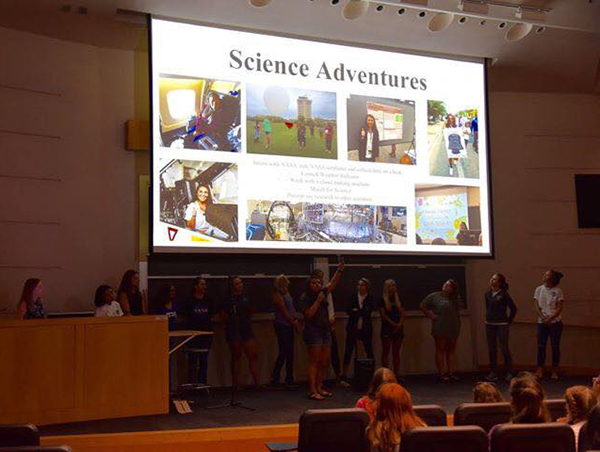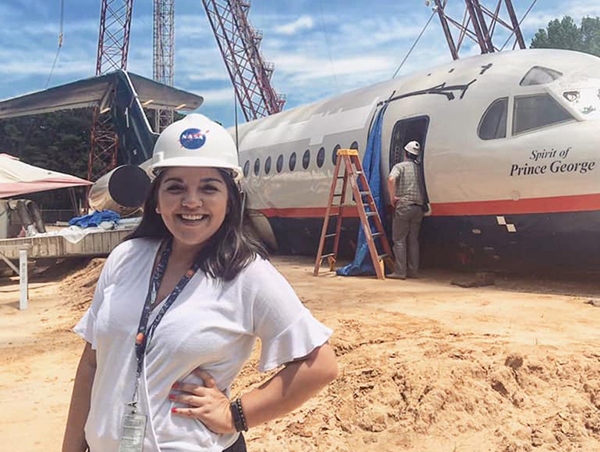 "That was also really insightful, because we wanted to see how wildfires that had occurred earlier that year had affected the water," she said. "That was part of my project that summer, and that's what spurred my research idea of studying how ash affects the biology of the ocean. So, I got to do some interdisciplinary work with atmospheric science and biological oceanography, and it was a really beautiful example of interdisciplinary work."
As a SARP intern, Castillo also had the opportunity to give a presentation about the importance of women in STEM to 8th-grade girls at a STEM camp.
"One of my passions is for minority women to get opportunities in STEM, so this aspect of SARP is something that will stick with me forever," she said.
A Summer At Langley
Interest in wildfires continued into Castillo's summer 2019 internship, in which she returned to NASA to serve as a researcher at NASA's Langley Research Center. She was assigned to the CALIPSO-derived Biomass Burning Plume Injection Height Statistics project, under the guidance of Dr. Amber Soja.
CALIPSO is a satellite that is part of a constellation of satellites run by NASA, she said, and it is equipped with a LIDAR, which provides vertical profile of the atmosphere — data showing clouds, dust, smoke, marine pollutants and continental pollutants.
Castillo's work on the project included learning how to analyze wildfire burn scars with geographic information science (GIS) tools and how to estimate wildfire plume heights in the atmosphere with CALIPSO data.
"This past summer, I learned how to use ARC-GIS and studied wildfire satellite data," she said. "I started comparing data from different datasets from CALIPSO and looking at smoke heights, because smoke heights have implications on climate change. The higher it goes, it can travel over long distances, it can fall on to ice sheets, and that can make those ice sheets melt faster. So, it's important to know how fires work — it's a very big deal."
Working in a team led by women during this past summer was especially meaningful for Castillo. "It's just really inspiring seeing other women working beside me," she said. "It gives me a lot of encouragement and hope for the future, and they often encouraged me to keep going."
"If you set your heart and your mind and your determination to do it, you can do it. There are a lot of Aggies who work for NASA and everybody is there to help each other out. I definitely couldn't have done it by myself; I've had a lot of help from my department, mentors, and peers."
Completing The Puzzle
Castillo said that her Texas A&M coursework was essential to her success at NASA.
"I like to see all the coursework for my major as pieces to a puzzle, and when you put all of the pieces of the puzzle together and take a step back, you get a bigger picture of how it all works," she said.
Satellite meteorology was an extremely important course in her growth as an atmospheric scientist, she said, and it was key to her first summer internship. Oceanography 251 was also insightful for the work she completed at NASA. "I think everybody should take that class, because it's basic knowledge of the ocean that is so important," she said. 
"My advice for younger Aggies is to never be afraid to ask for help and don't be afraid to ask questions. And always keep going. Even when things seem to be very stormy, the storm eventually clears up, so keep going."
After graduating in December, Castillo's goal is to continue on to graduate school, studying atmospheric chemistry, aerosols, and biomass burning smoke plumes.
At Texas A&M, "atmospheric chemistry and air quality classes, plus research - those gave me a firm foundation for my career," she said.
By Leslie Lee '09