Oceanography Graduate Students Attended the International GEOTRACES Summer School
Oceanography graduate students Nathan Lanning and Janelle Steffen attended the week-long International GEOTRACES Summer School held in Cadiz, Spain.
Nov 5, 2019
Nathan Lanning and Janelle Steffen, graduate students in the Department of Oceanography at Texas A&M University, recently traveled to Cadiz, Spain, to attend the International GEOTRACES Summer School program September 23-29.
The week-long program, led by an internationally renowned team of marine trace metal scientists, is designed to give the student participants advanced training in sample collection, analysis, and interpretation of trace metal datasets from the ocean.
A total of 40 graduate students and post-doctoral researchers from 19 countries, including Lanning and Steffen, attended the program this year. All participants stayed aboard on the Spanish Navy Vessel A-41 Intermares during the entire program.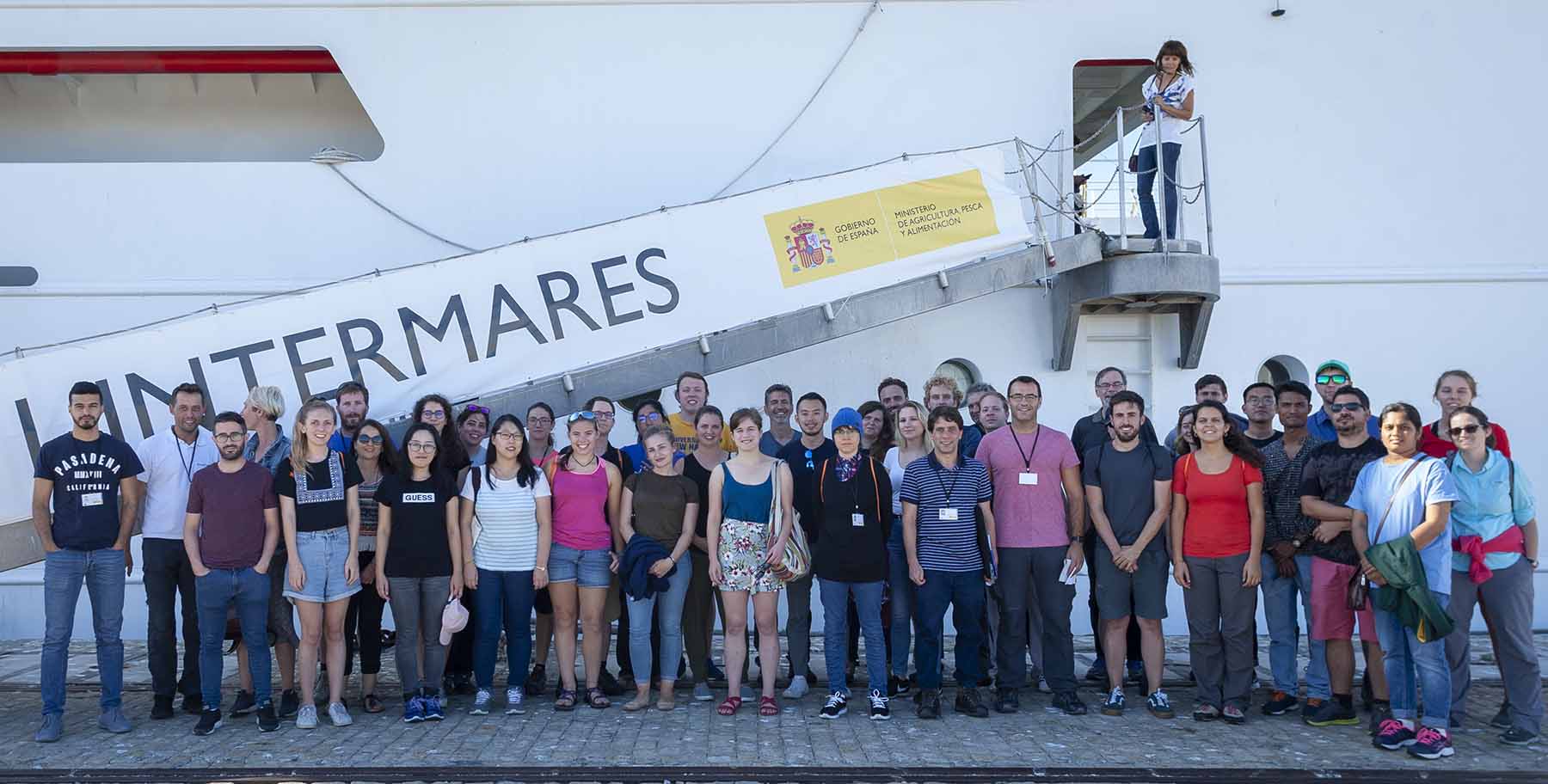 "The GEOTRACES Summer School is more than an honor — it's a fantastic opportunity for an international group of like-minded students to come together to meet some of the leaders of the chemical tracer oceanographic community and learn about our field's most cutting-edge sampling and analytical methods," said Dr. Jessica Fitzsimmons, assistant professor at Texas A&M Oceanography, who is a chemical oceanographer interested in the biogeochemical cycling of trace metals, such as iron, manganese, and zinc, in the ocean.
"It's also a great opportunity for them to form an international cohort, within which they can collaborate for their entire careers."
The summer school was organized by the International GEOTRACES Program, the University of Cádiz (UCA), the Andalusian Institute of Marine Sciences of the Spanish National Research Council (ICMAN-CSIC), and the International Campus of Excellence of the Sea (CEI·MAR); with funding from the Scientific Committee on Oceanic Research (SCOR), GEOTRACES, the General CSIC Foundation, the International Doctorate School of Marine Studies (EIDEMAR), and CEI·MAR.
"Since Janelle and I are heavily involved in the GEOTRACES program through our research and fieldwork, we wanted to supplement our trace metal education and network with professionals and students from around the world who are also in the trace metal field," said Lanning.
Lanning and Steffen are both Ph.D. students in Fitzsimmons' lab. Lanning is interested in iron and other trace elements' cycling of the hydrothermal vent system near Hawaii. Steffen's research is focused on looking at what species of iron are present in the hydrothermal plume off the Southern East Pacific Rise and soon in the hydrothermal plume of Endeavor Seamount on the Juan de Fuca Ridge.
During the GEOTRAECES Summer School, courses were taught by a team of renowned professors in the field of ocean trace metals.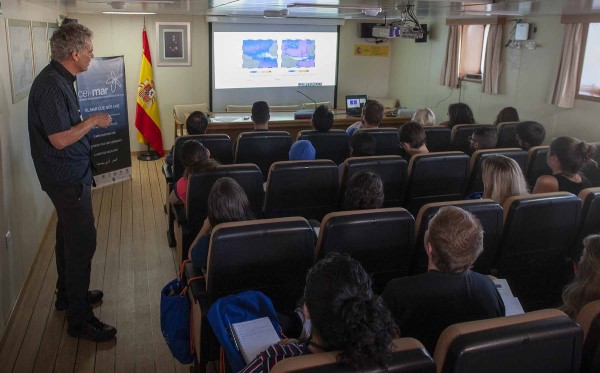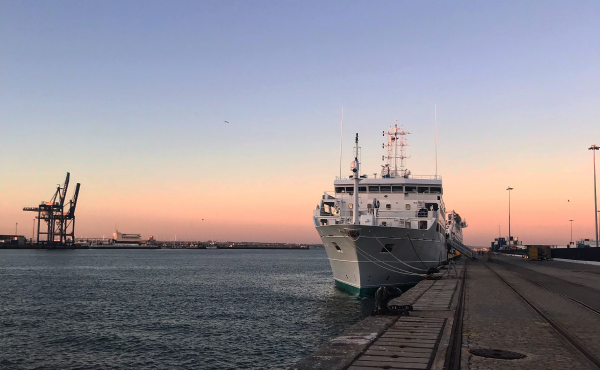 "The best part of the program was networking with chemical oceanographers from across the globe," Steffen said. "We had great opportunities to collaborate and learn more about the research from our peers, and made connections that will likely last for years to come."
The students also participated on a shipboard training aboard the A-41 Intermares. They practiced trace metal clean sampling techniques, deployed CTDs (scientific instrument for measuring conductivity, temperature, and depth of the seawater) and trace metal clean water collection systems, and participated in extensive data processing training.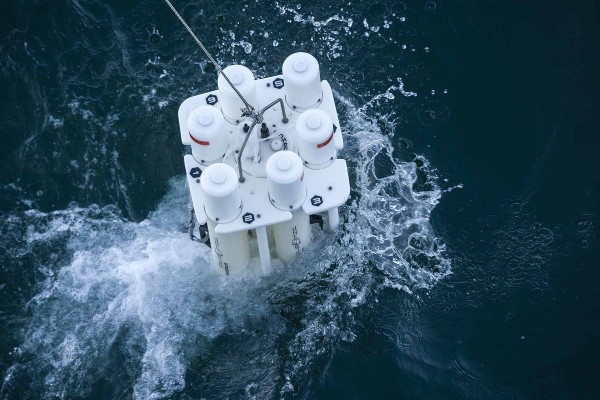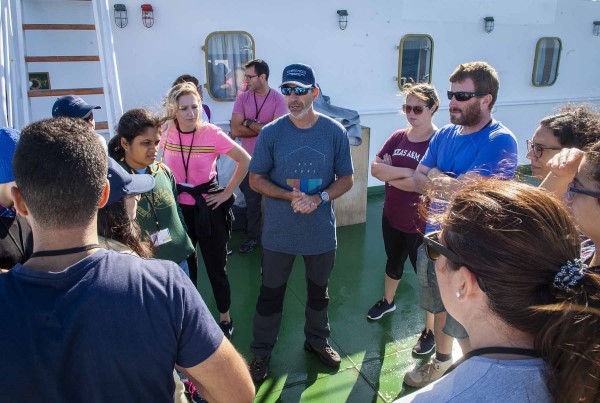 "It was also an amazing opportunity to live aboard the Spanish Navy ship," Lanning said. "We learned about different processes and equipment that are used in Europe, and this provided a fresh perspective of the tools available in the field."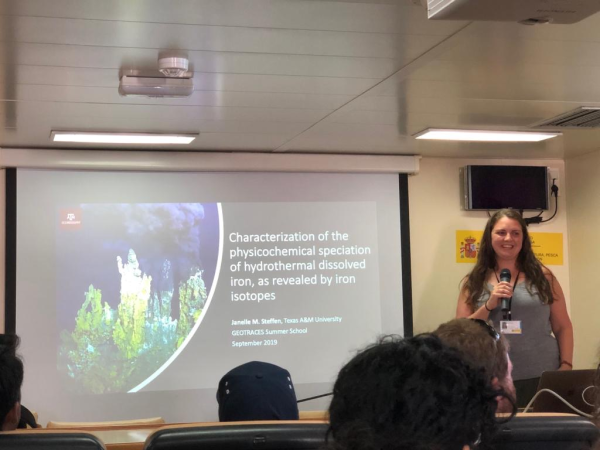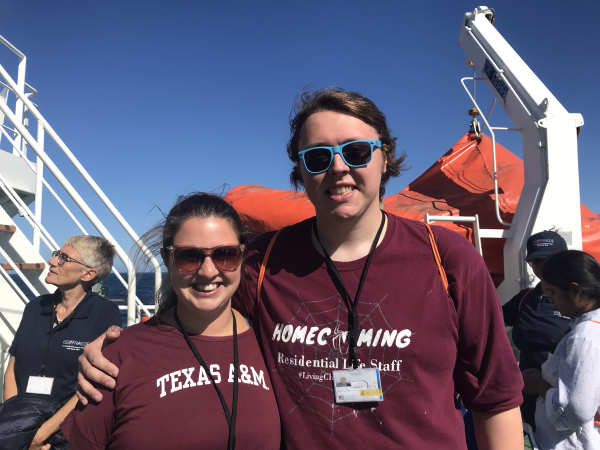 "I had an amazing week collaborating with scientists from all over the world, and talking about my research with a large, diverse group of students and researchers," Steffen said.
"Participating in this course has greatly expanded my scientific network," Lanning said. "Learning from international professors about new discoveries in the field of trace metal cycling was an incredible opportunity!"
They both thanked Fitzsimmons for her support and for encouraging them to apply, as well as Dr. Robert Anderson, Ewing Lamont Research Professor at Lamont-Doherty Earth Observatory at Columbia University, and U.S. GEOTRACES for the funding to participate in this program.
For more information about the GEOTRACES program, visit the GEOTRACES website.
By Bumsoo Kim